Focus on craft, food & tourism at Jatinga Bird Festival
The festival will also host musical nights with performers like Astha Das, finalist of Sa Re Ga Ma Pa Li'l Champs 2019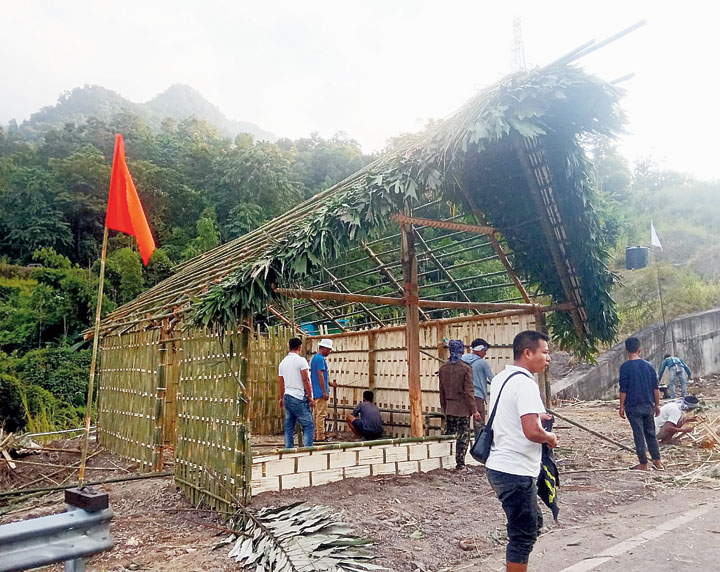 A stall being set up at the festival venue
Suroj Barman
---
Haflong
|
Published 19.10.19, 07:10 PM
|
---
The five-day Jatinga Bird Festival will kick-off from Sunday with cultural programmes, sports and stalls selling ethnic handloom and cuisines.
Sources said the festival will also host musical nights with performers like Astha Das, finalist of Sa Re Ga Ma Pa Li'l Champs 2019, as well as bands.
Steps have been also taken to promote Borail range, the highest peak of Assam, Umrangsu water resort, the roosting hub of migratory birds like Amur falcon, the Panimur waterfalls, also known as mini-Niagara, the Behendao-Baiglai twin waterfall of Samphardisa, the stone house of Dimasa royalty at Maibang, neo-ethnic craft like stone jars, carvings and artefacts at Hojai, Dubungling and Khobak, and Thuruk, the coldest place in the state, among others.
The festival, organised by the North Cachar Hills Autonomous Council in collaboration with Dima Hasao forest and tourism departments, was started in 2010 to create awareness about protecting migratory birds which flock to Borail range in winter and to promote tourism.
Earlier, the migratory birds were hunted by villagers. The forest department has now banned such activities.
Jatinga, located at the foothill of Borail mountain and 9km from the Dima Hasao headquarters of Haflong, is inhabited by the Jaintia community and has over 300 households.