Flip-flop on Assam minister's Facebook post
Soon after the 'Pakistan zindabad' post was restored on Monday by Facebook without assigning any reason, Sarma asserted the video 'is a genuine one and not doctored'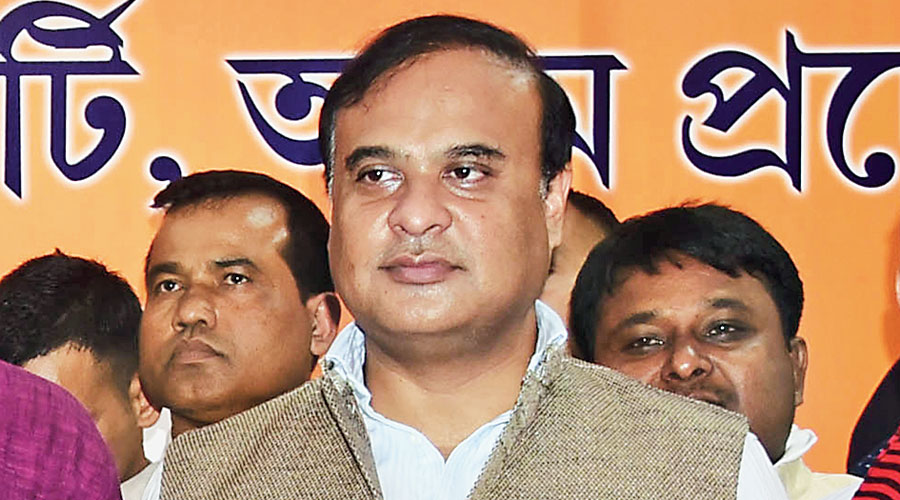 Himanta Biswa Sarma
File picture
---
Guwahati
|
Published 10.11.20, 01:03 AM
|
---
Facebook has restored a post by Assam cabinet minister and BJP leader Himanta Biswa Sarma claiming that a crowd had raised "Pakistan zindabad" slogans while receiving AIUDF chief Badruddin Ajmal at Silchar airport on Thursday.
On Saturday, Facebook had flagged the video as "false information" after getting it "checked" by an independent fact-checker organisation Boom Live, which said "no such slogan was raised by AIUDF supporters".
The flip-flop by the social networking platform has been questioned by the Opposition Congress which filed an FIR on Monday seeking Sarma's arrest for indulging in activities "prejudicial to communal harmony" through the "false" post.
Even Alt News, a non-profit fact-checking portal, had said: "Upon closely listening to the audio, Alt News found that 'Aziz Khan zindabad' and not 'Pakistan zindabad' was chanted by AIUDF supporters."
Soon after the post was restored on Monday by Facebook without assigning any reason, Sarma asserted the video "is a genuine one and not doctored". "Good that the video is restored once again," Sarma said of the post which has been shared 1,500 times, received 2,600 comments and 6,900 likes till 6.30pm. The BJP leader also said the post was flagged because some people may have reported against it.
"Look at the brazenness of these fundamentalists anti-national people who are shouting PAKISTAN ZINDABAD while they welcome MP@BadruddinAjmal. This thoroughly exposes @INCIndia which is encouraging such forces by forging an alliance. We shall fight them tooth & nail. Jai Hind," Sarma had posted on Facebook and Twitter on Friday with a 44-second video.
The Opposition Congress on Monday file an FIR against Sarma in Bhangagarh police station here for "creating" religious tension between two communitiesthrough a "misleading statement and a false" Facebook post on November 7. _Both the Congress and the AIUDF had earlier sought a thorough probe into the post which had targeted both the parties which are in talks for a grand alliance of anti-BJP parties for the 2021 Assembly polls.
In the FIR, Assam PCC general secretary Ranjan Bora has stated that Sarma has a "habit" of making loose and communally sensitive statements and at a time when Assembly elections are round the corner such statements can "create" communal tension. "Therefore to maintain peace, the arrest of the accused person is of utmost importance so that he can be restrained from indulging in activities prejudicial to communal harmony," the FIR said.
Bora said Sarma should be booked under Section 153A of the IPC and under Section 67 of the IT Act. Assam PCC general secretary Diganta Choudhury told The Telegraph that the "flip-flop" by Facebook should come under scrutiny because its operations do not seem to be transparent and it is accused of allowing the spread of Islamophobia.Choudhury said, "Take the case of former Facebook India's policy head Ankhi Das. She was allegedly opposed to blocking Right-wing hate content on the platform. She quit last month. In this slogan case, Facebook first flagged it as false information and then withdrew it. Why?"
AIUDF general secretary Aminul islam has said the BJP has been targeting his party to polarise voters and defame the proposed AIUDF-Congress alliance._Sarma uses the term Miya or Mughal for illegal Bangladeshi Muslims. The BJP accuses the AIUDF for espousing the cause of illegal migrants who are seen as a threat to the identity and culture of indigenous Assamese.