Festival aims to soar high over mountains
Sixteen films, with the tagline Adrenaline Meets Art, will be screened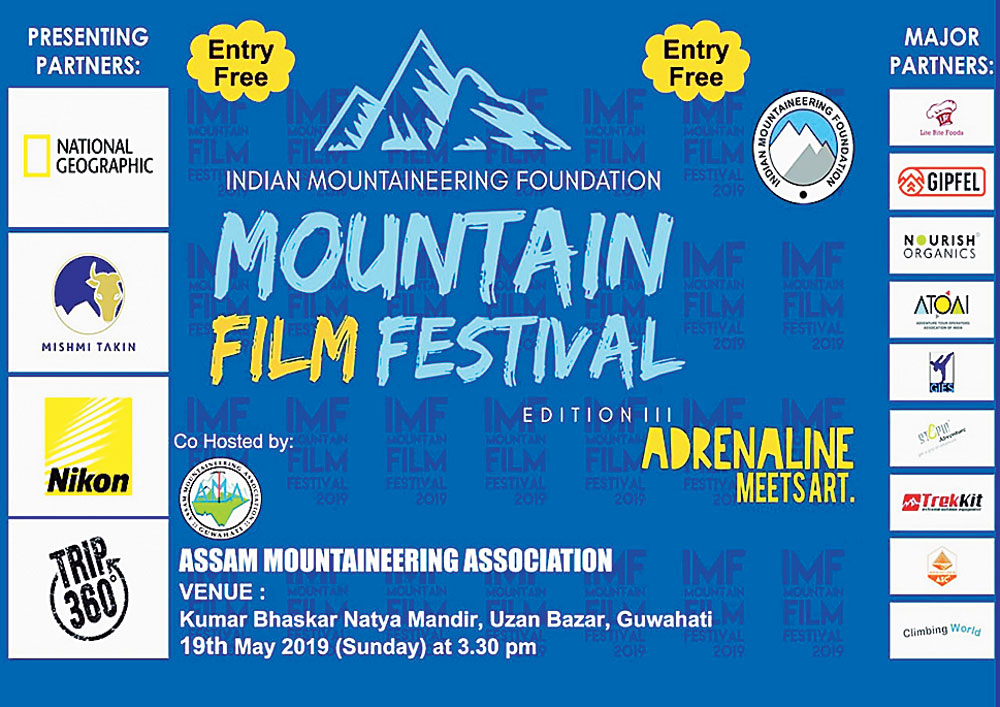 A poster of the film festival
Source: Indian Mountaineering Foundation
---
Guwahati
|
Published 15.05.19, 06:34 PM
|
---
A Mountain Film Festival, with screening of films on climbing, adventure sports and culture of the Himalayan region selected by the Indian Mountaineering Foundation (IMF), is being organised here by the Assam Mountaineering Association (AMA), on the third anniversary of its successful Everest expedition on May 19.
Sixteen films, with the tagline Adrenaline Meets Art, will be screened at Kumar Bhaskar Natya Mandir at Uzan Bazar from 3.30pm on Sunday.
The films were selected at the third edition of the IMF Mountain Film Festival organised in New Delhi in February this year.
"The IMF Mountain Film Festival is a competitive event featuring the best adventure films shot in India or the Indian Himalayas and provides an opportunity for filmmakers to share their work and receive recognition and win prizes. The finalists were screened during the festival. The theme of the festival was Adventurous Sports, Wildlife and Culture. By hosting the festival, we aim to screen the best
films related to the mountains. We hope the films will inspire the young generation to take up mountaineering, exploring and adventure sports," said AMA general secretary Manash Barooah.
The films to be screened are Ston, Mulakat, French Indian Masala, Climbathon, Papsura, A Shepherd's Journey, India's Highest Wingsuit Jump, Beyond Khardung La, Running the High Himalaya, Freedom Family, Dreamline, The Dream Catcher, Making History, Heaven on Earth, Perspectives India and An Odd Land Escape.
French Indian Masala was adjudged the Best Climbing Film, Papsura got the Best Mountain Film award, Running the High Himalaya bagged the Best Mountain Exploration Film award, A Shepherd's Journey was the Best Mountain Culture Film, India's Highest Wing Suit Jump was selected as Best Extreme Sports Film, Mulakat the Best Environment Film, Perspectives India was the Best Mountain Biking Film, Climbathon won the Special Jury Prize while Ston and Beyond Khardung La bagged the Viewer's Choice Award.