Facebook tags as false Assam minister's post
FB said it got the post checked by Boom Live, which said 'no such slogan was raised by AIUDF supporters' and that the 'false claim was amplified' by several news outlets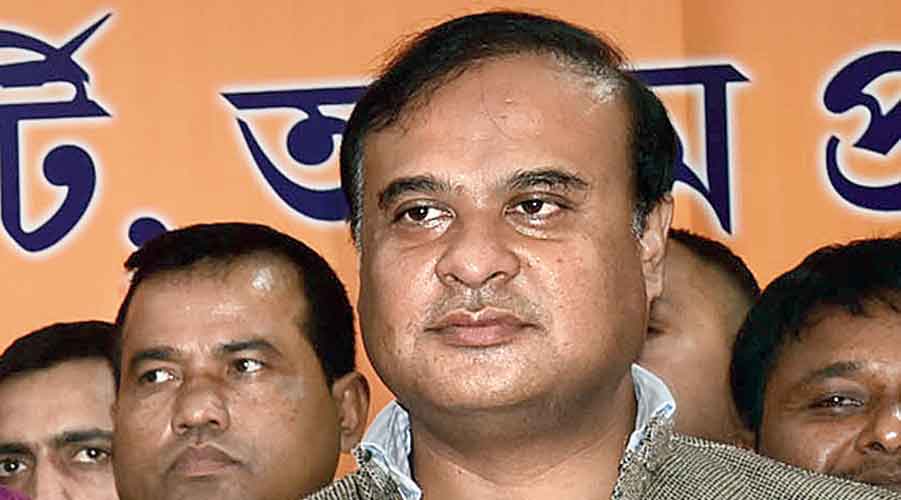 Himanta Biswa Sarma
File picture
---
Guwahati
|
Published 08.11.20, 02:28 AM
|
---
A Facebook post by Assam minister and BJP leader Himanta Biswa Sarma claiming that a crowd raised "Pakistan zindabad" slogans while receiving AIUDF chief Badruddin Ajmal at Silchar airport on Thursday has been flagged by the social media platform as "false information".
"Look at the brazenness of these fundamentalists anti-national people who are shouting PAKISTAN ZINDABAD while they welcome MP@BadruddinAjmal. This thoroughly exposes @INCIndia which is encouraging such forces by forging an alliance. We shall fight them tooth & nail. Jai Hind," Sarma had posted on Facebook and Twitter on Friday with a 44-second video.
Facebook later tagged the post with the following line: "Independent fact-checkers say this information has no basis in fact."
Facebook said it got the post checked by Boom Live, which said "no such slogan was raised by AIUDF supporters" and that the "false claim was amplified" by several news outlets.
Boom is an independent digital journalism initiative with a mission to fight misinformation.
Alt News, a non-profit fact-checking portal, said: "Upon closely listening to the audio, Alt News found that 'Aziz Khan zindabad' and not 'Pakistan zindabad' was chanted by AIUDF supporters."
Sarma's post had triggered a furore, adding to the political temperature in poll-bound Assam. It saw BJP leaders not only condemning the slogans but going all out against the Opposition AIUDF and the Congress, which are in talks for an alliance for the 2021 elections.
Two FIRs were filed in Silchar seeking action against those raising the slogans.
The AIUDF said the people were shouting "Aziz Khan zindabad" for the party's Karimganj South MLA, and not "Pakistan zindabad" as claimed by Sarma.
AIUDF general secretary Aminul Islam on Saturday thanked Facebook and media outlets for standing up for truth.
"Now we will request minister Sarma to withdraw his tweet with the same message on his own," Islam said.
The Congress, which had sought a thorough probe into the incident, asked Sarma to apologise for peddling false information and dared the chief minister to arrest him for spreading hatred.
Ajmal is a three-time MP and a perfume baron. He founded the AIUDF in 2005 and is a key player in Assam's politics.
Sarma said many had posted on the slogans before him. "What will I say? It is their (Facebook) platform. I have heard. You also hear. Now forensic will examine the video," he said.