Ex-bureaucrat joins Cong, hails Rahul
IAS officer from Andhra Pradesh seeks a ticket for Tezpur Lok Sabha seat for the upcoming elections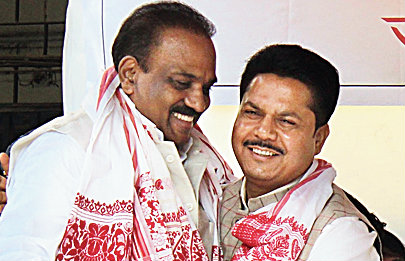 ---
|
Guwahati
|
Published 11.02.19, 06:55 PM
---
A former top bureaucrat of Assam, M.G.V.K. Bhanu, 60, who retired last year, joined the Congress at the party's Assam headquarters here on Monday.
The 1985-batch IAS officer, who served four Congress governments in Assam during his over three-decade stint in the state, has expressed wish to represent the Congress in the ensuing Lok Sabha elections from Tezpur constituency, a district where he once served as a deputy commissioner.
"In 1985, I came to Assam and retired after 33 years in 2018. During my stay in the state, nobody made me feel like an outsider. I am an Assamese and wish to continue working for this place tirelessly after retirement," said Bhanu who was welcomed to the Congress by its Assam unit president Ripun Bora along with other senior leaders of the party. "I need a platform to work; so I have decided to join the Congress. I will seek a ticket for Tezpur Lok Sabha seat for the upcoming elections. I have a house in Tezpur. So I shall stay there and work for development of Assam and Tezpur till I die. I feel that I am at home here as I have known these people for a long time," said Bhanu, who joined the Congress with 10 other people, including retired senior Assam police officer Biren Gogey, on Monday.
Bhanu, who hails from Andhra Pradesh, has served, among other posts, as secretary and commissioner to chief minister and as additional chief secretary of the state during the Tarun Gogoi government. However, his career is full of controversies.
He was transferred as additional secretary at the Centre in 2015 and retired there last year. Expressing high regard for Congress president Rahul Gandhi, Bhanu said, "In order to work for development of the country, there is no alternative other than the Congress. Rahul Gandhi is a dynamic and sincere leader. I appeal to the people of the state to guide and correct my mistakes."
After Bhanu joined the Congress, BJP sitting Lok Sabha MP R.P. Sarmah, said: "It is a known fact that he is from Andhra Pradesh and he worked here. Now, he has bought a house in Tezpur to contest the election. People of Assam are educated enough to know who actually belongs to Assam."