Eagle eye on park wildlife
Cameras to be installed along the animal corridors on NH 37 to record the movement of animals and speed of the vehicles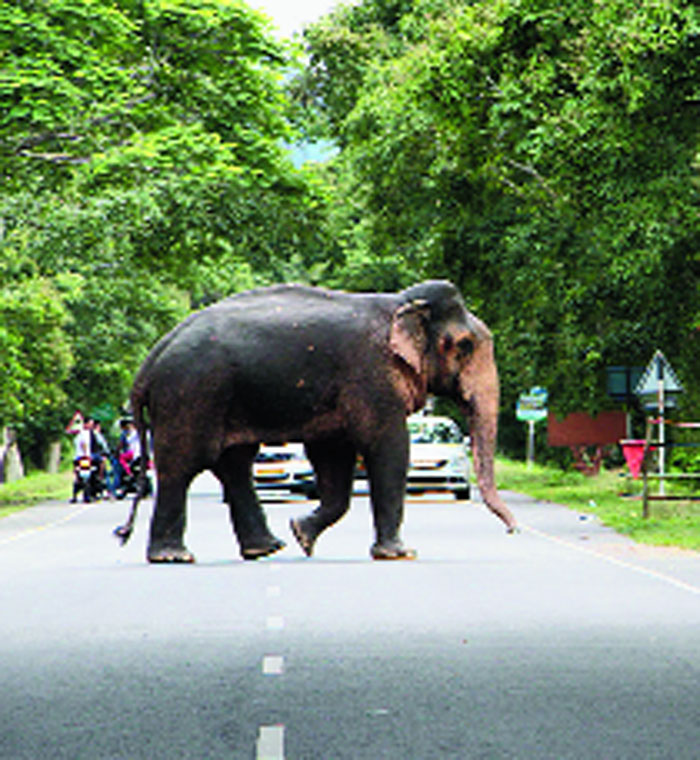 An elephant crosses NH 37 in Kaziranga.
File picture
---
Bokakhat
|
Published 02.05.20, 08:38 PM
|
---
Six cameras will be set up along the animal corridors in Kaziranga National Park in Assam, as a precautionary measure for the floods.

As the monsoon approaches, when the national park gets flooded every year, the animals usually cross National Highway 37 and flee towards the Karbi Anglong hills. This often results in animals being knocked down or run over by speeding vehicles on the highway which bisects the park.
Many animals also drown in the floodwaters.
Though the park authorities use measures like "time card" to limit vehicle speed, deaths of animals continue to occur every year.
The cameras will be installed along the animal corridors on NH 37 to record the movement of the animals and also the speed of the vehicles that pass through the park during the floods.
Kaziranga director P. Sivakumar told The Telegraph that the park authorities, with the help of the forest department, have adopted several measures to control animal deaths during the floods.
The director said two automatic cameras each would be installed at Panbari and Haldibari, while one each will be placed at Deosur and Amguri corridors to monitor the animals.
"The cameras that will be installed in the selected areas will obviously help the park authority to control the flood damage to the animals," the director said.
On the other hand, the principal chief conservator of forests (PCCF), wildlife, M.K. Yadava visited the park on Friday and took stock of measures taken in relation to the outbreak of African swine fever in the Northeast.
Yadava told reporters that carcasses of pigs, which died of African swine fever, were floating in the Brahmaputra, and they could be a threat to Kaziranga if the wild animals come in contact with carcasses.
"If the pig carcasses floating in the river enter Kaziranga, then it will pose a great threat to wildlife in the park," he said.
Yadava also directed the forest officers of Upper Assam to be more sensitive to the issue so that wildlife remains safe at any cost.