Dispur killing peace: KMSS
Peaceful protest being turned into an armed struggle because of govt, claims bodies protesting the Citizenship Bill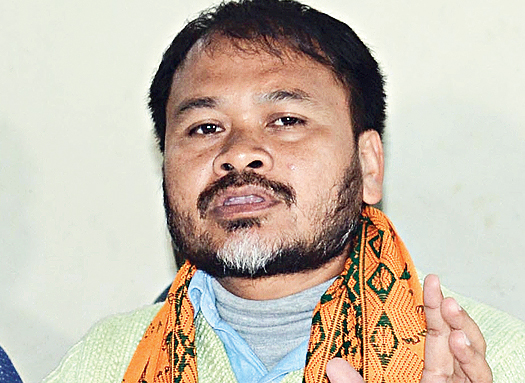 ---
Guwahati
|
Published 14.11.18, 07:18 PM
|
---
The 70 organisations, which have launched a joint movement to oppose the Citizenship (Amendment) Bill, 2016, on Wednesday accused the Assam government of forcing youths to take to armed struggle by suppressing their democratic movement.
"Our protest is democratic and peaceful. But we have come to know that the state government has instructed the deputy commissioners and superintendents of police to take steps so that our procession cannot reach Dispur. The government is trying to suppress our democratic and peaceful protest. We want to ask the government whether it is trying to force the youths to take to armed struggle," said Akhil Gogoi, adviser of Krishak Mukti Sangram Samiti, one of the 70 organisations.
The organisations, which had earlier called an Assam bandh, had on Sunday flagged off a motorcycle procession from different parts of the state. It is scheduled to culminate in a rally near Dispur on Friday.
Akhil said the popularity of Paresh Barua-led Ulfa (I) had been on the wane but now youths are joining the militant outfit because of the government's oppressive measures against those opposing the bill.
He said they were planning to hold a protest meet near Ganesh temple at Dispur at 11am on Friday before proceeding to the main gate of Assam Secretariat and then to Last Gate. The All Assam Students' Union (AASU) and 28 other organisations had also organised a protest at the venue recently.
Akhil said they would organise the protest in a "peaceful" and "democratic" way. "We are not planning to assemble many people on Friday. We will assemble over a lakh people here at the end of this month or in the first half of next month to oppose the bill," he added.
Asom Jatiyatabadi Yuba Chatra Parishad general secretary Palash Changmai also accused the government of having no respect for democratic movements.
All Tai Ahom Students' Union general secretary Manoj Gogoi said, "The more the government tries to weaken our movement, the bigger it will be. People have joined the movement spontaneously."