Countrywide NRC a ploy: Gogoi
Ex-CM backs 1971 cut-off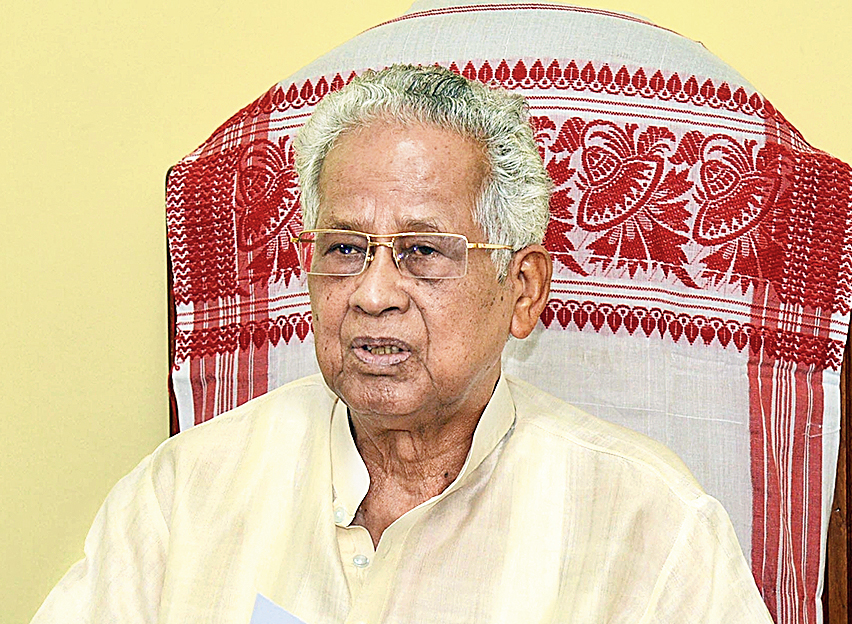 Former Assam chief minister Tarun Gogoi speaks in Guwahati on Friday.
Picture by UB Photos
---
Guwahati
|
Published 22.11.19, 07:20 PM
|
---
Former Assam chief minister Tarun Gogoi on Friday alleged that the Centre had created the issue of countrywide register of citizens to divert public attention from the BJP's failures and claimed that it would turn out to be a big joke.
"Union home minister Amit Shah has hinted that the Centre will prepare a countrywide National Register of Citizens, including in Assam. This is nothing but a tactic of the Centre to divert people's attention from its failures. This countrywide NRC will never be prepared. It will turn out to be a big joke," Gogoi said.
Shah's statement in Parliament on Wednesday on preparing a countrywide NRC was welcomed by Assam BJP and organisations like Assam Public Works, an NGO on whose petition the Supreme Court had directed NRC update in Assam. But it was opposed by the Assam Congress and some organisations.
Many have pointed out that the Rs 1,600 crore spent to update the NRC in Assam and the years of efforts put in by more than 50,000 government employees would all go waste if it is updated again.
Taking a dig at Shah, Gogoi said, "The complete draft of NRC, which did not have the names of 40 lakh applicants, appeared to be a healthy baby for Shah because he thought that those left out were Muslims. So he was prompt to take credit for it. But when 19.06 lakh names were dropped from the final NRC and it seemed that most of them were Hindus, the NRC became a sick baby for Shah. Now he is nowhere near taking credit."
Gogoi also slammed the government for not taking care to prepare an error-free final list. He said instead of updating the NRC in Assam again, the government should take measures to correct it. "The government should appoint a review committee to remove the errors from the final NRC," he said.
PCC president Ripun Bora had on Thursday said that fresh NRC update would create turmoil and ruin the social fabric of the state.
Gogoi said he was against fixing 1951 as the cut-off date to update the NRC in Assam as it would render the Assam Accord invalid. "People of Assam have already agreed upon the 1971 cut-off date through the Assam Accord," he said.
Assam cabinet minister Himanta Biswa Sarma had on Wednesday said that Dispur had requested the Centre to fix the same cut-off date in Assam as in the rest of the country. While Sarma was not categorical about the year, BJP MLA Shiladitya Dev said on Thursday that it should be 1951, as in the rest of the country.