Food Corporation of India set for uninterrupted foodgrain supply
This storage and logistical scenario in Assam make it convenient for FCI to expeditiously build up stocks in the state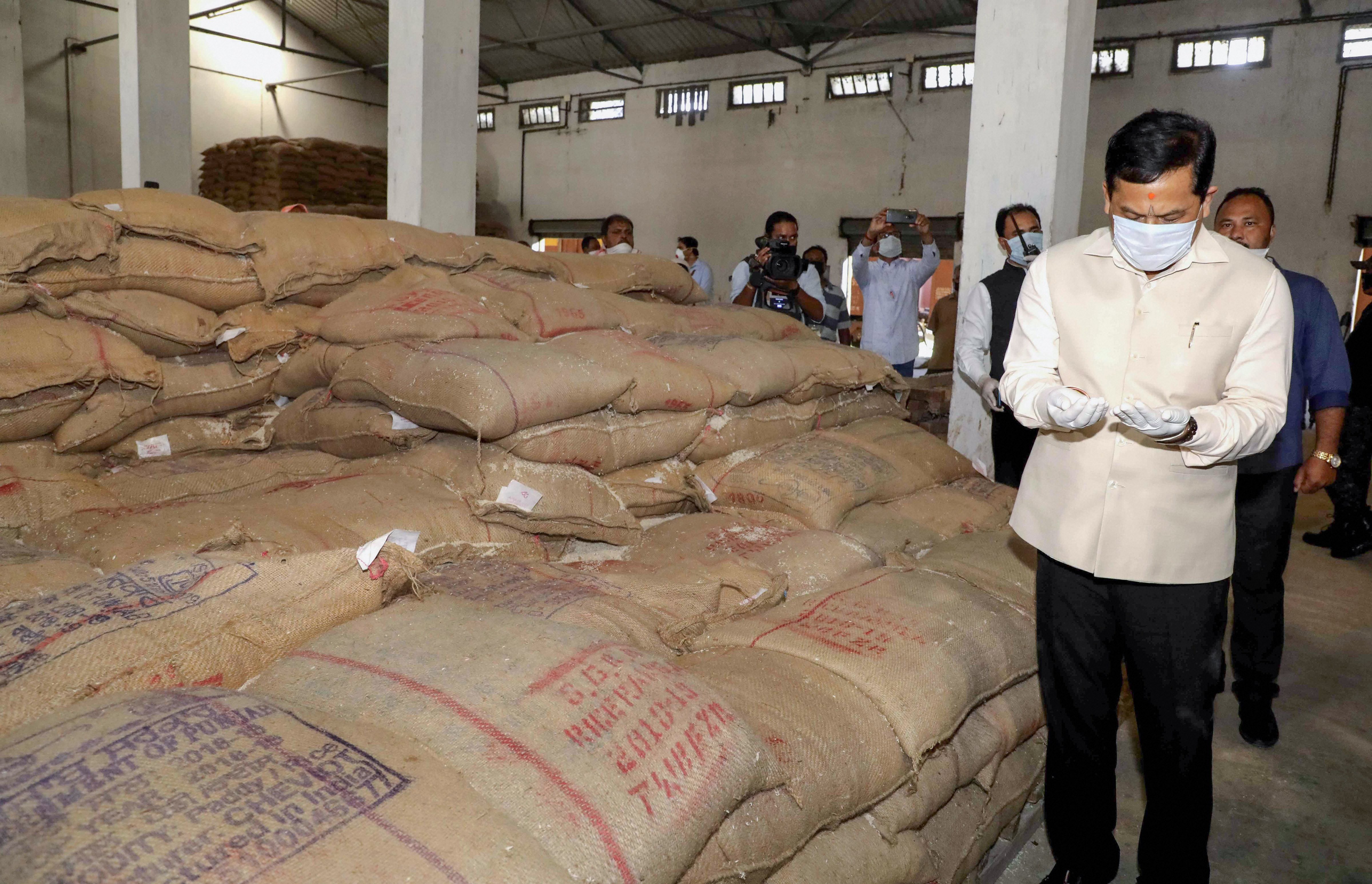 ---
|
Guwahati
|
Published 21.04.20, 07:52 PM
---
The Food Corporation of India (FCI) Assam has geared up to meet the Covid-19 pandemic challenge by uninterrupted supply of foodgrain to the state government.
Assam chief minister Sarbananda Sonowal also visited FCI depots at Changsari and New Guwahati on Tuesday.
He reviewed foodgrain availability and supply position in Assam during the present scenario.
As far as FCI operations are concerned, Assam occupies an important place in its storage matrix in the Northeast with a foodgrain storage capacity of about four lakh tonnes which cover 70 per cent storage capacity of the FCI in the Northeast.
This storage and logistical scenario in Assam make it convenient for the FCI to expeditiously build up stocks in the state to meet any emergent operational requirement.
The FCI Assam also supplies total foodgrain requirement of Meghalaya and 70 per cent that of Arunachal Pradesh.
The FCI Assam has responded with alacrity and deft contingency management in addressing the challenges posed by the Covid-19 pandemic and consequent lockdown by increasing foodgrain supply.
As in April, 3.50 lakh tonnes of foodgrain are available in the depots of Assam and 1 lakh tonnes are in transit to the state through rail rakes.
The efforts have been taken by the FCI in the state to maintain consistent supply of rice and wheat and also maintaining optimum stock level in FCI depots of Assam.
Sonowal appreciated the FCI for uninterrupted supply of foodgrain by working hard in this adverse situation for the state. He also checked the quality of foodgrain in the godowns and expressed satisfaction.
During the lockdown period Dispur has lifted 2.3 lakh tonnes of foodgrain for distribution under different government schemes.
FCI supply to Nagaland: Nagaland received 14,000 tonnes of foodgrain from the FCI since the beginning of the lockdown on March 25.
According to a Press Information Bureau release, the FCI has used 158 trains to carry about 442,000 tonnes of foodgrain to the Northeast states during the lockdown period.
This is double its normal average of about 80 train loads per month.
Foodgrain supplies to the region during the lockdown include 22,000 tonnes of wheat and 420,000 tonnes of rice.
"However, the Northeast faces unique logistical challenges as not all areas have rail access. Out of a total 86 depots operated by the FCI in seven northeastern states, only 38 are fed through train movement. Meghalaya is entirely dependent on road and only two depots out of 13 in Arunachal depend on rail route," the release said.
Manipur is supported by transportation of food through rail route
Additional reporting by Bhadra Gogoi in Dimapur