Conrad mum on CAA demand in Meghalaya
The demand was made during the special session held to adopt a resolution for the introduction of ILP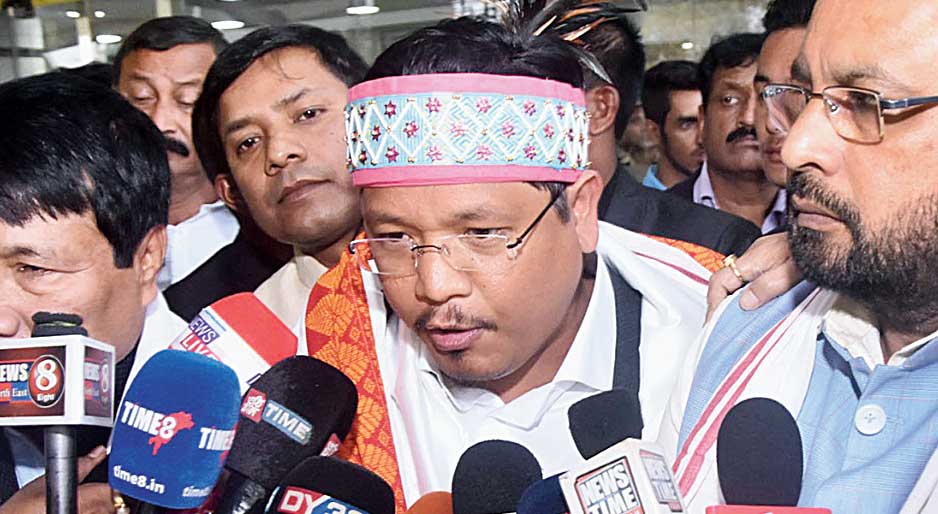 What happens in Assam does not affect us? We cannot address the concerns of the region in isolation: Conrad K. Sangma
Picture by UB Photos
---
Shillong
|
Published 19.12.19, 10:12 PM
|
---
The Opposition Congress in Meghalaya on Thursday demanded a special Assembly session where the House would adopt a resolution asking the Centre to repeal the Citizenship (Amendment) Act, 2019, as it is against the "idea of India".
The demand was made during the special session held to adopt a resolution for the introduction of inner-line permit (ILP),
The government, however, did not make any commitment.
The Congress had also framed the text of the resolution on the Act, to be incorporated along with the resolution on ILP. It read: "Whereas, it is a fact that the Citizenship (Amendment) Act, 2019, overrides the secular fabric and the spirit of Article 14 of the Constitution and threatens the existence of ethnic indigenous communities and undermines the inherent strength of the nation drawn from the huge diversity of this great country, the Act should be considered against the ethos of the Constitution and the very idea of India. Hence, it is in the best interest of the nation that the government of India immediately repeals the act."
Leader of Opposition Mukul M. Sangma said, "This Act will open a dangerous precedence. Call a special session again to adopt a resolution to repeal the Act. This will be the correct representation of the voice of the people."
He pointed out that Meghalaya cannot live in isolation from the rest of the Northeast. "What happens in Assam does not affect us? We cannot address the concerns of the region in isolation," he said.
Imploring upon the government to "look beyond the boundaries" of the state, Mukul said the government cannot say that what happens in Assam or in other parts of the region does not matter.
Congress leader M. Ampareen Lyngdoh said the Act was a "law of the majority over morality" and would accelerate the pace of changing the demography.
Congress member George B. Lyngdoh said if the Act is allowed to be in operation, the BJP government could bring in other controversial laws like the NRC and the Uniform Civil Code.
Khun Hynniewtrep National Awakening Movement member Adelbert Nongrum, who is also a member of the ruling alliance, expressed unhappiness that the state government did not agree to bring a resolution to demand scrapping of the Act. He alleged that the National People's Party (NPP) was showing a half-hearted approach towards issues relating to the Act.
Opposition members also took a dig at Tura Lok Sabha MP Agatha K. Sangma for voting in favour of the legislation.
During the course of his reply to the debate, chief minister Conrad K. Sangma did not utter a word on the demand. Later, when Mukul reminded him about it, he refused to provide any specific reply. He only said that the issue was not related to what was being discussed during the one-day special session.