Cong misleading people on citizen bill: BJP
The bill seeks to amend the Citizenship Act, 1955, to give citizenship by naturalisation to persecuted minorities from Pakistan, Bangladesh and Afghanistan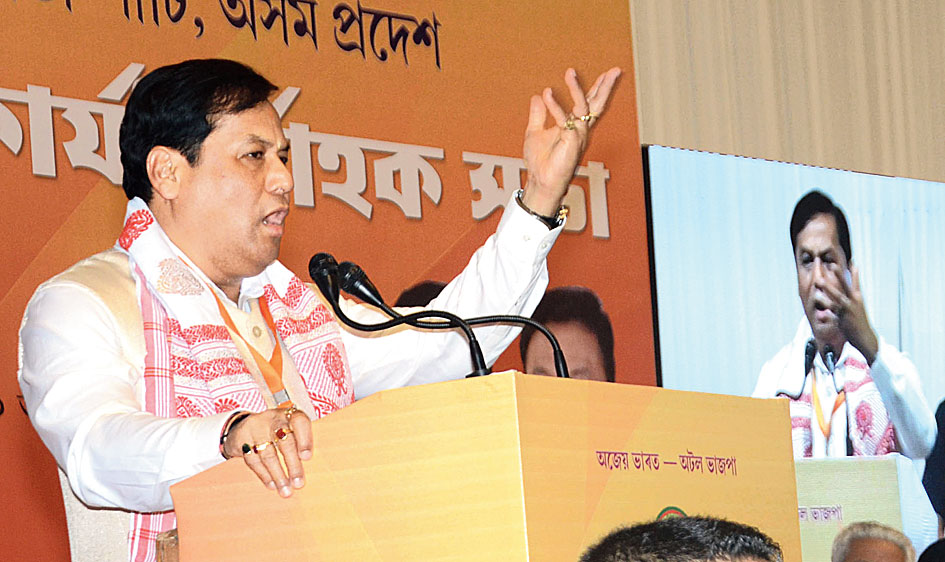 ---
|
Guwahati
|
Published 11.10.18, 06:46 PM
---
The BJP's state executive has accused the Congress of misleading the people of Assam on the Citizenship (Amendment) Bill, 2016, for political mileage.
On the concluding day of its two-day state executive meeting in Majuli on Thursday, the ruling party adopted a resolution criticising the Congress for "spreading misinformation" that the BJP is trying to rehabilitate nearly two crore Hindu Bangladeshis in Assam with the help of the bill.
"The main intention of the Congress is to disrupt the harmony between the people of the Brahmaputra and Barak valleys by spreading false propaganda," the resolution said, adding that it was the Congress which gave protection to illegal migrants from Bangladesh by enacting the Illegal Migrants (Determination by Tribunal) Act, 1983, which was struck down by the Supreme Court in 2005.
The bill seeks to amend the Citizenship Act, 1955, to give citizenship by naturalisation to persecuted minorities from Pakistan, Bangladesh and Afghanistan belonging to the Hindu, Sikh, Buddhist, Jain, Parsi and Christian communities who came to India before December 31, 2014.
There have been widespread protests in Assam against the proposed amendment to the Citizenship Act as many leading organisations, such as KMSS and AASU, believe it will dilute the 1985 Assam Accord that fixed the midnight of March 24, 1971, as the cut-off date for detecting and deporting foreigners illegally staying in Assam.
Though BJP national president Amit Shah supported the bill last month, the BJP state leadership maintains that the party will not take any decision that will prove detrimental to the interests of the indigenous people of the state.
The BJP resolution said the bill was introduced to solve the citizenship problem created by the division of the country at the time of Independence and is currently under consideration of a joint parliamentary committee.
The political resolution was read out by BJP legislator from Dhemaji, Ronoj Pegu. Railway minister Rajen Gohain, Lok Sabha MPs Ramen Deka and Bijoya Chakravarty, forest minister Parimal Suklabaidya and former MLA Sushila Hazarika also spoke in support of the resolution. Chief minister Sarbananda Sonowal, finance minister Himanta Biswa Sarma and BJP national general secretary (organisation) Ram Lal attended the meeting.
The resolution rued that political parties which were in power could not implement important clauses of the Assam Accord like fencing the India-Bangladesh border and updating the NRC more than 30 years after signing of the accord. The meeting also discussed the party's preparations for 2019 Lok Sabha polls, panchayat elections, Guwahati Municipal Corporation polls and elections to four autonomous councils in the state.
Senior PCC spokesperson Apurba Bhattacharyya said by introducing the bill in Parliament, the BJP has proved that it is anti-Assam and anti-Assamese since the bill violates the Assam Accord. He said the BJP's support to the bill shows that it sheds crocodile tears for Assam Accord and the martyrs of Assam Agitation. He accused the BJP of playing politics in the name of giving citizenship to Hindu Bangladeshis.