Cloud on BJP stalwarts from Assam
BJP to re-nominate only 2 of its 7 legislators from Assam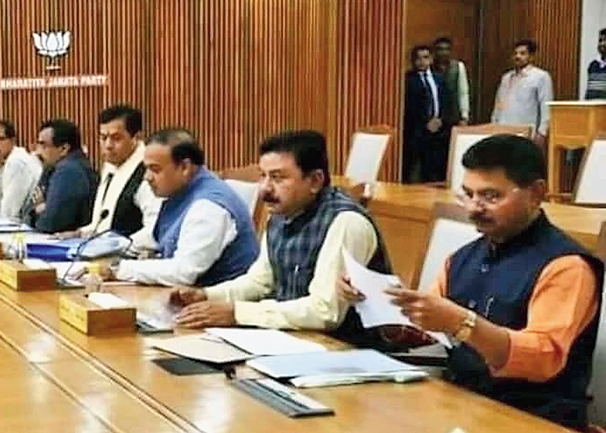 ---
|
Guwahati
|
Published 17.03.19, 10:13 PM
---
The BJP is likely to re-nominate only two of its seven sitting MPs in Assam in the Lok Sabha elections.
Though the list of candidates will be officially released on Monday, sources in the party said on Sunday names of candidates for eight of total 10 seats where the BJP will contest in Assam have been finalised and it is almost certain that five of the party's seven sitting MPs would not be given party tickets.
The sitting MPs who are likely to be denied party tickets include Mangaldoi MP Ramen Deka, Gauhati MP Bijoya Chakravarty and Jorhat MP Kamakhya Prasad Tasa.
Tezpur MP Ram Prasad Sarmah has resigned from the party and Nawgong MP and Union minister of state for railways Rajen Gohain announced his decision not to contest the election on Saturday after it became apparent that they will not get the party ticket.
According to the source, the BJP will field general secretary of its Assam unit Dilip Saikia from Mangaldoi in place of Deka and Queen Ojha from Gauhati in place of Chakravarty while Assam power minister Topon Gogoi will replace Tasa in Jorhat.
"Dibrugarh MP Rameshwar Teli and Lakhimpur MP Pradan Baruah will only be re-nominated by the party from their respective seats," he said.
The source said deputy Speaker Kripanath Mallah is the frontrunner for Karimganj seat, Rajdeep Roy for Silchar and Haren Singh Bey for Autonomous District constituency. He said candidates for Nawgong and Tezpur seats are yet to be finalised. "For Nawgong, the party is likely to field either Nagaon MLA Rupak Sarma or Rajen Gohain's wife Rita. Though Himanta Biswa Sarma was likely to be the BJP candidate from Tezpur, there are reports that he may not contest the election as per advice of the party's central leadership and therefore, Ritu Baran Sarmah, vice-chairman of Assam Electronics Development Corporation (Amtron), could be the party candidate from Tezpur," the source said.
The candidates of these two seats will be selected at the party's core group meeting in New Delhi on Sunday night. "The names for eight seats were finalised at the meeting of the party's central election committee with state leaders in New Delhi on Saturday night," he added.
Prime Minister Narendra Modi, BJP national president Amit Shah and other senior party leaders, including Rajnath Singh, Arun Jaitley and Sushma Swaraj, attended the meeting.
Assam chief minister Sarbananda Sonowal, Neda convener Himanta Biswa Sarma, state president Ranjeet Kumar Dass, state general secretary Phanindra Nath Sarma, national general secretary Ram Madhav and election in-charge for Assam, Mahendra Singh, among others, were also present.
Of the total 14 parliamentary seats in Assam, the BJP has conceded three — Barpeta, Dhubri and Kaliabor — to the AGP and Kokrajhar to the BPF.
In another development, Ram Prasad Sharma through a Facebook post said though he had quit the BJP, he will not join any other party. "I am a swayemsevak of the RSS since 1976, so I cannot follow any other ideology or philosophy except that of the RSS in my life."
Sharma, who is a lawyer, said he will resume his legal profession and continue to serve the people of Assam, particularly of his constituency Tezpur.