Call to BJP workers to join agitation
This government is authoritarian, partisan and anti-Assamese: Axom Nagarik Samaj president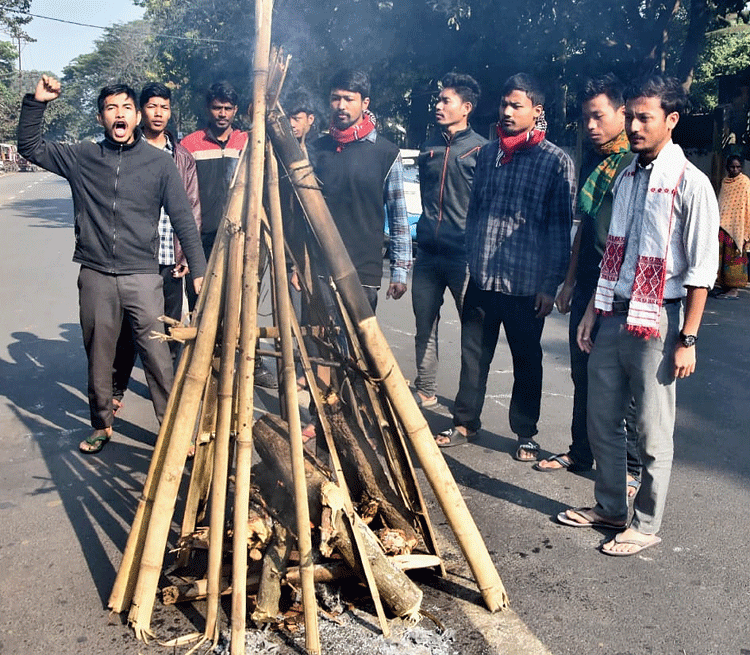 ---
|
Guwahati
|
Published 13.01.20, 07:15 PM
---
The Axom Nagarik Samaj on Monday asked the people rise against the BJP and RSS in the greater interest of Assam, irrespective of political and ideological differences.
Samaj in-charge president Ajit Kumar Bhuyan said, "At this juncture, we should forget our own interests and free ourselves from sectarian allures to put up a united and vigorous fight against the divisive and unconstitutional CAA (Citizenship Amendment Act), which threatens the political and economic future of the indigenous people."
Urging the ruling BJP workers to join the anti-CAA movement, Bhuyan said, "Forget your differences and forget your leaders. They have betrayed all of us. Stand united to wipe out the BJP by its roots. Let us fight against CAA on a single platform. Should a section of Assamese people still remain in the BJP only for some personal gains when the party is against us? Shouldn't they come out of the BJP and join the movement?"
Bhuyan said despite nationwide protests, the government had published the gazette notification of the Act. "This only shows how authoritarian, partisan and anti-Assamese this government is."
Bhuyan said the government was trying to derail the movement by using all kinds of machinations. "The so-called peace and progress rallies, organised by the state government, spending a huge amount of money and resources, are nothing but to distract the people from the movement. Peace and progress rally has become the only tool to stick to power at any cost," he said.
Criticising the role of AGP leaders, Bhuyan added, "The AGP leaders are cunning and unfaithful." Samaj general secretary Paresh Malakar urged the Assamese, either members or grassroots workers to abandon the BJP and the RSS to protect Assam.
Cotton University students on Monday burnt copies of the Act in a meji (bonfire) on the eve of Bhogali Bihu. The students also urged the people to burn copies of the Act.
Cotton Students' Union general secretary Rahul Bordoloi said, "Wherever you see a meji, burn the CAA and stage cultural protests."
Dubbing the BJP leaders "fascists", Bordoloi urged the people to join the agitation to protect local interests.
In Upper Assam, the influential Vaishnavite community and women are making their numbers felt at anti-CAA protests. On Monday, xatradhikars of Lajum and Uban xatras along with thousands of devotees took part in a rally at Kakopathar in Tinsukia district. On the other hand, Christians took out silent rallies across the district to protest against CAA. At Phillobari, 16km from Kakopathar, thousands of people, mostly women, participated in a rally.
"Bahirar pora lakh-lakh manu aahise tak prashray dibo sorkare akhomat, aami kot jam, ki kham? (If the government grants citizenship to lakhs of illegal foreigners, where will we go, what shall we eat?)" asked Kaveri Moran, a protester.
Appeal: The Margherita Regional Students Union has appealed to all traders to use Assamese nameplates, signboards and banners.
Additional reporting by Manoj Kumar Ojha in Doomdooma