Call for vigilance on tea wage days
Woka tea estate has lost 19 people in the hooch tragedy, which has altogether claimed 157 lives since February 22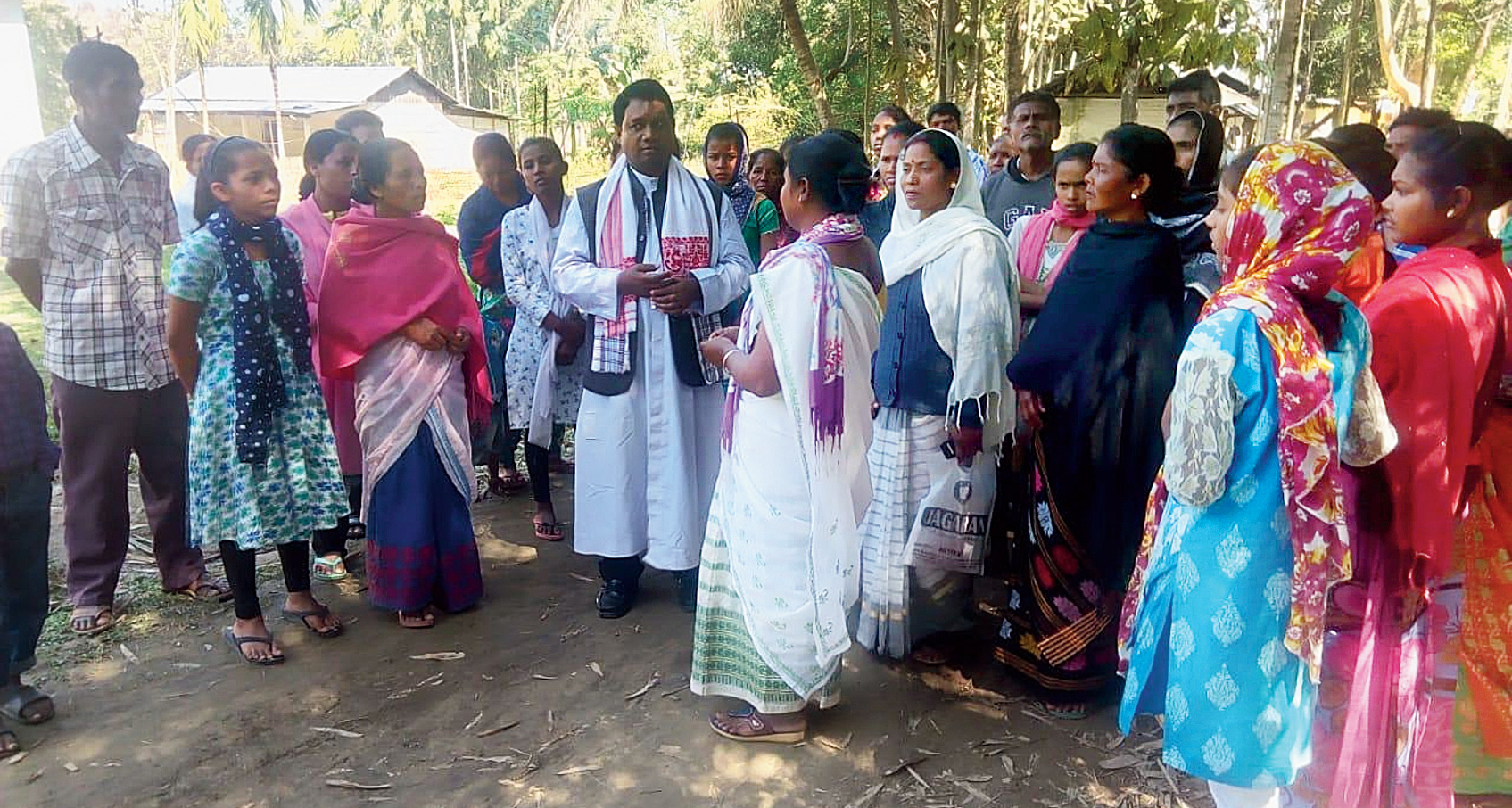 A priest interacts with the family members of the hooch victims in Golaghat on Saturday.
Umanand Jaiswal
---
Published 02.03.19, 07:13 PM
|
---
Families affected by the hooch tragedy want the Assam government to ensure patrolling by police in tea garden areas on days the workers get their weekly wages, to check supply and sale of spurious liquor in the state's tea belt.
A meeting, involving those affected and Church members, held at the Woka tea estate on Saturday morning, decided to write to Golaghat MLA, deputy commissioner and the superintendent of police for deployment of policemen on Thursdays and Saturdays, the days contractual and permanent workers get their weekly wages.
A permanent garden worker gets Rs 167 a day for six days a week in the Brahmaputra Valley. The state has over 800 gardens in the organised sector.
Woka tea estate has lost 19 people in the hooch tragedy, which has altogether claimed 157 lives in Jorhat and Golaghat districts since February 22. The other affected gardens are Borholla and Halmira tea estates.
Monika Kindo, 26, a social activist, said: "Deployment and patrolling by police personnel will check sale of all kinds of liquor on these days. Vigil by police will be a deterrent to check illegal liquor trade. Though we will move for police deployment in the Woka tea estate area, we want the government to implement the step in all the tea gardens."
Tea industry sources said a significant number of tea workers go on a drinking binge on the day they receive wages.
"Since illegal distilled liquor comes cheap and is readily available, policing will definitely help and Dispur should consider the proposal. It is important to instil fear in sellers and buyers," one of them said.
They are not leaving the monitoring bit to the administration alone.
To ensure constant vigil in the Woka tea estate area, the local church, in association with the Assam Tea Tribes Students' Association, has decided to form a vigilance committee by next week to keep a watch on the supply and sale of liquor, create awareness among local residents and encourage children of tea garden workers to go to school.
The meeting also decided to demand permanent doctors in tea gardens where there are none with adequate life-saving medicines for timely treatment during exigencies. "We have a doctor who comes once a week from the Golaghat civil hospital and that too for an hour or so. This has to change," a garden worker said.