Biplab Kumar Deb requests states for aid
The letter which Deb has written to 7 chief ministers, said the country is facing the challenge of the coronavirus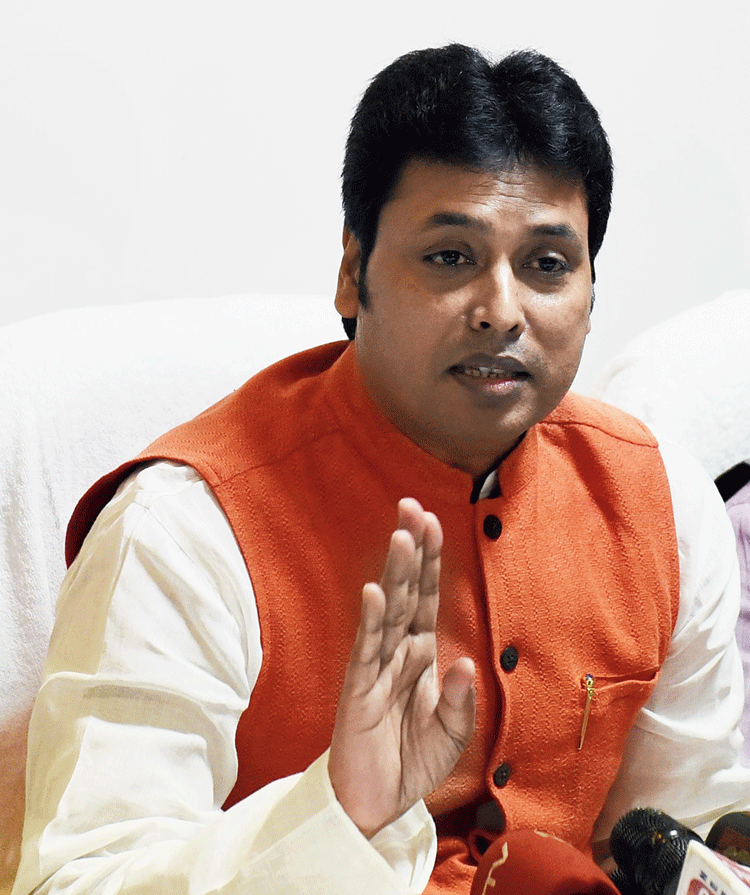 ---
|
Agartala
|
Published 29.03.20, 08:02 PM
---
Tripura chief minister Biplab Kumar Deb on Sunday wrote to the chief ministers of Assam, Bengal, Delhi, Telangana, Tamil Nadu, Maharashtra and Karnataka requesting them to provide food, accommodation, security and health services if any person from Tripura is found to be stranded during lockdown.
The letter which Deb has written to seven chief ministers, said the country is facing the challenge of the coronavirus. A large number of people from Tripura are stranded in various states.
Obviously they are under great distress and many of them are facing difficulties regarding the place of stay and food. It is also learned that some of them are short of money, he said.
"I take the opportunity to request you that if any persons or group of people from Tripura are stranded in any part of your state, they may kindly be provided food, accommodation, security and health services. I request you to inform all the district collectors in your state accordingly," said the letter.
It also said all district magistrates in Tripura has been directed to assist persons in need from other states who are stuck in Tripura during the lockdown.
"The government of Tripura will provide all necessary expenditure for the same. We have constituted a high-level monitoring team for this purpose," Deb wrote.
Later, Deb stressed on a collective approach to meet likely food crisis and urged businessmen, brick kiln owners, tea garden owners and government employees to donate food, rice, pulses, and ration to the working class and poor people while the country battles novel coronavirus.
In an address on Sunday morning, the chief minister said the state government was committed to providing essential necessities to the people and working to ensure everyone in the state stayed safe.
He appealed to people to remain indoors during the lockdown.
However, Deb also asked those who can afford to help others to donate food to the needy at this hour.
"I am requesting all the owners of brick kilns, tea gardens and businessmen to help and donate food to their workers, to the poor and homeless people in their areas. I am appealing to all the owners to provide rice, pulses and other daily necessities during the restrictions imposed," he said.
Deb said he would monitor which brick kiln owners, businessmen and tea garden owners helped their workers and poor people and said his government will be there with them when they face any problem.
On availability of food supplies, Deb said Tripura has got rice buffer stock to last 76 days, wheat for 52 days wheat, sugar for 15 days, salt for 24 days, petrol to last eight days and sufficient stock of LPG.