Barak tributary engulfs Tukergram
Monsoon makes a mark with vengeance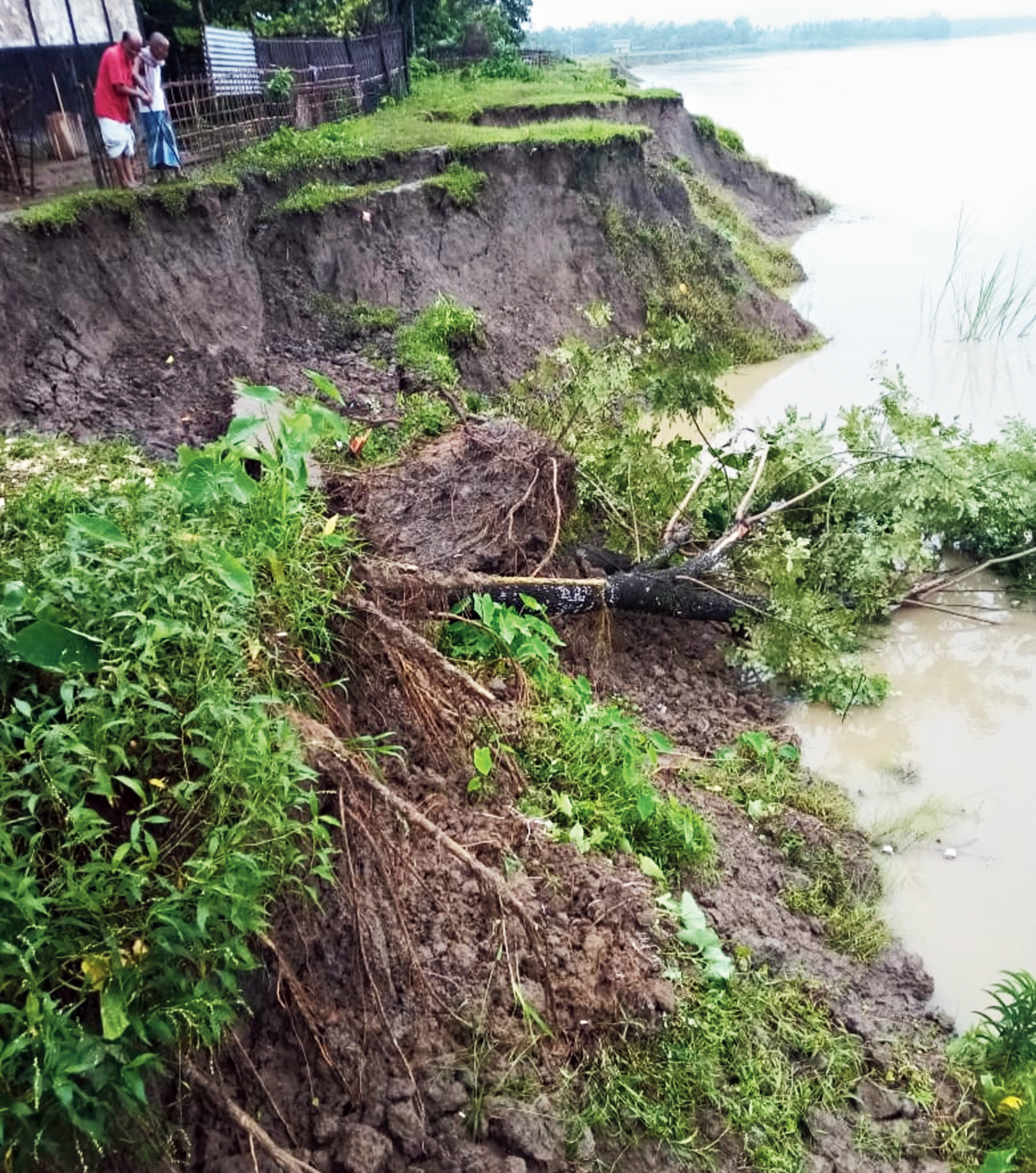 A portion of eroded land in Tukergram.
Picture by Swapnaneel Bhattacharjee
---
Silchar
|
Published 28.06.19, 07:47 PM
|
---
Large-scale soil erosion in different areas of Tukergram, a village under Katigorah constituency in south Assam's Cachar district, has sparked panic among its residents.
Tukergram is near the India-Bangladesh border, around 35km from here. It has a population of around 550, of mostly farmers and wage-earners.
Narrating their plight, residents of Tukergram — Rahmat Ali and Mohammed Ali — among others, said the village is being engulfed with every passing day by the Kushiara, a tributary of the Barak river, and the situation will become "extremely ominous" if measures to prevent erosion are not taken soon.
The residents said a number of houses had been damaged or engulfed by the river in the past one to two months and many other houses are on the verge of being inundated. Many people are passing sleepless nights these days, while those whose houses have been flooded have moved to safer places in the village, the residents said.
Another resident, Kabir Hussain, said the entire village, which is surrounded from all sides by the Kushiara, might get engulfed in the coming days if necessary steps are not taken. He has sought the intervention of the authorities concerned so that the villagers could be saved.
Sources said erosion has also affected connectivity from a BSF camp to the border area in the village. A portion of the road, which jawans use to go to the border areas, has been engulfed by river water. The jawans are likely to face trouble reaching or going to the border area if the entire road gets engulfed, sources said.
Soil erosion has been a problem in different villages of Katigorah over the years. One of the major erosion-related incidents happened in April last year, in Haritikar, a village around 2km from Tukergram, where a road caved in because of erosion. A number of shops were destroyed and connectivity crippled because of the incident. The matter had even reached Assam chief minister Sarbananda Sonowal, who called the then Cachar deputy commissioner S. Lakshmanan and directed him to normalise connectivity.
Katigorah legislator Amar Chand Jain told The Telegraph over phone on Friday that he had contacted the department concerned in this regard and that an estimate had been sent to the government. Work to prevent soil erosion in Tukergram will start as soon as the government sanctions funds, he said.