Assam CM Sonowal called 'spineless' in citizen bill war
Aasu brings together 30 organisations for torchlight rally against bill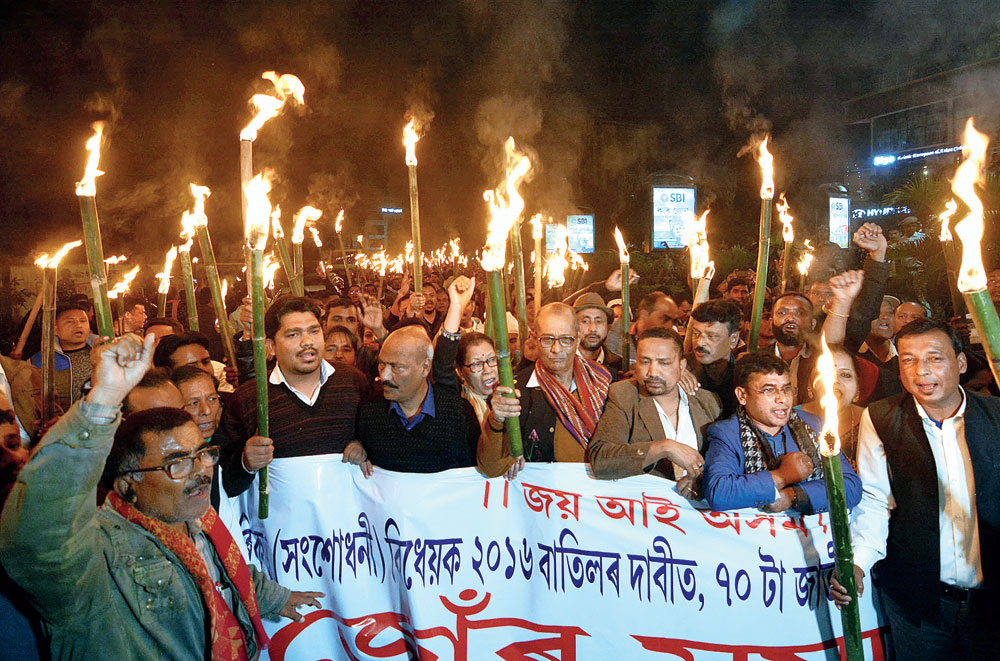 Activists of the KMSS and other organisations take out a torchlight rally in Guwahati.
Picture by UB Photos
---
Guwahati
|
Published 23.01.19, 06:41 PM
|
--- The bill, which seeks to grant citizenship to people of six non-Muslim communities from Afghanistan, Pakistan and Bangladesh who fled to India because of religious persecution till December 31, 2014, without valid documents, was recently passed in the Lok Sabha and is likely to be tabled in the Rajya Sabha in the budget session beginning January 31.
All Bodo Students' Union president Promod Bodo warned Modi that the indigenous people would fight those working against them.
"Mr Modi, the people in Northeast do not want the bill. Why are you trying to pass it?" he asked.
Zubeen and Hazarika sang and Choudhury recited a poem opposing the bill. They warned the government not to work against the indigenous people.
The protest comes at a time when Sonowal, who once led the AASU's anti-foreigners movement as its president, has openly come out in support of the bill, saying that it will not harm the indigenous people and that apprehensions against it are "false".
At Lahowal in Upper Assam's Dibrugarh district, protesters, carrying placards and banners against the bill, blocked National Highway 37 and hanged effigies of Modi and BJP president Amit Shah.
Additional reporting by Avik Chakraborty in Dibrugarh
Speakers at a mass agitation programme attended by thousands here on Wednesday thundered against the Citizenship (Amendment) Bill, 2019, and alleged that the "protectors" of Bangladeshis were now in Dispur.
The programme, khilongiyar bojroninad (thunderous voice of the indigenous people), was organised by the All Assam Students' Union (AASU) and 30 ethnic organisations at the Latasil playground.
The Asam Sahitya Sabha, North East Students' Union, All Assam Lawyers' Association, Sadou Asam Karmachari Parishad, singers Zubeen Garg and Mahendra Hazarika, academician Amarjyoti Choudhury and many others joined hands against the Centre's move to pass the bill in Parliament.
Keshav Mahanta, one of the three AGP ministers who recently resigned in protest against the bill, was also present.
Speaker after speaker opposed the bill. They thanked Meghalaya, Mizoram and Nagaland chief ministers for opposing the bill and came down heavily on the BJP-led government in Assam for supporting it. They said along with the Centre, Dispur was also working against the indigenous people.
"The protectors of Bangladeshis are now in Dispur. People of Assam, please be aware of this," said AASU chief adviser Samujjal Bhattacharjya.
"(Prime Minister Narendra) Modi has shows his fascist character by going ahead with the bill despite opposition from the people and (chief minister Sarbananda) Sonowal is the spineless lora roja of the 21st century," AASU general secretary Lurinjyoti Gogoi said.
Sulikphaa, an Ahom king in the 17th century, was known as lora roja (boy king) who could not run the country according to his wishes.