AGP writes to Amit Shah with pullout threat
Key BJP ally in Assam threatens to pull out of alliance if Parliament passes Citizenship Bill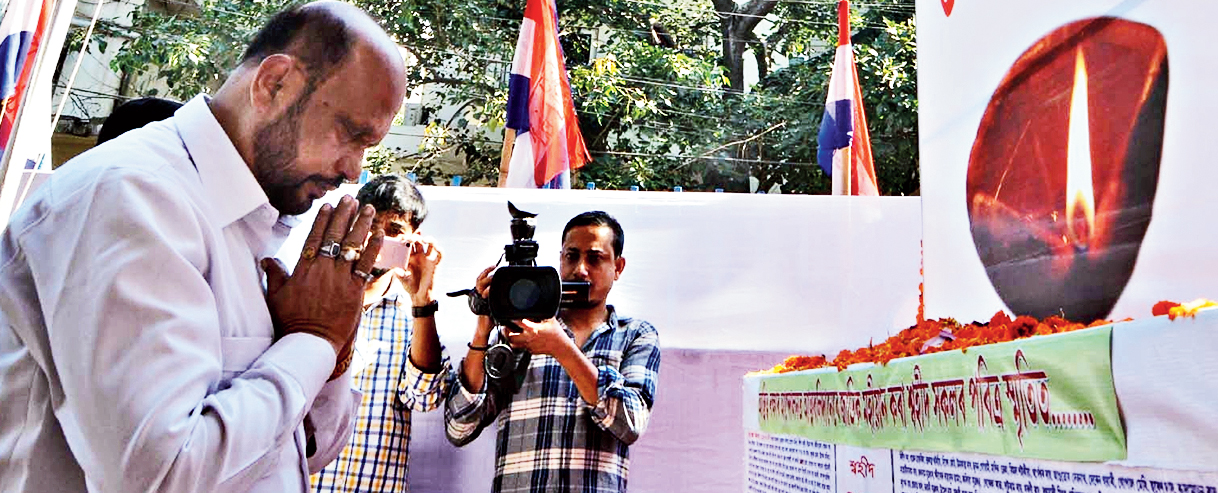 AGP president Prafulla Kumar Mahanta pays tribute on Swahid Divas in Guwahati on Monday.
Picture by UB Photos
---
Guwahati
|
Published 10.12.18, 07:52 PM
|
---
The Asom Gana Parishad (AGP), a partner in the BJP-led Assam government, toughened its stance on the Citizenship (Amendment) Bill, 2016, on Monday, threatening to pull out of the alliance if the BJP government at the Centre went ahead with the bill.
The AGP wrote to BJP national president Amit Shah, reminding him of the conditions under which the party formed the alliance prior to the 2016 Assembly election and the bill's effect on the provisions of the Assam Accord, if passed by Parliament. The letter referred to the understanding between the allies which was based "on a clear understanding on the Assam Accord" and other issues.
It says: "If the Citizenship (Amendment) Bill is passed in Parliament, the provisions of the Assam Accord and the ongoing preparations for the National Register of Citizens will be totally frustrated and the Assamese language, culture and demography will be changed". It adds that if the bill is passed "we will have no other alternative except to repudiate the existing alliance".
The development further reflects on the AGP-BJP alliance which nosedived during campaigning for panchayat polls which the two parties contested separately. One of the reasons for the tension is the BJP's push to the bill, which has seen vociferous protests in the Brahmaputra Valley and gained support in the Barak Valley.
AGP leaders, on Swahid Divas, a day of remembrance of the 855 martyrs of the Assam Movement who sacrificed their lives during the anti-foreigner agitation in the state in the 1980s, pledged to make their sacrifice count and unanimously spoke against the bill.
The bill, which envisages granting citizenship to minorities from Bangladesh, Pakistan and Afghanistan who entered India without valid documents in order to escape persecution, has been a bone of contention between the two parties with the BJP pushing for it and the AGP opposing it.
Paying tribute to the martyrs, water resources minister and AGP leader Keshab Mahanta said, "On this auspicious day, we pledge not to let their sacrifice go in vain and to work towards a foreigner-free state. We are at odds with the BJP on the citizenship bill and our relations are strained due to it".
He felicitated Priyo Talukdar, brother of Assam Movement's first martyr Khargeswar Talukdar.
Former chief minister and former president of AGP Prafulla Mahanta said, "We had formed an understanding with the BJP to oust the Congress party from power. Our understanding was formed at Amit Shah's house and so we are writing a letter to him about it. If anti-Assam activities persist within the BJP, we will be forced to scrap our alliance".