5000 join protest in Hojai
All shops and business establishments were closed till evening as shopkeepers and traders took part in the rally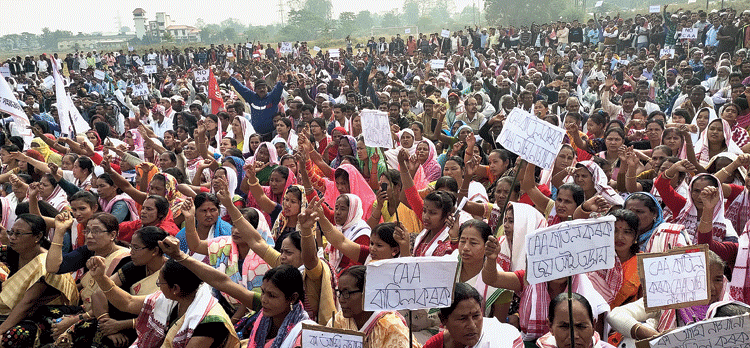 ---
|
Hojai
|
Published 19.01.20, 06:45 PM
---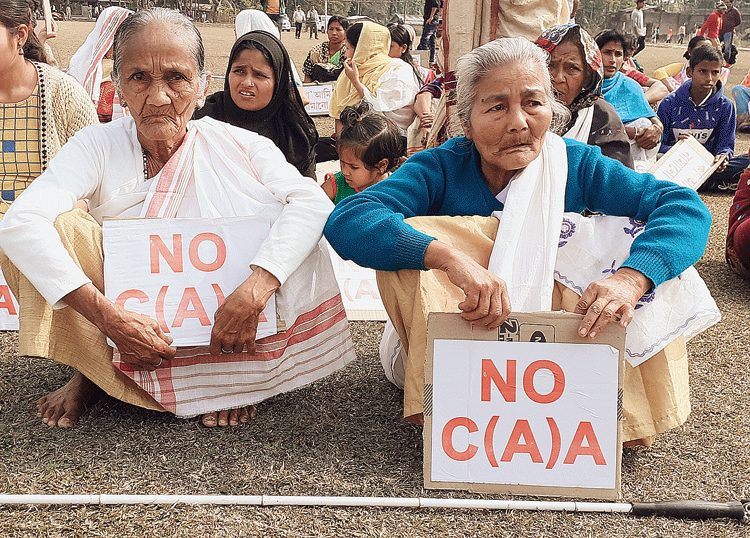 Over 5,000 people protested against the Citizenship (Amendment) Act in this Assam district on Sunday, where the Rashtriya Swayamsevak Sangh (RSS) has a strong presence and which is represented by BJP legislator and vocal CAA supporter Shiladitya Deb.
Gitashram in Hojai is known as the RSS base, where its chief Mohan Bhagwat visits every year and addresses the annual camp for trainees.
Various speakers flayed Deb, chief minister Sarbananda Sonowal, cabinet minister Himanta Biswa Sarma, Prime Minister Narendra Modi and Union home minister Amit Shah for imposing the "anti-Assam and unconstitutional Act".
Bir Lachit Sena activist Shrinkhal Chaliha said the "Modi government only wants four things from us — coal, tea, oil and our precious vote". "CAA ami namanu, namanu, namanu (I will never accept CAA). It is a threat to our culture, language and motherland," he reiterated. "BJP, RSS gundami nacholibo (misuse of power by BJP and RSS will not be tolerated)."
"The BJP and its allies are in trauma of losing the 2021 Assembly election after witnessing the continuous massive protests," he said.
Protesters shouted slogans like "BJP, RSS go back", "CAA will not be accepted", "Jai Aai Axom", "Akhil Gogoi zindabad" and "release Akhil and others immediately". The rally began at 10.30am and concluded at 3.30pm.
Senior journalist Ajit Kumar Bhuyan termed Sonowal and Sarma as "kagojor bagh (paper tigers)". He said Deb was "a small leader who wants to create disharmony between Hindus and Muslims for political gain". He clarified that the statewide protests are not against the Hindu Bengali community but against illegal immigrants.
Members of the Golaghat Zila Bharatiya Gana Natya Samity sang during the rally, while activists of Marwari Yuva Manch distributed water among the protesters.
Efforts to contact Deb for his comments on the rally proved futile.
Earlier, homage was paid to Dipanjal Das, Sam Stefford, Abdul Halim, Ishwar Rai and Jitendra Panging, who lost their lives in alleged police firing during anti-CAA protests.
At a rally at Borguri in Upper Assam's Tinsukia district, Shaileshwari Chetia,74, said, "CAA is an ominous Act. It must be withdrawn, otherwise we will keep protesting." Her neighbour and friend, Parmeshwari Saikia, 84, echoed her.
"We will never compromise with our customs, conventions, rituals, cultural heritage and language, which will suffer from CAA which has been imposed forcefully on us .We will never accept the Act," said All Moran Students Union president Arun Jyoti Moran. "People had voted for BJP governments at the Centre and state for achchhe din (good days) but now they are disappointed and troubled."
All shops and business establishments remain closed till evening as shopkeepers and traders took part in the rally, along with thousands of tea workers.
Another rally was held at Rupai Siding, around 28km from Tinsukia town and 3km from Doomdooma.
At Duliajan in Upper Assam's Dibrugarh district, KMSS leader Dipon Jyoti Phukan said, "If Meghalaya chief minister Conrad K. Sangma can raise his voice against the law, why can't our chief minister and ministers do so?"
Dibrugarh University Post Graduate Students' Union secretary Rahul Cherry said student unions from 80 universities across the country are united against the Act.
Several local artistes sang songs against CAA.
Additional reporting by Manoj Kumar Ojha in Doomdooma and Pradip Kumar Neog in Duliajan