The car winds down Darjeeling's Peshok Road, slicing through the montane woods of aldar, birch, magnolia and pine. The pitstop for tea and noodles at Rambi is enveloped in a mist-drenched silence.
It makes one wonder if these same trees were present in the summer of 1940, when Rabindranath Tagore was carried on a palanquin from Rambi to Mungpoo, 10km away. The poet was hosted by author Maitreyi Devi and her husband Dr Monmohon Sen, in their cinchona plantation bungalow nestled on the edge of a hill, on four occasions – from 1938 to 1940.
Hosting Tagore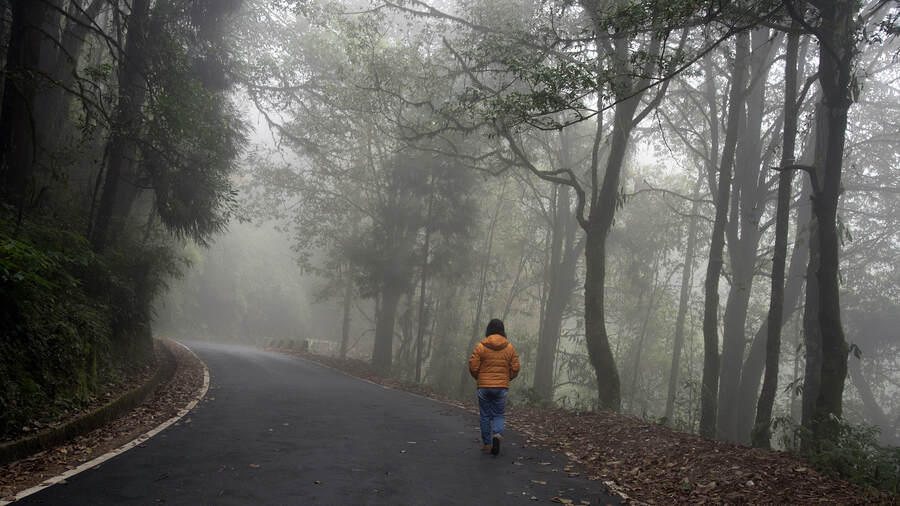 Misty montane woods flank the road to Tagore's favoured retreat of Mungpoo near Darjeeling
Sugato Mukherjee
Dr Sen was a quinologist with the Government Cinchona Plantation, the lifeline around which this hamlet in north Bengal had developed since 1864. 
The daughter of renowned scholar and philosopher Surendranath Dasgupta, Maitreyi was a favourite protégé of Tagore. He had written the preface to her first volume of verses, published when Maitreyi was 16. Later, she would be known for her 1976 Sahitya Akademi Award-winning novel Na Hanyate.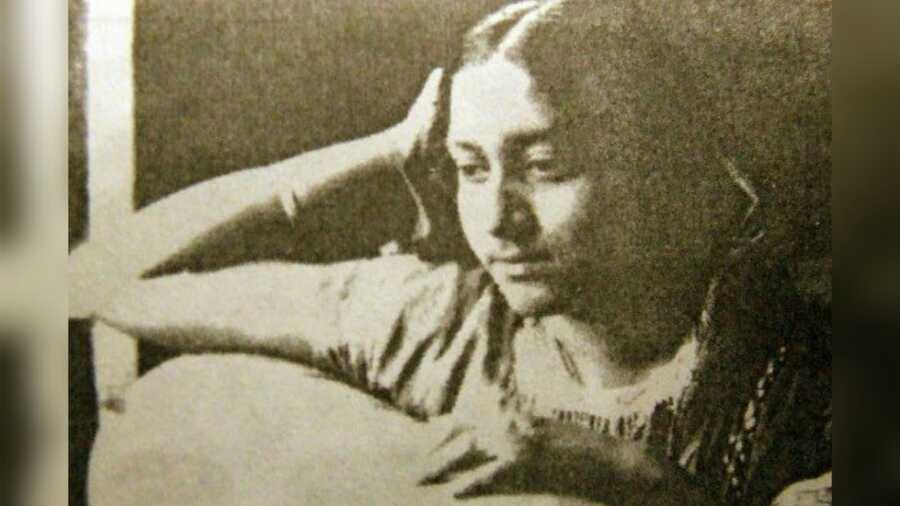 Author Maitreyi Devi, known for her Sahitya Akademi Award-winning novel 'Na Hanyate', was a protégé of Tagore's
Her Bengali work, Mungpoo-tey Rabindranath, translated by the author herself in English as Tagore by Fireside, is a poignant memoir about her observations of Tagore during his visits to Kurseong. The book gives readers a glimpse of a Tagore whose lively conversations encompassed profound reflections on art, life and light-hearted humorous banter. It talks of the poet's love for parlour games and evenings when he read out his poems to a small captive audience. It also details his discipline — long hours at his writing desk every day engrossed in his creative zone, and when Maitreyi found him unassailable, like a "distant, solitary mountaintop."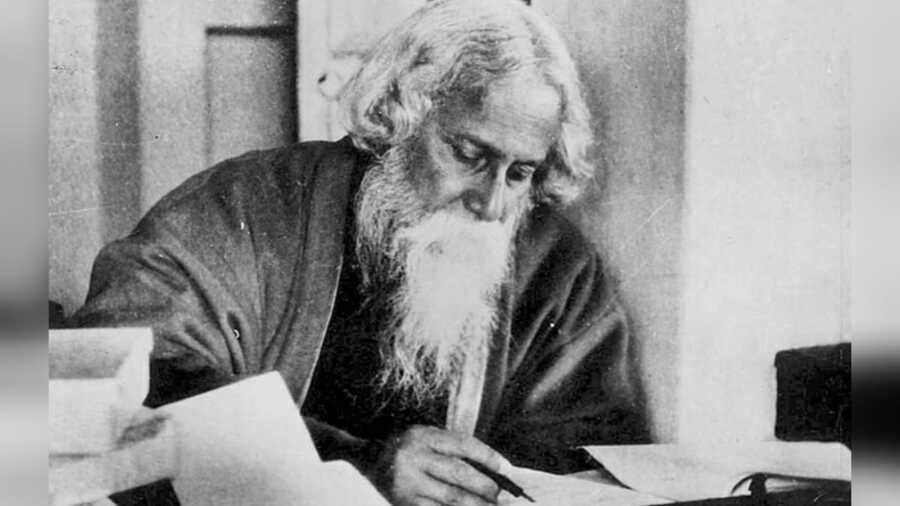 Maitrayi Devi's books on Tagore's time in Mungpoo document the poet's lively dialogue and stoic discipline
TT Archives
Preserved heritage
The bungalow is now a museum called Rabindra Bhavan, dedicated to the Nobel Laureate and still has artefacts and memorabilia from Tagore's stay here.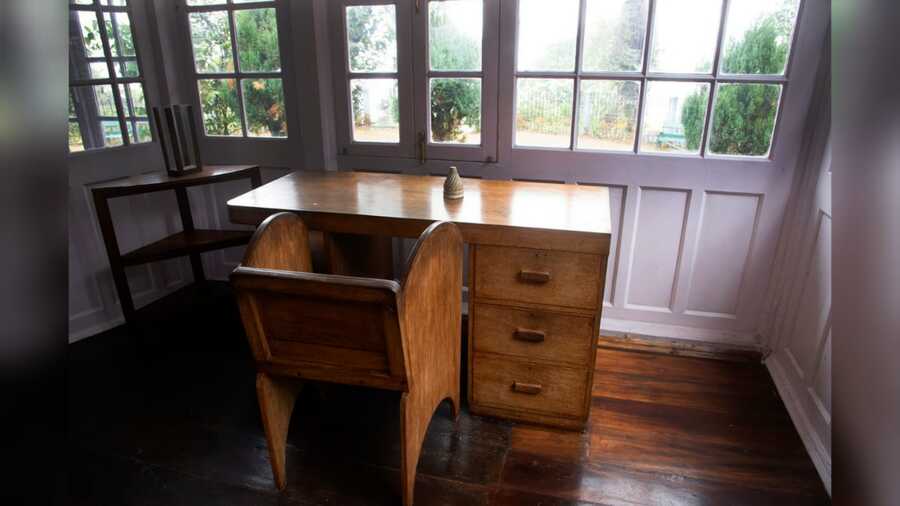 Tagore's workstation with a uniquely-shaped chair designed by him and carved by his son Rathindranath, who had accompanied his father on one occasion
Sugato Mukherjee
At the far left of the linear lounge lies the room that was the poet's workstation during his stays, kept exactly the same way through the years. A mahogany writing desk and a curiously carved chair, designed by Tagore himself, with a well-worn cushion still on the chair. A small cabinet holds the assorted painting supplies that Tagore would choose to dabble with.
With creaky floors, old fireplaces, the poet's manuscripts stowed in wooden chests and vintage snapshots on the walls, the house seems to exist in a time warp. In an east-facing bedroom, where the light of dawn would greet Tagore every day is a bedstead with an inclined backrest, designed by Tagore and carved by his son Rathindranath. The large tree still standing outside has found mention in one of the many poems of Tagore that were composed here.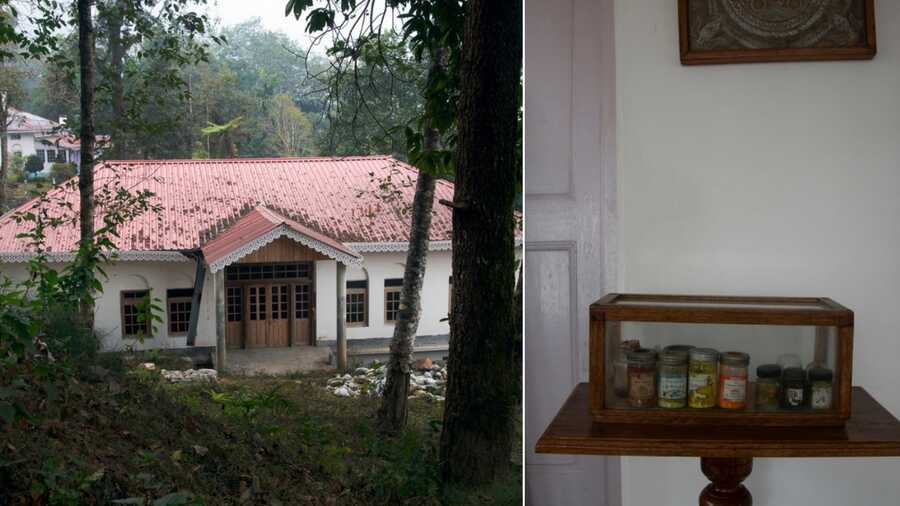 The bungalow is like a time warp with many items, such as paint bottles used by Tagore, preserved exactly as they were left over 80 years ago
Sugato Mukherjee
The poet composed many memorable works during his Mungpoo staycations including some of his final ones. Some of these poems were composed on his birthday in May, 1940. The story goes that his hosts were anxious about celebrating their esteemed guest's special day, which would have otherwise been observed amid much fanfare with dignitaries and literary doyens at Santiniketan. Tagore resolved Maitreyi's dilemma by asking for a simple celebration with the workers of the local cinchona plantation and quinine factory. The unadulterated exuberance of his guests who gathered to celebrate the day, moved him to write a beautiful poem, which would later be included in a slender volume, Janmadine.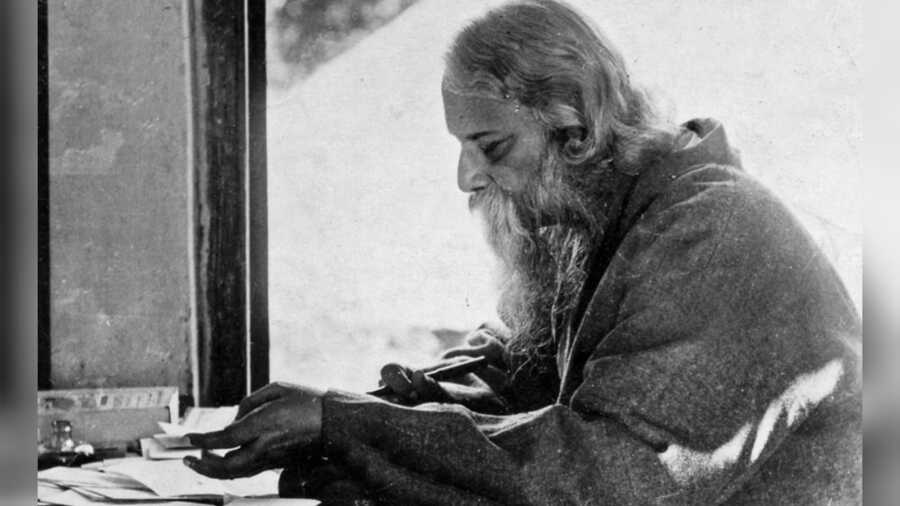 Among the works composed in Mungpoo are poems from the anthology 'Janmadine'
Wikimedia Commons
Mungpoo beyond Tagore
Apart from the legacy of Tagore that this small hamlet lovingly cradles, Mungpoo is a good base to explore the surrounding tea gardens, the Himalayan forests and gurgling streams that meander through them.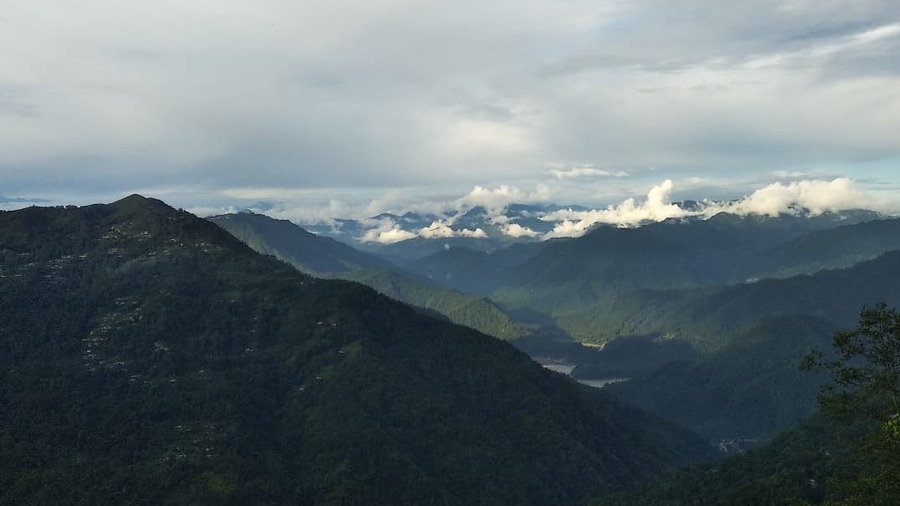 Sights around Mungpoo
mungpoo_tourism/Instagram
The local Orchid Park showcases around 150 varieties of blooms. The Dinchhen Sherap Chhoeling Gompa is a Buddhist monastery perched on an adjacent hilltop just over Mungpoo bazar. Nearby is the Kalijhora waterfall (about 12-13km away from Mungpoo), whose blackish waters cascade down from a height of over 500m to meet the Teesta river. You can choose to stay overnight in one of the basic, but effusingly hospitable homestays run by the locals in Mungpoo.
Travel details:
By road, Mungpoo is about 31km from Darjeeling, 40km from Kalimpong and about 60km from New Jalpaiguri station.
From NJP and Darjeeling, taxis and hired cars are available to take you to Mungpoo.
Mungpoo is a good option for a day-trip from Darjeeling. Visitors can tour the Rabindra Bhavan museum, the monastery, the quinine factory and the local market.