She was 34, a writer, who was struggling to live life on her own terms. He was 63, ailing and in need for rest and rejuvenation. They met in Buenos Aires in 1924 and created a bond that lasted his lifetime. For her he was Gurudev, for him she was Bijoya. The relation between Rabindranath Tagore and Argentine writer and intellectual Victoria Ocampo is familiar to fans of Tagore. But what was Ocampo's relation with Tagore? What did he mean to the woman who drew literary inspiration from Tagore and experienced a spiritual awakening? Argentine film director Pablo César's Indo-Argentinian film Thinking of Him, released in theatres across India on May 6, explores the curious bond between Tagore and Ocampo.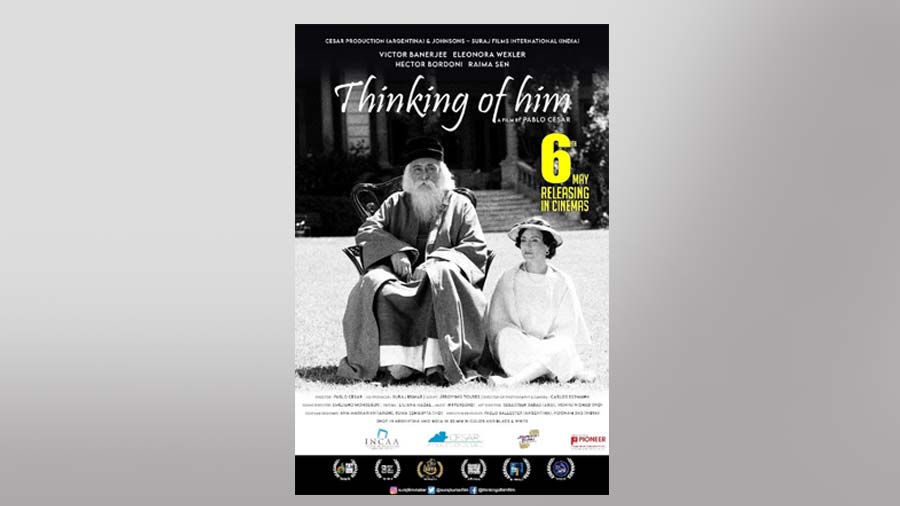 Cesar has recreated the Tagore-Ocampo encounters based on the real-life events that took place when Tagore had to stop in Buenos Aires on November 6, 1924 for medical rest while he was on his way to Peru to attend the centenary celebrations of the country's independence. Ocampo, who idolised Tagore after having read the French translation of Gitanjali, came to know about this and offered to take care of him. She rented a beautiful mansion in a suburb of Buenos Aires for Tagore.
Starring Victor Banerjee and Eleonora Wexler as Tagore and Ocampo, with Raima Sen and Hector Bordoni in other major roles, Thinking of Him looks at the events that took place over the 58 days that Tagore stayed in Buenos Aires, his influence on Ocampo in the past and on a young Argentine man who discovers Tagore in the present.  
My Kolkata spoke to Cesar about the making of Thinking of Him, co-produced by Suraj Kumar, his thoughts on Tagore, directing Victor Banerjee and more. Cesar has been making films right from the age of 13 when his older brother presented him with a Super 8mm camera and showed him the ropes. Cesar has been a professor at the University of Cinema in Buenos Aires since 1992.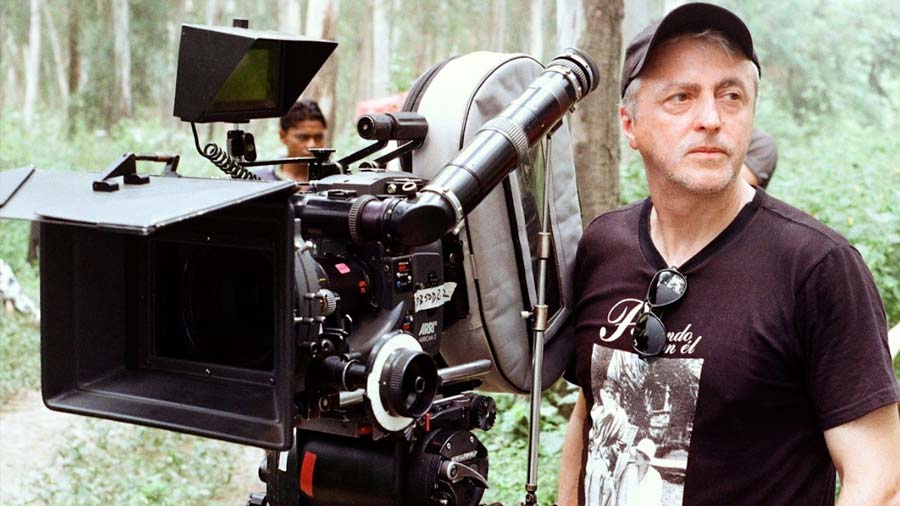 Argentine auteur Pablo César
Wikimedia Commons
How and when did you discover Rabindranath Tagore?
I discovered Rabindranath Tagore when I was 26 years old, in 1988. I was very passionate about Sufi poetry and thought, and I read his translations of Kabir's work. From then on, I began to read Tagore, the book Purabi being the first work I read by him, and then The Prince. I was struck by Rabindranath Tagore's view of the world.
How did Thinking of Him come about?
In 2008, I had a meeting with the then ambassador of India in Argentina, Rengaraj Viswanathan. He told me that I was the right person to make the film that united Argentina and India, through the meeting between Tagore and Victoria Ocampo. Viswanathan transmitted that idea, that proposal, to me, and I began to investigate that wonderful encounter that took place in 1924. I summoned the screenwriter Jerónimo Toubes and that is how it all began.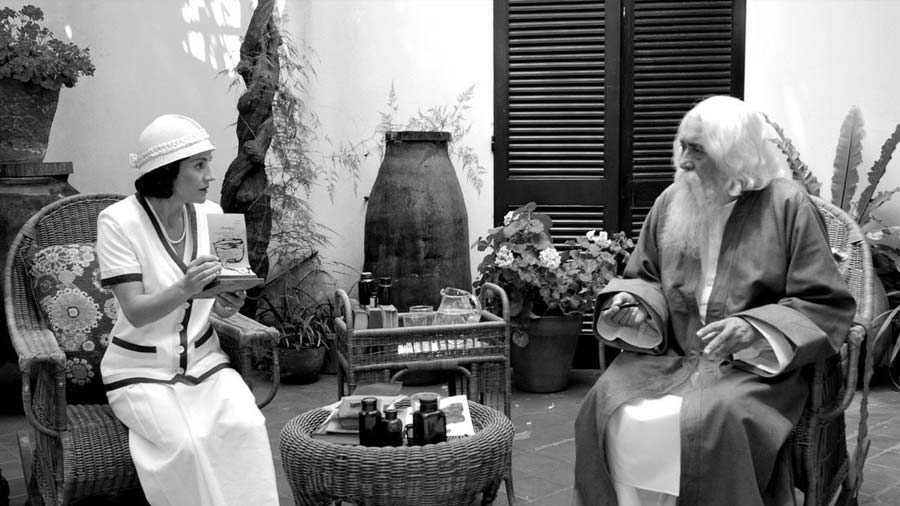 Another scene from 'Thinking of Him'
What drew you to the story of Rabindranath Tagore and Victoria Ocampo?
I was attracted by the fact that it was the story between two great human beings. Tagore for all his work and his vision of the world, of the education system, a system that I believe has not been fully understood even today. It is a complex and wonderful universe. And Victoria for the struggle of a woman to be herself, to show the world the work of artists through her magazine Sur, which is why she found it difficult to go to India to visit Tagore after the meeting in France in 1930. A woman who fought for the rights of women alone and with great splendour.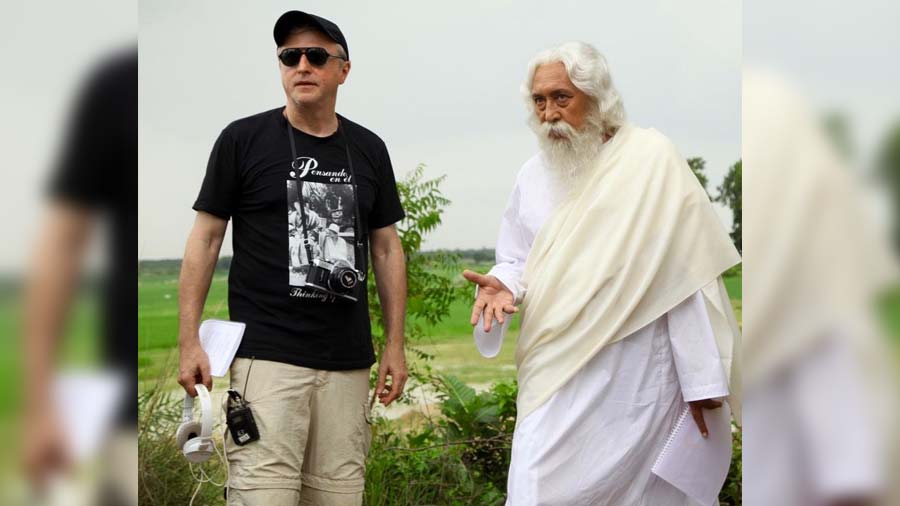 Cesar on location with Victor Banerjee
What made you think of Victor Banerjee as Tagore? What was it like directing him?
Suraj Kumar, this great man and co-producer of the film, was the one who suggested the name Victor Banerjee, who I knew from some great movies like A Passage to India (1984). We went to see him at his house near the Himalayas. It was a beautiful experience. Victor presented me with a copy of Gitanjali and the conversation was exciting. From that first moment I realised that he was the right person to play the role of Tagore.
Working with Victor was a pleasure, a true teacher and a person full of experience and creativity. We both love not to repeat the scenes a lot, we put in all the energy so that it comes out in one or two repetitions, but sometimes logically it must be repeated for technical reasons.
The transcendental love and longing of Victoria Ocampo for Tagore was brought out beautifully by Eleonora Wexler. What was the chemistry like between the two actors? How did you prepare Eleonora and Victor for their roles?
This description that you make makes me very happy. The work between the two of them was, from the first moment, of a human connection and mutual admiration. Both artists, from the first moment, were connected in a spiritual union. Eleonora spent many months looking for information on Tagore, she read the letters, she was in all the places where she could obtain information. The meetings between the three of us began a few weeks before filming.
Victor stayed in Buenos Aires at the Hotel Plaza, the same hotel where the meeting between Tagore and Victoria took place in 1924. There we shared colloquial and also profound talks.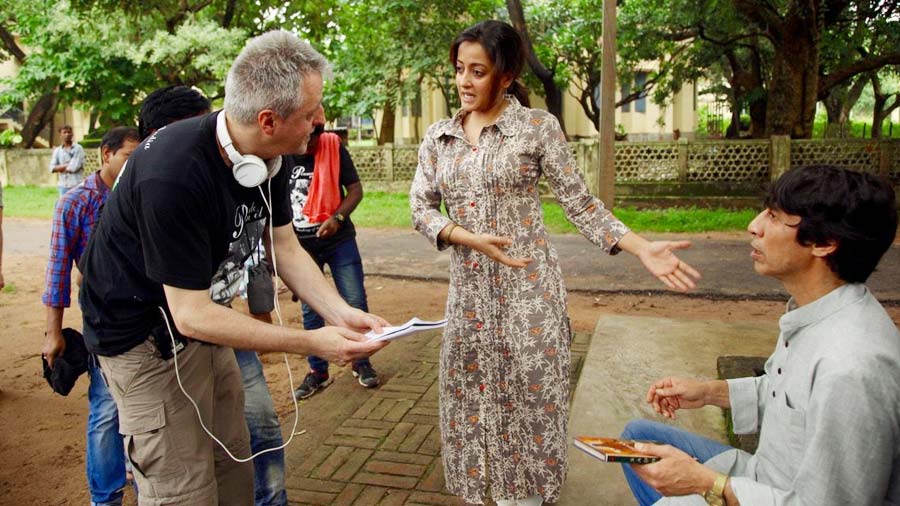 Cesar directs Raima Sen and Hector Bordoni in Santiniketan
What was it like shooting in Santiniketan and Kolkata?
It was an experience full of life. I had previously visited Santiniketan with Suraj Kumar and had seen the way the students were taught. I liked to see how they held some meetings under the trees as Gurudev had suggested in his time.
Kolkata I had also visited a few times. My first trip to India was in 1994 when the IFFI (International Film Festival of India) invited me to present my film Gray Fire. I had also been in 1998 for the Kolkata International Film Festival presenting my film Aphrodite, The Garden of the Perfumes. And with Suraj we had visited the Sunderbans in the vicinity of the islands where the Bengal Tiger is. It was a tour that he prepared for me to feel as good as if I were at home.
I was, in fact, learning Indian cooking courses in Buenos Aires and whenever I can, I try to make myself some dishes. For me, it is the most delicious cuisine in the world.
In 1996, I directed the first co-production between Argentina and India entitled Unicorn, The Garden of the Fruits which I filmed in Rajasthan and it was a brilliant experience.
What were some of the challenges you faced while shooting Thinking of Him?
I had many challenges, from financial complications, as Argentina is a country with a tradition of economic devaluations and inflations, to issues of making people understand in this era of selfie photos and cell phones, that you couldn't take photos when actors were already characterised, since the image of the film is careful, making 'master shots' for each scene. The film has 70 scenes and each scene is made into a master shot.
It was the last movie that was processed in the Cinecolor film lab in Argentina; then the laboratory closed due to this pathetic issue that the human being has to try to replace one technology with another when he should use his intelligence a little more and learn to add instead of replace. I mean that the film is shot in 35mm, with Color Kodak negative and also black and white. We will see in the coming years many films made in digital that will be lost because they are not protected by preservation processes.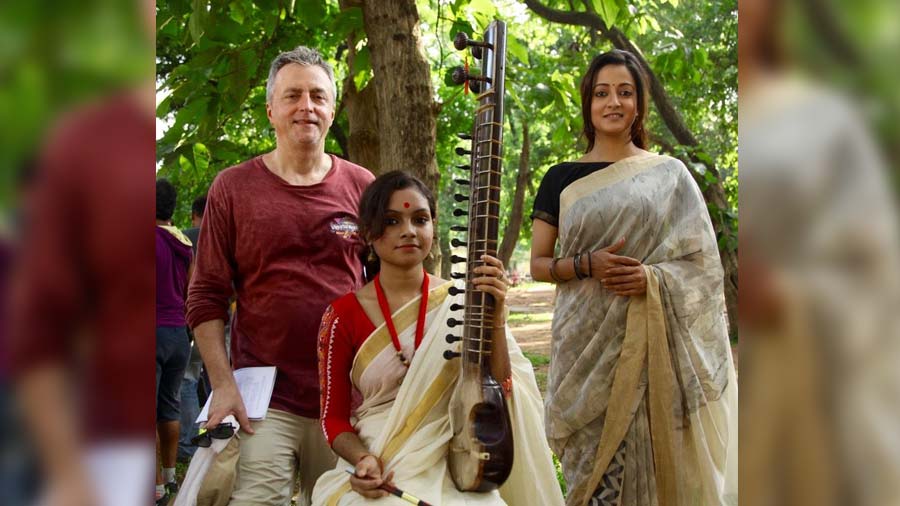 Cesar with Raima Sen in Santiniketan
What are your expectations from the people of Bengal as an audience?
My expectation is that the people of West Bengal can open their minds and not expect anything when they go to see the film, so it may happen that the film surprises them. When we go to the cinema with a previous expectation, many times it may be insufficient for us, however when we see a film without expecting anything, lights can be opened in our worlds. Thus, following Tagore's philosophy, I dare to say that we cannot change the world, but we can begin to change it.