Kelvin Kwok, or Kwai as he is known to friends, is a Chinese born and brought up in Darjeeling, and an alumnus of St Joseph's School. 
He opened Burger Cartel on NB Singh Road around six months ago during the pandemic. "It started as a cloud kitchen and the response was so overwhelming that we had to look for a bigger place," says the 33-year-old. 
His father, Kwok Ying Chung, owns the Hotel Seven Seas (next to Gandhi Road police point in Darjeeling), around a five-minute walk from the Chowrasta Mall. Kwai seized the opportunity to open a 40-seater burger cafe on the first floor of the hotel with a small terrace that overlooks the valley behind. It has become a pop pick for locals wanting a taste of American-style burgers and pizzas, and some Korean flavours. 
One of the best-sellers at the cafe is Gangnam Spice, a fried chicken burger dredged in spicy Korean sauce, sour cream and melted cheddar.
"I like to experiment with the names and flavours," grins Kwai, who also recommends the Pepperoni Pizza (Neapolitan-style and made with sourdough), Crispy Bird Burger, Shroom 'N' Onion Pizza and Chicken Karate (chicken wings). 
The Kolkata connection
Burger Cartel is not Kwai's first attempt in F&B. In 2012, when pursuing his graduation from St Xavier's College, Kolkata, he opened a small Tibetan and Chinese restaurant called K-Wok in the lane beside Quest Mall. "It was doing pretty well, so I expanded the outlet to a residential area in Golf Green. That didn't work because of the location, so I had to wrap up the business and head home," says Kwai, who used to live in Tiretti Bazar. 
His food experiences in the city and his family hospitality background led him to pursue a culinary career. "Kolkata, for me, is all about food like Kusum Rolls, puri-aloo from the para'r dukan, gulab jamun and Chinese food from Golden Joy (incidentally, the Tangra restaurant is run by his batchmate Freddy Liao)," he says, sipping on a hot cappuccino at the cafe on a rainy day in Darjeeling. 
Done up in shades of pastel green and white, with wooden flooring, Burger Cartel sends out soothing vibes. Free wifi encourages young adults to walk in with laptops.
In 2015, he specialised in Thai cuisine from Le Cordon Bleu, Thailand. He worked there for four years and also had a brief stint at Bangkok restaurant Gaa by chef Garima Arora.
His plans became a flash in the pan when the food and hospitality industry was hit during the pandemic, and Kwai had to return to his hometown. 
Challenges of running a restaurant in the hills
Back home, Kwai put his learnings and experience into building Burger Cartel though the challenges were plenty, such as sourcing of ingredients. "The lettuce used in the burgers travels thousands of miles, all the way from New Market in Kolkata to Siliguri and then Darjeeling, ultimately costing us around Rs 400 a kilo," says Kwai, who is exploring collabs with local farmers to grow produce.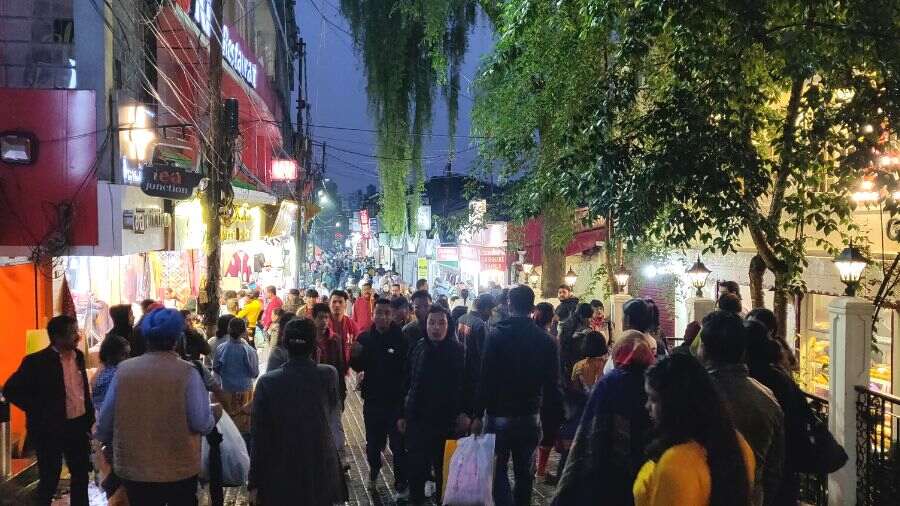 Tourists in Darjeeling in May 2022
Plus, being a tourist destination, there are peak and low seasons. "Ninety-five per cent of our clientele are locals who visit via word of mouth. We hope to appeal to tourists looking for familiar food."
Coming soon, a Thai restaurant
Having tasted success with Burger Cartel, Kwai plans to open a Thai restaurant in Hotel Seven Seas by October, to target the Puja holiday crowd. "I wanted to start with something 'safe' like burgers and pizzas. While there are many Nepali restaurants, there are only a handful that serve Thai cuisine, so I am hopeful," he says.