La la tubali al nasruwatin…. What many in Bengal might find hard to understand would sound familiar if they were to hear Suchetha Satish lend her voice to the words, as those would be the opening bars of the Rabindrasangeet Nai nai bhoy hobe hobe jai.
The girl from Kerala now settled with her family in Dubai has recorded three Tagore songs in Arabic which were released as part of an album called 'Tagore Beyond Horizon' at the Indian consulate auditorium in Dubai. Tagore's 161st birth anniversary will be celebrated on Monday.
"There are no Tagore songs available in Arabic translation and Rabindranath Tagore is not much known in the Arab world, which is a pity. We thought in the 75th year of India's Independence which is also the year of the 50th National Day of Dubai, a project that would spread the fragrance of Tagore here would be most fitting," said Suchetha's father T.C. Satish, speaking from Dubai.
Dev Chakraborty, a Dubai-based music director and singer, mooted the idea and for the translation they reached out to Emirati poet laureate Shihab Ghanem, a 2013 recipient of the Tagore Peace Prize from the Asiatic Society.
The three had collaborated earlier as well. In December, on the occasion of the UAE National Day, Dev had set to tune an Arabic poem by Ghanem which Suchetha sang.
"I studied Arabic till Grade VII. I have sung several songs earlier, including some original compositions," says the Grade XII student of Indian High School, Dubai.
Another Arabic song by her on the Dubai ruler's 70th birthday was composed by Monty Sharma, the music director of the films 'Black' and 'Saawariya', and released by the Indian consulate in Dubai.
In the Tagore album, Deb has sung the Bengali originals while Suchetha rendered the Arabic versions. But even if she had to sing both, she would have had no problems. Suchetha holds the Guinness World Record for singing in the most number of languages in a concert since August 2021 when she sang in 120 languages in seven hours and 20 minutes.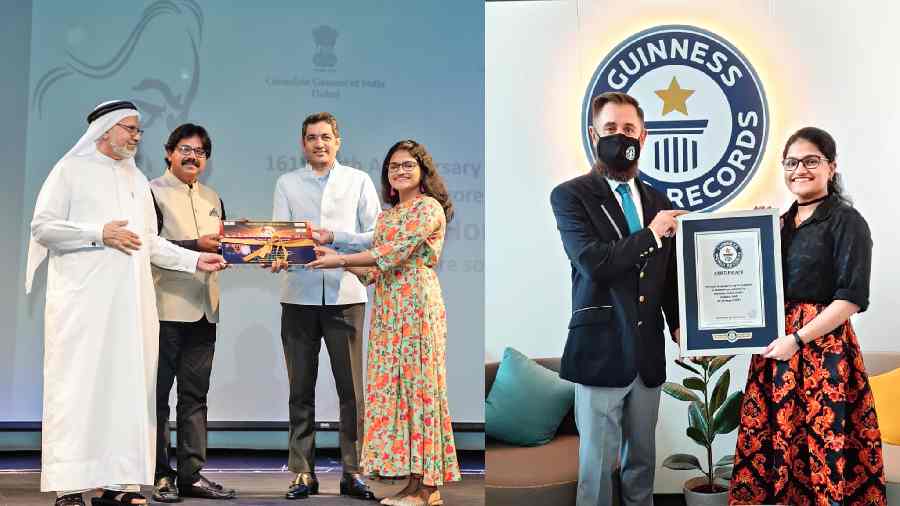 The album being released on Friday by the consul general of India, Aman Puri (second from right), with Shihab Ghanem, Dev Chakraborty and Suchetha Satish. (Right) Suchetha being handed the Guinness record in August 2021
Singing the first stanza of Pherari mon, the melodious 'Antaheen number' by her idol Shreya Ghoshal, during a video call with The Telegraph, she said she was blessed with an ability to pick up pronunciations of new languages. Her repertoire includes songs in languages starting with every letter in the English alphabet.
"That includes Q. We did not even know that a language called Quechua existed till we stumbled upon a song from Peru on YouTube," laughed Satish, a dermatologist.
The toughest to pick up were the click languages of southern Africa, Suchetha said. She has sung in two such — Xhosa, Nelson Mandela's mother tongue, and Zulu. "The Guinness committee appoints language witnesses, who are native speakers of each language. They have to approve of the pronunciation before the committee accepts a claim. To be handed the record, Suchetha had to get positive feedback from each of those evaluators," he said.
Suchetha had prepared well. "Dubai being a cosmopolitan city with residents from over 200 nationalities, it is not difficult to find, say, a Zulu speaker. We had a pronunciation check before she went for the programme," he added.
Suchetha had been taking firm steps towards the Guinness mark for years. At 12, she set a world record for the longest concert by a child, singing in 102 languages in six hours and 15 minutes, breaking the existing record of three hours and 20 minutes by a Romanian girl.
"Guinness does not admit entries from people under 16. This was adjudicated by the World Record Academy, the American equivalent of Guinness," she said. In April 2020, Suchetha sang a Covid awareness song in 32 languages. The Kerala government picked five of those, including the Bengali version, for its Break the Chain campaign.
"As soon as she turned 16, we applied to Guinness," Satish said.
The journey had started with the visit of a Japanese dermatologist to their home. "While driving her to the airport, my father asked her to sing a Japanese song. I liked it so much that I picked it up and sent a recording to her even before she landed home. She said I sounded like a native speaker. That gave me the confidence at the age of nine and a half that I could pick up songs in foreign tongues," said Suchetha.
Initially, her parents chose the songs.
"Now people come forward and request her to sing in their mother tongue," Satish said.
And Suchetha is not resting on her laurels. Her first original Bhutanese song will release this month. "She had sung a Bhutanese cover which many people liked in Bhutan. The composer contacted her on Facebook and requested her to sing his original composition. We recorded that last week," Satish said.
Her repertoire now has extended to 132 languages.
Suchetha has plans to release more Tagore songs in Arabic. "Even if her Tagore project reaches 100 listeners, it will be worth the effort," Satish said.