Laal mati, Rabindrasangeet, and riverside strolls — Bolpur has it all. This town, about 162 km from Kolkata, is a favourite among Kolkatans for quick getaways.

While everyone has a Santiniketan itinerary, the Shanibar'er haat almost always features on all of them. But Bolpur has a plethora of new and old places to discover and enjoy with family and friends if you're in the town for a weekday workcation. Also, with the pandemic throwing the regular Saturday schedule of the local handicraft marketplace off-kilter, now is the time to look at your much-loved spot with new lenses.
A Bengali 'bhuribhoj' at Ghare Baire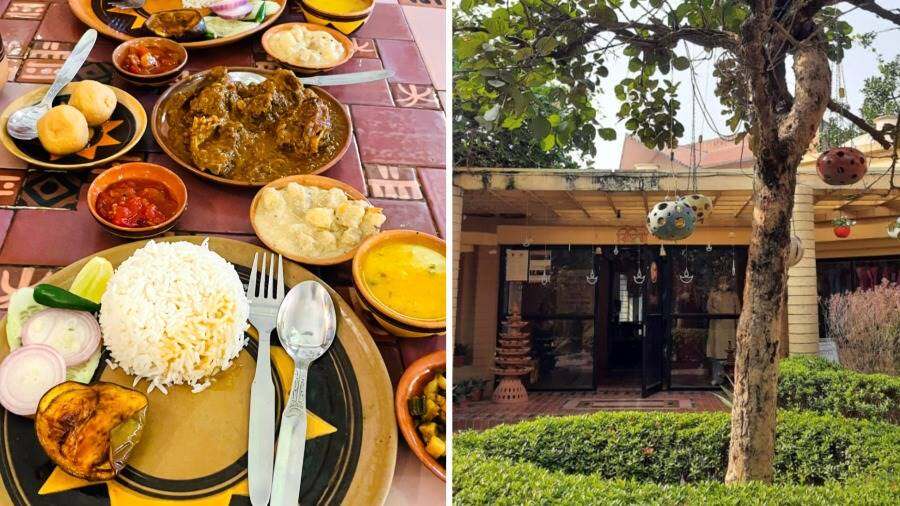 Bengali lunch at Ghare Baire
Located beside Gitanjali Cinema Hall near the Bolpur Bus Stand, Ghare Baire is a great spot for a lavish Bangali lunch. The picturesque property with a garden and trees is perfect for all your selfie-taking needs and the thali will fulfill your bangaliana.

Their grand meal includes hot rice (with ghee, of course) two types of bhaja of the day, along with the day's two vegetarian dishes (keep your fingers crossed for aloo posto and shukto, they're the best!). The thali also has dal to accompany the bhaja and includes your protein of choice. Finish the meal with chatni and mishti.
A riverside stroll along the Kopai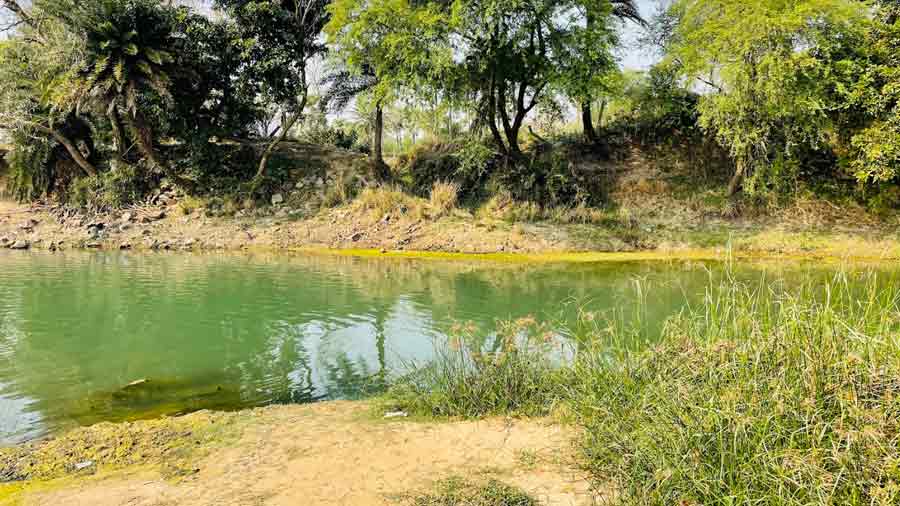 The banks of Kopai are a perfect spot for a picnic or stroll
Make your way to Goalpara for a breezy walk along the lush banks of the Kopai River. The river isn't as voluminous in the winter, but with the gorgeous banks are a great spot to sit back and relax with some cha, have a small (environmentally responsible) picnic or for a short walk. The area near the river has mustard and other fields that stretch out in shades of green and yellow.
A toto ride full of tales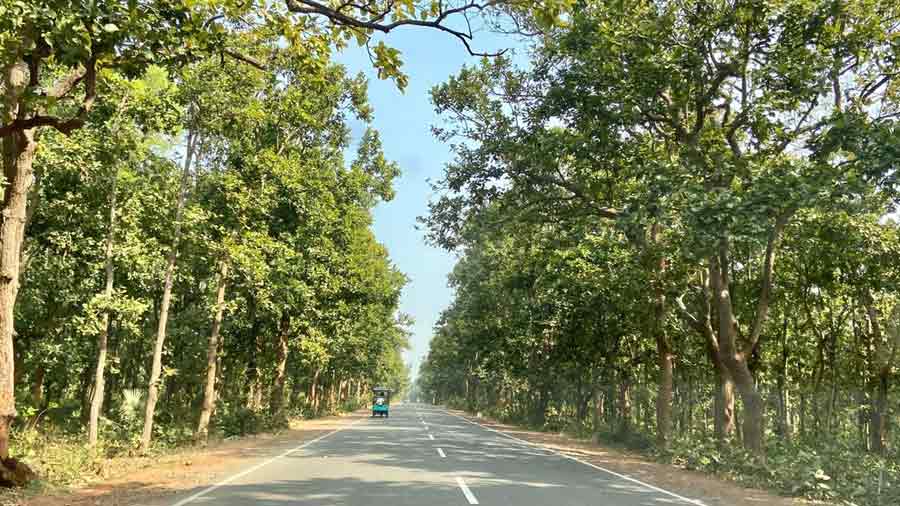 A toto ride around town is a unique experience
If you've driven to Bolpur from Kolkata, give your car some rest and hop on to a toto for a ride around town. The toto drivers are almost always sure to enthrall you with their tales "from history" when riding around the Visvabharati campus. From supposed locations that inspired Tagore to the best local views and even the location of seasonal kash phool — you will experience the town through new eyes.
A cuppa and baked goodies at Amoli
Opened just last year, Amoli is a homestay and cafe in Ratan Pally. Owned and run by couple Bidisha Tagore and Aloke Ghosh, it is a warm, serene nook with a minimalist decor that is a juxtaposition of modern and traditional. Their cafe is a great place for a cup of tea or coffee, to be enjoyed with indulgent freshly baked breads and desserts.
"I started the cafe with things that I know how to make [on the menu]. We have a pastry chef who makes the mousse cake, cheesecake and breads. I cook everything else on the menu," said Bidisha aka Minku di.
A day trip to Bakreshwar Hot Springs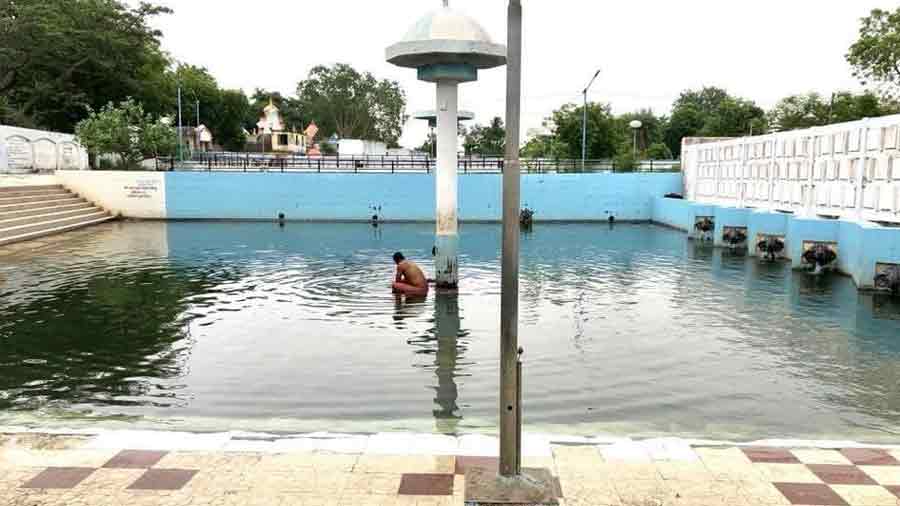 Bakreshwar Hot Springs is good for a day trip from Bolpur
Located 57 kilometres from Bolpur, the Bakreshwar Hot Springs is great for a day trip. A scenic drive along a single road lined with open fields, takes you to the site of the natural wonder. The natural springs have been bound with a built structure creating shallow pools with different temperatures. One of them is a steam-topped pool that records a temperature of 100°C. There is a renowned Shiva Temple in the premises where one can offer prayers.
A haul of edible souvenirs from Vanalakshmi Unmesh Samiti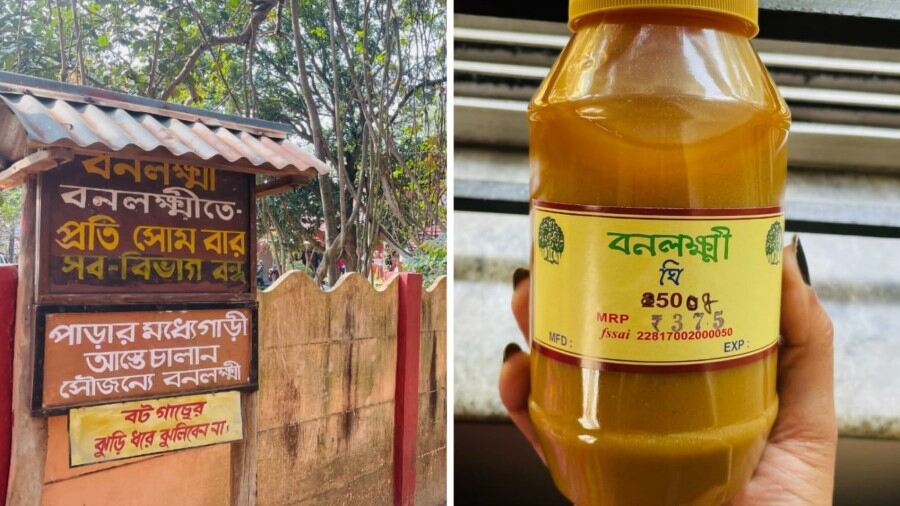 The Vanalakshmi Unmesh Samiti has a store that sells fantastic locally made edible products
Near Banabhila (Banavilla) bus stop is the Krishi Ashram and NGO Vanalakshmi Unmesh Samiti, popularly known as Banalakkhi. Spread over a huge area, it houses a nursery and a store that sells their fantastic range of locally made edible products that include jams, jellies and dal bori, among other things. The ghee, which is made from the milk of cows under their care, is one of the best edible souvenirs to bring back from Bolpur. The rich amber colour and the unique aroma will have you craving a meal of gorom bhaat and ghee.
A hike up Mama Bhagne Pahar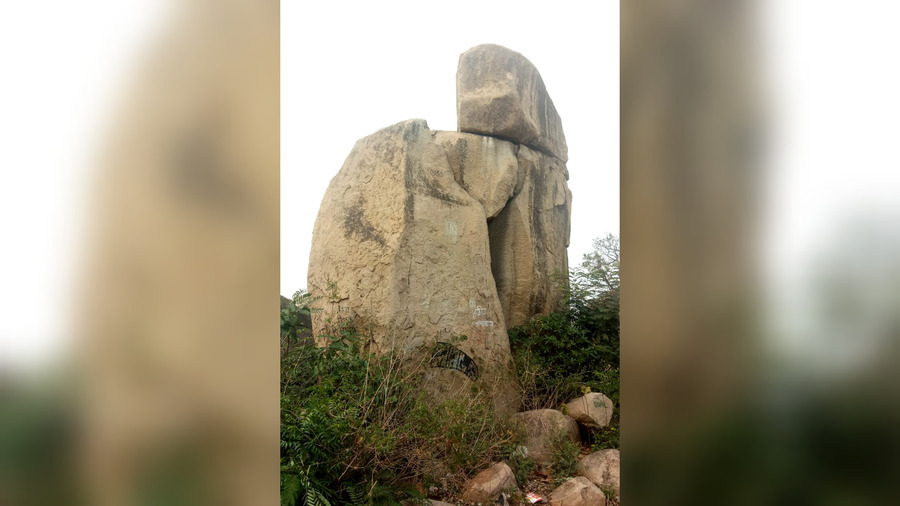 Satyajit Ray shot parts of his 1962 film 'Abhijan' at Mama Bhagne pahar
About 46 kilometres from Bolpur town, in Dubrajpur, is the Mama Bhagne Pahar. The hills are known for their unique rock formations, and the main attraction are the spherical granite boulders that naturally balance on the top of each other. This is also the location where Satyajit Ray shot parts of his 1962 film Abhijan.
A hike up the hilly path leads to a beautiful view of the rocky landscape. At the bottom of the hills is the locally famous Pahareshwar Temple.
A Continental feast at Chhuti Resort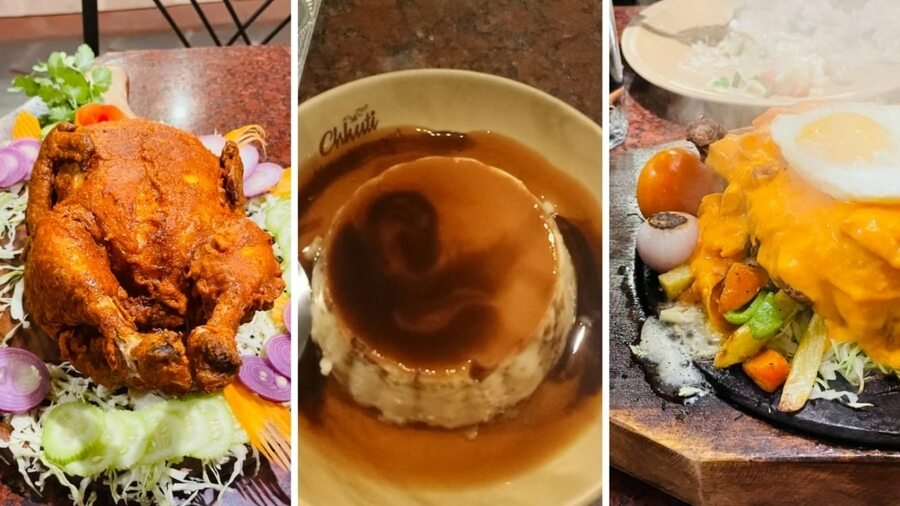 Chhuti's restaurant serves a menu of hearty Continental fare
Tucked in the lanes of Charu pally, Chhuti Resort is a great option to stay and the resort's restaurant is known for a scrumptious Continental fare. They offer hearty selections including chicken stroganoff, chicken sizzler, whole fried chicken and caramel custard. Visit the place to make your reservations and enjoy a peaceful meal away from the bustle of touristy spots.