A right turn off the Eastern Metropolitan Bypass (look for the Biswa Bangla Globe) leads to Kolkata's Ward 101. This corridor — between Patuli's floating market and KK Das College — is a stretch that is, almost always, rife with excitement and quickly becoming a hub for weekend hangouts.
Well-connected to every major corner of the city and yet enwrapped in quiet serenity, the neighbourhood merges the old and the new. Ward 101 in Patuli is largely known for its Thailand touch, courtesy the one-of-a-kind floating market.
My Kolkata takes a look at what else floats the boat in these emerging waters.
Floating Market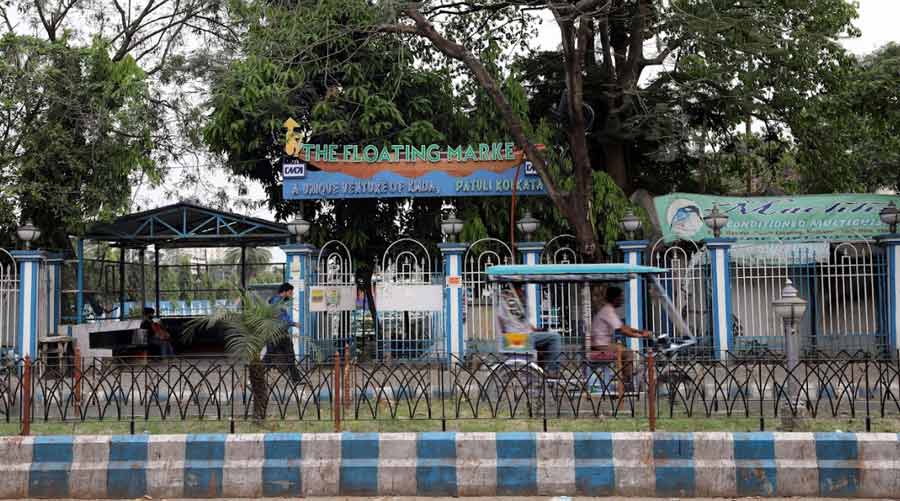 Boats and hawkers — selling fruits, vegetables, flowers, and seafood — dot the bazaar on a usual morning
Arijit Sen
Patuli's Floating Market is one of the most well-known attractions of the city. In 2015, the locality's central waterbody was transformed into a local market to accommodate hordes of sellers who lost their shops on account of the Eastern Metropolitan Bypass being extended from 4-lanes to 6-lanes. It was designed to mirror the local markets of Thailand with purveyors of fresh produce selling their greens and meats to locals out of beautifully-decorated vessels. It has also become a popular hang-out spot for all ages.
Wooden bridges painted in colourful hues wind their way through the market, connecting customers and hawkers. Over 112 boats and 200 hawkers — selling fruits, vegetables, flowers, and seafood — dot the bazaar on a usual morning, however, 2020's twin disasters reduced that number by half. In addition to the fresh produce, one can also score breakfast delicacies such as kochuri and aloo torkari and crispy jilipis.
Patuli Jheel Park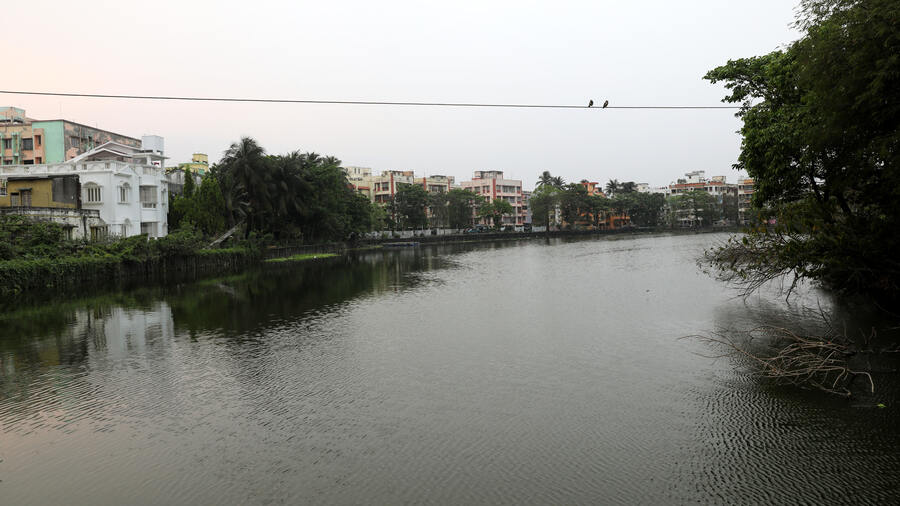 Around the scenic body of water at Patuli Jheel Park, morning and evening walkers, cyclists, and young revellers gather every day for some fresh air and an adda session
Arijit Sen
Opposite the Floating Market lies the Patuli Lake Side Park or the Patuli Jheel Park as it is commonly known. A haven of tranquillity amidst the Bypass' bustle, the park is decorated with figurines that pay homage to the city's biggest and most-loved things – Durga Puja, football, the Howrah bridge. The figurines are believed to have first resided at Udayan Sangha, in Naktala, but were later moved here.
Around the scenic body of water at its centre, morning and evening walkers, cyclists, and young revellers gather every day for some fresh air and an adda session. There's a smattering of food joints in and outside the park — from street food staples like bhutta, pani puri and phuchka to more offbeat offerings such as 'momo pizzas' and chicken drumsticks.
A bounty of cafes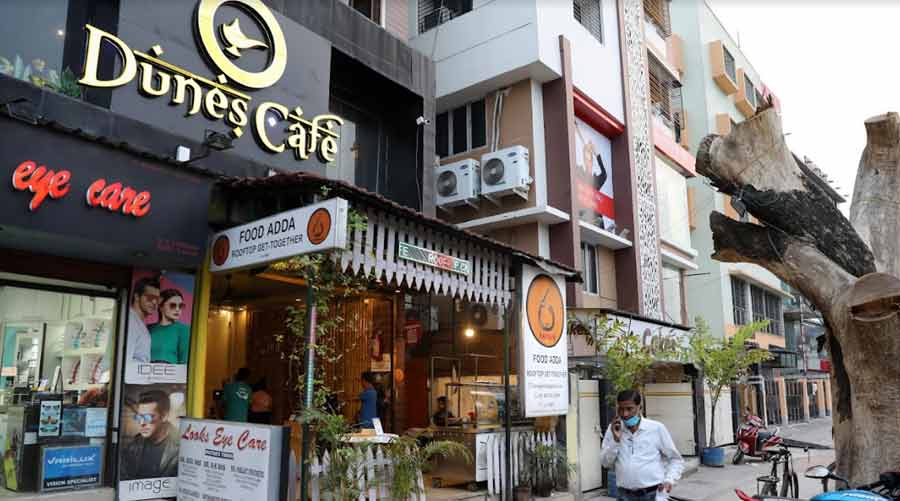 Chic cafes, restaurants, bakeries and ice cream shops keep the buzz of Patuli alive all day long and late into the night
Arijit Sen
Until a few years ago, the only big eatery that adorned this corridor was the Mughlai restaurant — Palki. Today, a host of food eateries punctuate the locality, serving as a fulcrum to the hubbub of the neighbourhood every evening.
There's a range of brands like Chowman (Chinese), Yuan (Asian), and The Mulani (Mughlai) to choose from. Many chic cafes such as Dune's Cafe, the rooftop Food Adda, The Beanshot Cafe, and Hygge, serve snacks and drinks that are worthy of the 'gram. Bakeries including Cakes and Mio Amore and late-night haunts such as Pabrai's and Baskin Robbins, meet all cravings with fresh, artisanal sweetmeats and ice creams.
Bangladeshi food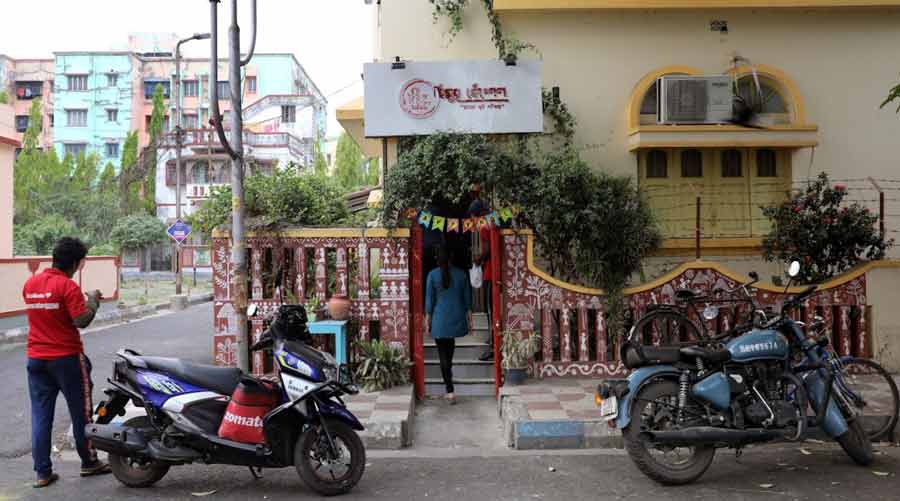 Himur Heshel focuses on fare traditional from the vibrant city of Dhaka and other provinces surrounding it
Arijit Sen
On the far end of Patuli Lake Side Park is the self-effacing eatery Himur Heshel — often mistaken for a dance studio — serving delectable Bangladeshi delicacies. The Shash e Gondhoraj Chingri, prawn infused with flavours of gondhoraj lebu and coconut, is a must-have. Another sought-after pick is their Chittagong-style Mutton Kala Bhuna which is made using 17 different spices! The fare is fixed by Sutapa Barua, who hails from Bangladesh.
"Each recipe has been carefully passed down to me by my mother, aunts, and grandmother. When I began this journey, I thought, 'I'm from Bangladesh so why not focus on Bangladeshi food?' I wanted to do something different, and going back to my roots seemed fitting because it was what I love cooking. I was sure it would be food that Kolkata would grow to love," said the solopreneur.
Sweet shops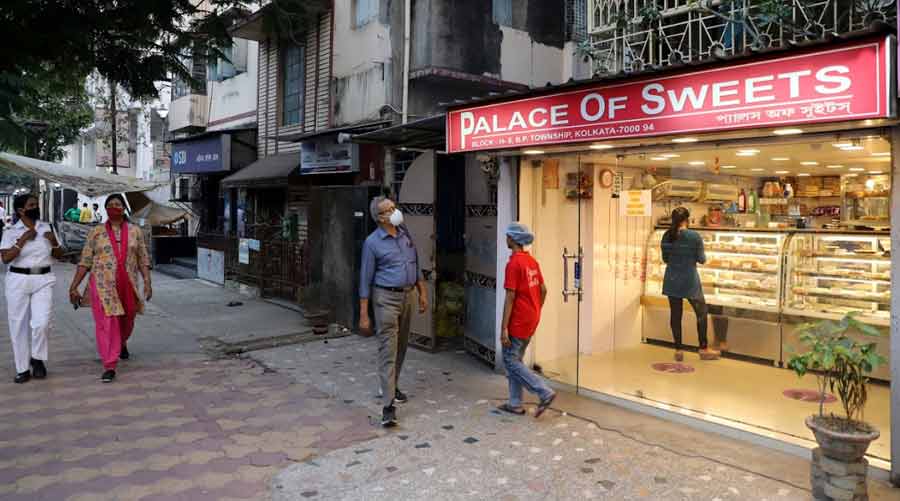 Palace of Sweets in Patuli has a menu of saccharine delights and chatpatta offerings such as 'mango talshash' and 'bhakarwadi'
Arijit Sen
No meal in Bengal is complete without a good post-meal misthi. Naturally, no neighbourhood in Bengal is complete without a misthi dokan. The menu at Palace of Sweets sports a number of saccharine delights and chatpata offerings. You'll spot the usual kaju barfi, ghee laddoo and chhanar jilipi along with audacious aamsatta rolls and mango talsash. Amongst the savouries, are pudina murukku, channa chips, gathiya, bhakarwadi and besan papdis.
Fresh meat cuts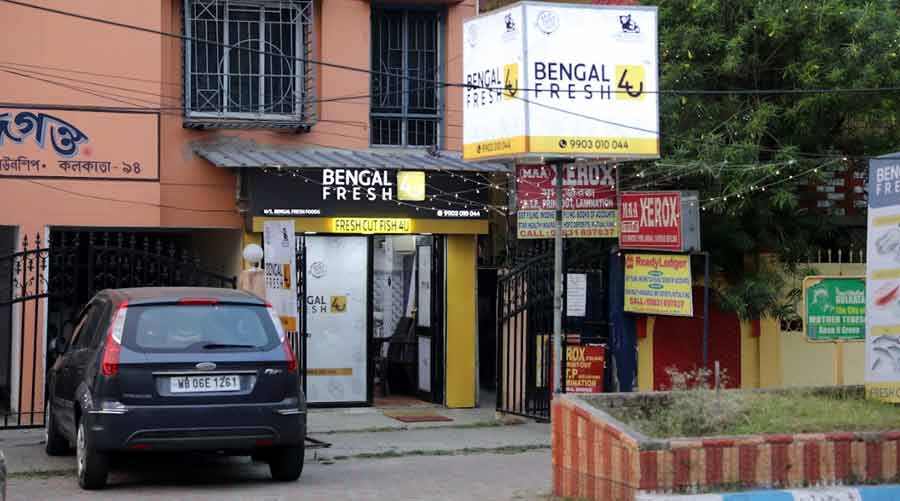 Bengal Fresh 4 U aims at becoming a one-stop-shop for fresh meats cuts in the n'hood
Arijit Sen
Localite Arnab Bose, who's lived in the neighbourhood for 13 years, opened Bengal Fresh 4 U in November 2021 aiming to be a one-stop-shop for fresh meat cuts (fish, prawn, chicken, and mutton) in the neighbourhood. Functioning through a physical store and online application, one can get their hands on freshly cut, processed, and packaged meats along with ready-to-fry items like fish fry, prawn fry, chicken drumsticks and cutlets. They are also launching a range of cold cuts over the next few weeks.
"I want to make the process of purchasing fresh meats easier and healthier at a price point that is undoubtedly value for money," said the 39-year-old entrepreneur. Bengal Fresh 4 U is open every day from 8am to 9pm.
Nail and tattoo studio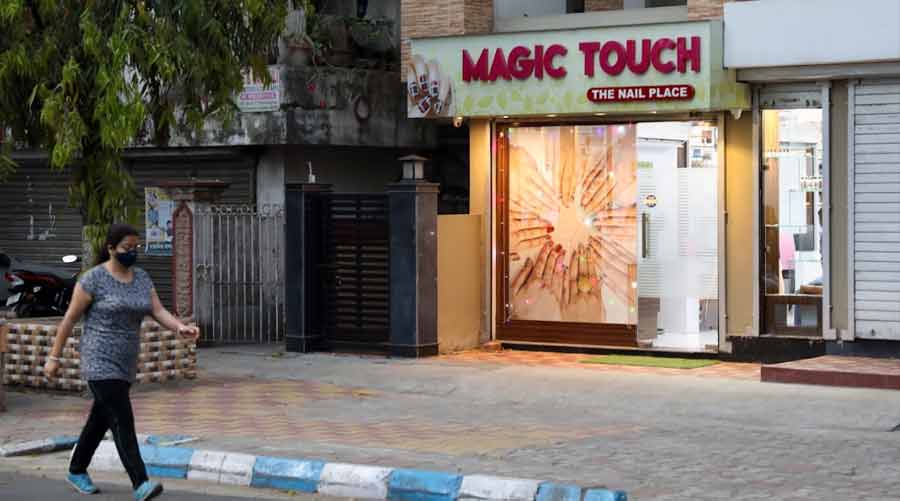 The Magic Touch is a convenient nail and tattoo studio for beauty and cosmetic care
Arijit Sen
Magic Touch is a nail and tattoo studio offering beguiling art. You'll spot your fave nail art aesthetics — from florals and neon hues to beads, flowers, and quirky prints. Their classic French manicure with a contemporary twist is a pop pick. When it comes to tattoos, they're usually only as good as the artist and Magic Touch's artist competes with some of the better tattoo artists in the city.