A hub for shoppers, window-shoppers, and foodies, Gariahat is one of South Kolkata's most popular localities – its very own New Market, if you will. Whether you're looking to just spend a day walking around while feasting on street food and looking through stalls, or you're in the mood for shopping and lunch, this is your spot.
Here's a list of things you should not miss out on when in Gariahat.
Shop for ceramics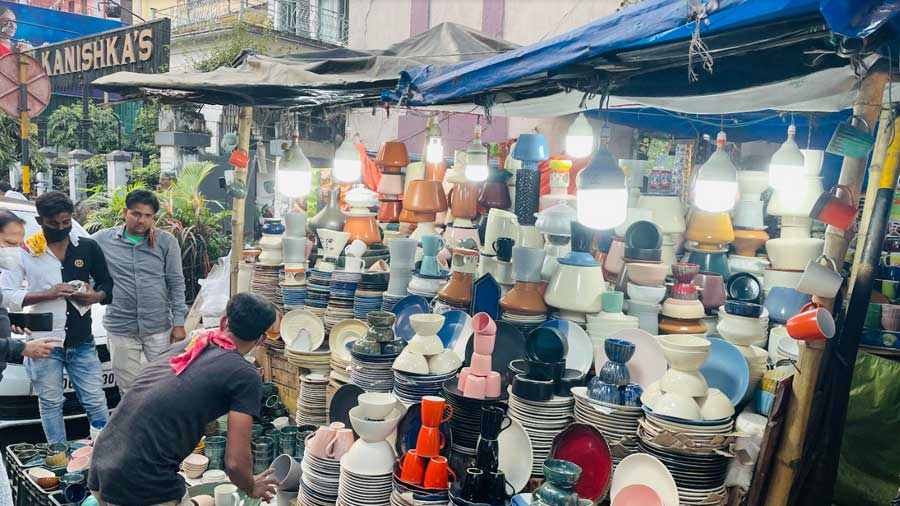 There are a number of stalls selling ceramics dotting the bylanes, but if there is one you choose to stop at then let it be the stall next to Kanishka's. It has been in the same spot for over three decades and stocks elegant pieces that will be an excellent addition to your home.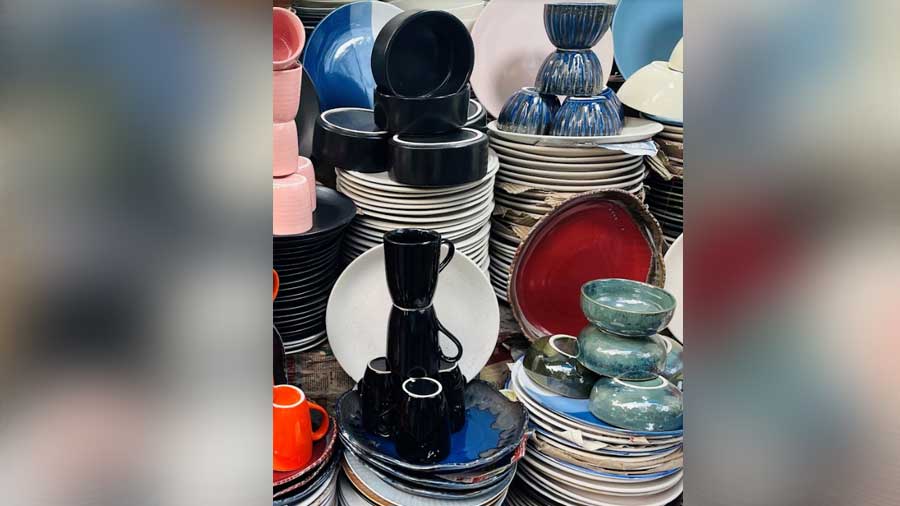 From coffee mugs and dinnerware to planters and home decor, they have it all and for affordable prices. The stock keeps changing with season, and there's always something new to look forward to. Right now the collection has ceramics in subtle pastels, blacks, blues and ivory.
Buy beaded and silver jewellery from Myra
Jewellery brand Myra was established in 2014 by Abheri Sen and they opened their store on Dover Lane in 2017. If you're looking for chic silver trinkets, then this is the store for you. They also have beaded jewellery and some of the pieces can be customised on request. Pick your favourite colours and get it made at the store.
Enjoy window shopping
The street stalls have a unique selection of clothes from flowy dresses and kurtas to comfortable loungewear, but if you are in the mood to add some six-yard elegance to your wardrobe, Mabesha has the variety to satiate your sari desires. The prices are pocket-friendly and the choices range from cotton handloom to light silks.
If Indo-western is more your style, visit Neerosha on Purna Das Road for wrap-around skirts, jackets, kaftans, dresses and more. The boutique fuses Indian elements like kantha work and block prints with contemporary designs. There's only one piece of each design created, so the collection always has something new. Also check out their bags and earrings.
Feast on rolls and Mughlai delicacies
Need a quick pick-me-up after or in between the shopping? Head to Campari for the rolls and Bengali snacks. Known for their egg chicken roll and deep-fried cutlets, Campari has been in Gariahat for over 40 years and there's always a queue.
If you're in the mood for a more hearty meal, Aminia is the best place to feast at. From luxurious biryanis to decadent meaty sides, a meal here will fill you up and also reinforce the importance of the glorious aloo in the biryani.
Savour some Chinese food
If Chinese food is more your jam, then Hatari, opposite Triangular Park, is a must visit. A much-loved chain, Hatari has all the Kolkata-Chinese classics but what they're also known for are the giant —10 pieces of chicken in a dish— portions making it a family-dining favourite.
On the other hand, if you want to try out some great Himalayan flavours, Momo I Am is the place to be. It's a little away from the main Gariahat hubbub and more in Golpark territory but the juicy momos and stir-fried pork, is worth the short-distance travel. Also try the soft bao buns and flat noodles, and the star-of-the-show the pork kothey, steamed momos with a crunchy pan-seared bottom.
Gorge on the best of Kolkata 'mishti'
If Kolkata is a mishti-lover's paradise, Gariahat is the Garden of Eden. With sweet shops like Jugal's, Banchharam, Kamdhenu and Mithai, you have all the options to choose from.
From sandesh to rosogolla and everything in between, you'll be spoilt for choice. Make sure to drop in during these winter months for the nolen gur specials.
Indulge in your love for junk jewellery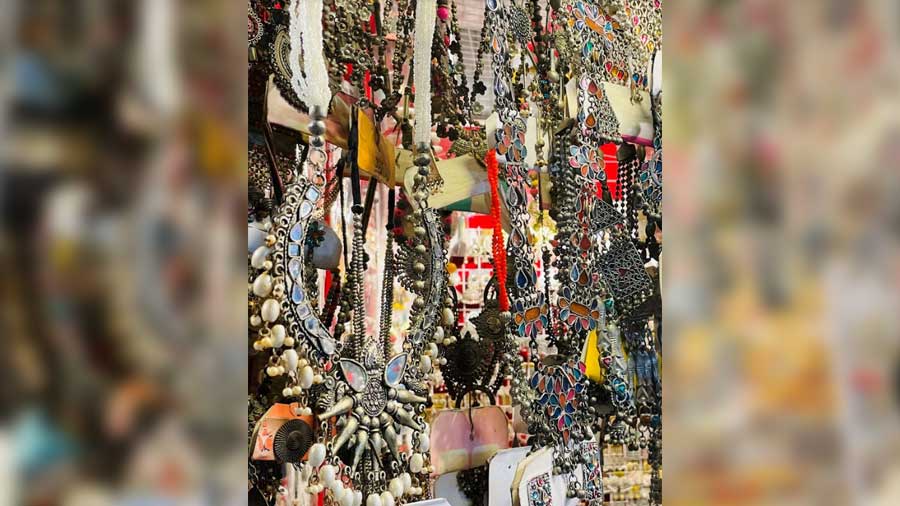 Want to get statement pieces for a steal and polish those good ol' bargaining skills? The street stalls of Gariahat are known for the gorgeous jewellery they stalk. While the footpath adjacent to Kinnar Kinnaree has hawker stores all along till Gariahat more, the best ones to buy from is the one right in front of Bedouin.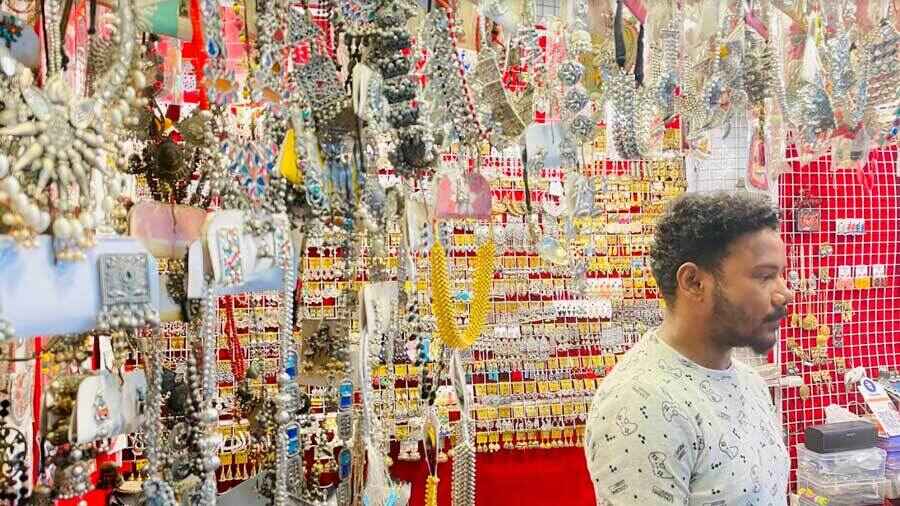 Run by Abhishek Doloi, this jewellery hawker store has been around for eight years and he has the trendiest pieces for reasonable prices. From black polish, mirror work, German silver pieces to a variety of jhumkas, hoops and Afghan necklaces, there's something for everyone.
Find your love for fabrics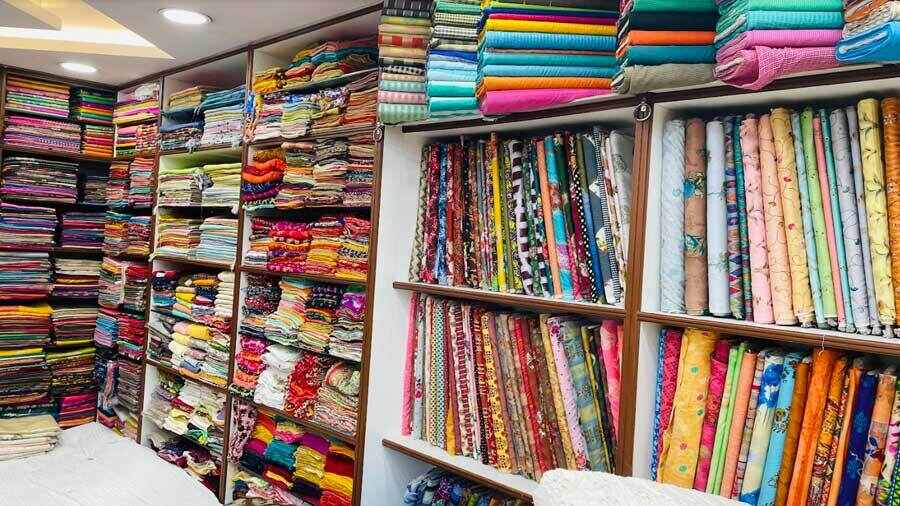 Located on Jatin Bagchi Road, Handloom Cottage is a treasure trove of fabrics. Cotton, silk, organza, linen, crepe, this store houses numerous styles and colours to create the perfect outfit according to your own preferences.
Owner Satyam Kumar Bajoria said, "My family has been running this brand for 25 years now but this store opened in 2014. We have over 30,000 varieties of fabrics available in the store."