Waking up to Baul songs and a glass of fresh date palm juice in the winter, or a meal of farm-fresh produce, is a joy like few others. An hour from Burdwan, the Bannabagram Baul Ashram offers these simple pleasures and makes for an ideal getaway.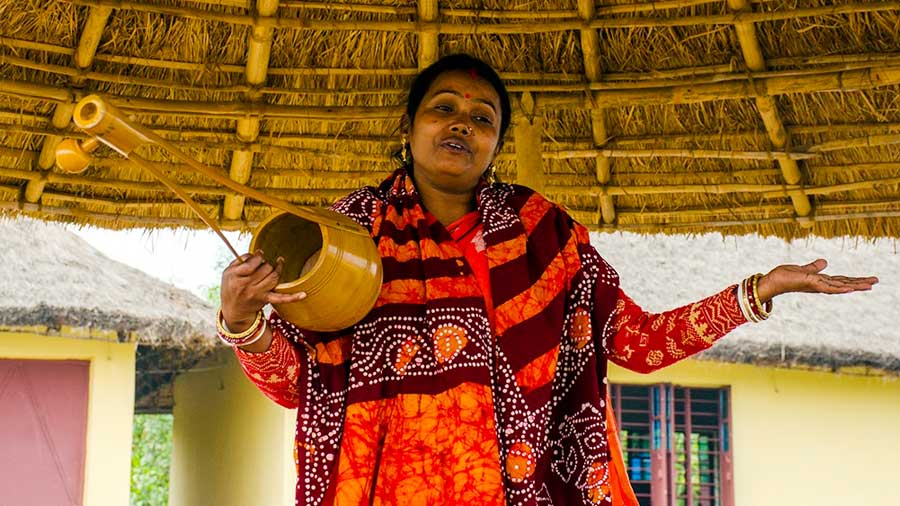 An integral part of Bengali folk culture, Baul music is rooted in Bhaktism and Sufism
Baul music is an integral part of Bengali folk culture on both sides of the border. A musical tradition rooted in Bhaktism and Sufism, it is practised by numerous sects. The mystic artists have the unique ability to break down life's complicated philosophies into simple lyrical expression and their songs are usually about brotherhood, love and tolerance. 
In 2008, the Baul tradition of Bangladesh was inscribed in Unesco's Intangible Cultural Heritage List as one of the "masterpieces of the oral and intangible heritage of humanity" in South Asia. 
The joys of music and community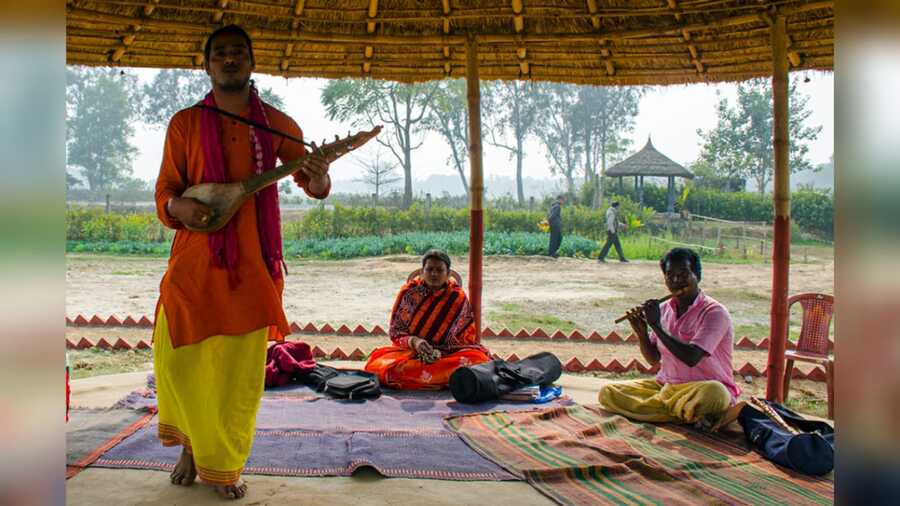 Baul singers from nearby towns and from across the state come to stay and perform at Bannabagram throughout the year
The art, practised by a small community, had seen a decline in recent years with the younger generation gravitating towards other professional avenues. Bannabagram began as an initiative to help revive the art and support the artists, started by Banglanatak dot com, a Kolkata-based social enterprise working to foster inclusive and sustainable development using culture-based approaches. The Baul ashram opened its gates to travellers on December 25, 2020.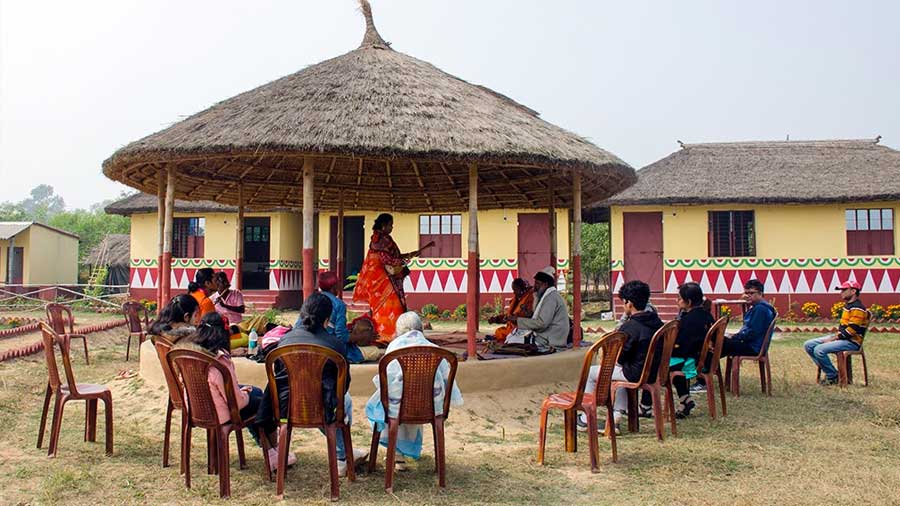 The open compound has a central thatched-roof podium for daily performances
Music and song are a year-round feature at the ashram. The open setting, spread out over more than an acre, has a central thatch-roofed podium and a small stage that serve as performance spaces. Baul singers from nearby and from around the state travel to Bannabagram to stay and practise their art, and share it with visitors.
Soaking in the rustic charms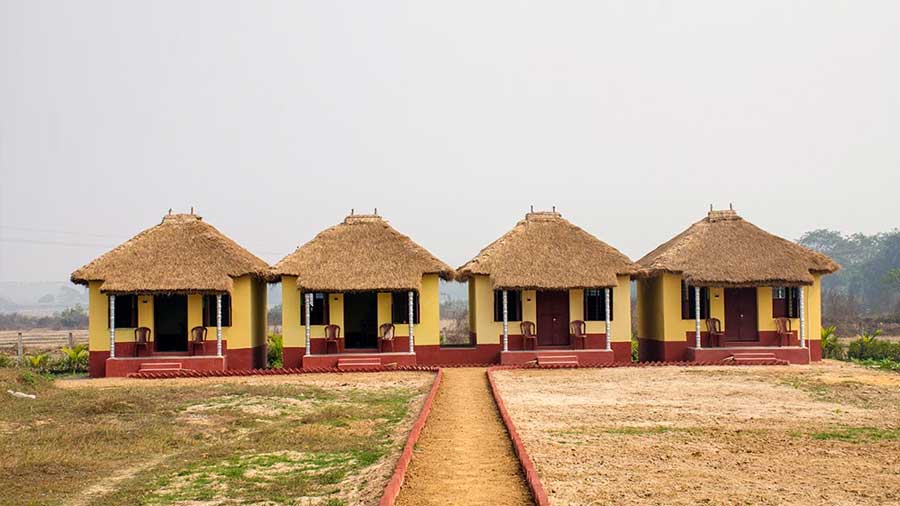 Visitors can stay overnight at Bannabagram at the rustic cottages in the compound
The ashram is open to day visitors who wish to spend a day amidst spiritual music in a bucolic setting, but they also have rustic cottages where visitors can stay overnight. The accommodation, in keeping with the setting and location, is simple and elegant, with necessary creature comforts.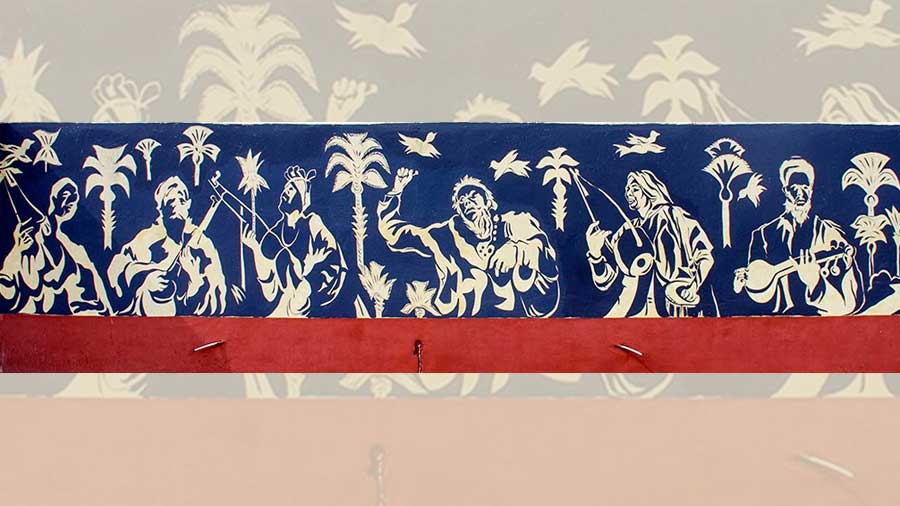 Traditional painted murals decorate the exteriors of the cottages
Brightly painted murals decorate the exteriors of these cottages that stand at one end of the walled compound. Unpaved pathways meander through vegetable gardens, providing fresh organic produce for meals served to guests, and colourful blooms line the outside of the cottages and paths. Food is a simple Bengali fare served in a large common dining hall.
Through the day, the bauls perform on the elevated central platform, a new group every week. An early morning session is usually from 6.30am to 8am, followed by sessions early afternoon from 11am to 1pm and in the evening from 3 to 5pm.
With the winter sun setting, now is a good time to pack up for a day or two soaking in a mystical musical journey.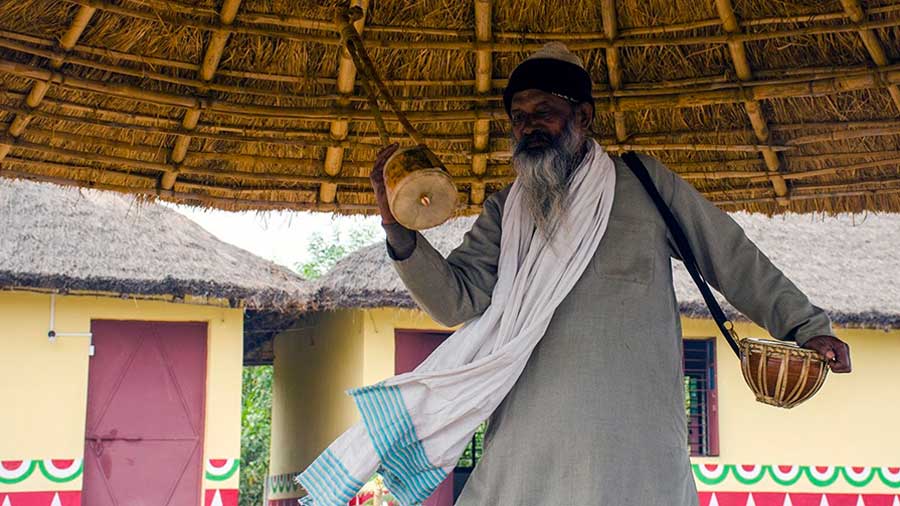 The Baul ashram hosts annual folk arts and crafts festivals
Bannabagram is in Ausgram of East Burdwan district, about four hours from Kolkata by road.
Email toureast@banglanatak.com or call them on +91 8420106396 for bookings.
A visit to Bannabagram can be combined with a visit to the nearby dokra artisans' village of Dariyapur.
Bannabagram also hosts annual folk arts festivals. Check Banglanatak dot com's website or social media pages for more information.