There's an air of celebration in every Bengali and Kolkatan's heart with the recent announcement from UNESCO. With the inclusion of Durga Puja in the famed Intangible Cultural Heritage of Humanity list, India's tally has now come to 14.
Here are all the cultural gems of the country that have made the list so far:
Kutiyattam Sanskrit theatre (2008)
The Sanskrit theatre form of Kutiyattam (Koodiyattam), practised in Kerala, is one of India's oldest dramatic arts traditions. Traditionally performed in Hindu temples in theatre spaces called Kuttapalam, the dramatic renditions are said to be adapted from Sage Bharatha's Natyasastra. Actors undergo rigorous training and performances can sometimes last for days.
Tradition of Vedic chanting (2008)
The Vedas are an integral part of India's spiritual and cultural history. These texts, believed to date back to sometime before 1500 BC, are not only regarded as the founding texts for Hinduism but also offer insight into early artistic, scientific and philosophical concepts. The tradition of chanting the Sanskrit hymns, poems and ritualistic incantations inscribed in our Vedas is also a tradition as old as the texts.
Ramlila (2008)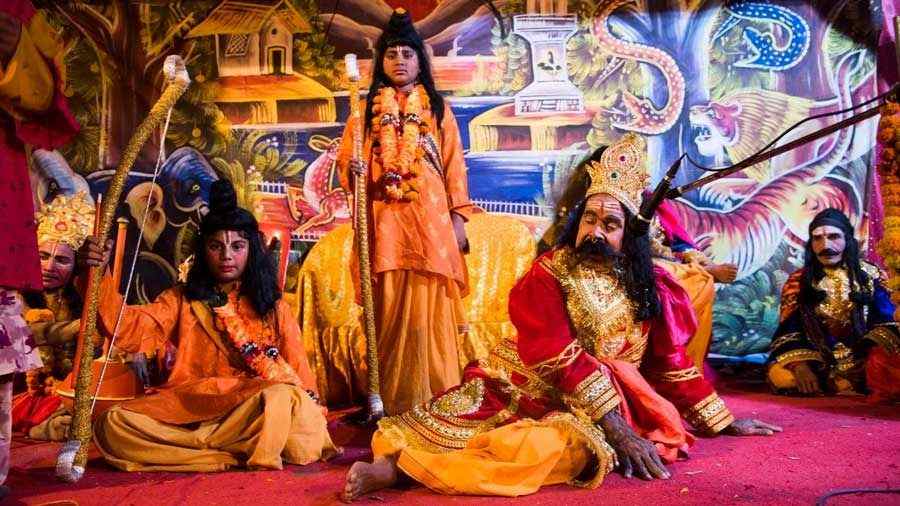 A Ramlila performance in Badnera, Maharashtra
Shutterstock
The Ramayana and its dramatic retelling are a popular part of Dussehra and Diwali festivities, especially in northern India. However, the tradition of Ramlila (also called Ram Leela, Ram Lila) is a ubiquitous part of theatre in India. The theatre form is usually based on stories from Ramcharitmanas and sometimes performances can last for days, even a month. The most well-known Ramlilas in India are seen in Ayodhya, Ramnagar, Benares, Vrindavan, Almora, Sattna and Madhubani
Ramman festival and ritual theatre, Garhwal Himalayas (2009)
In April every year, Uttarakhand's Saloor and Dungra villages celebrate Ramman in honour of the local deity Bhumiyal devta. The colourful festival involves many rituals and traditions, often delegated according to social standing and caste. There are ritual prayers, recitations from the Ramayana, retellings of traditional oral and written tales and performances by masked dancers. Theatre, music, and prayer bring together the community to celebrate their founding values and myths from their history.
Chhau dance (2010)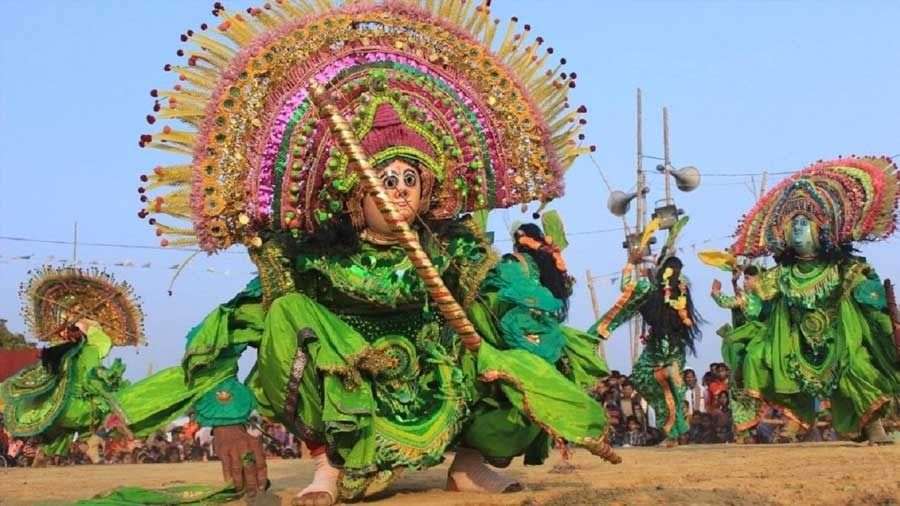 Bengal's Purulia Chhau
WB Tourism
The martial art-like dance form of Chhau is a distinct feature of the folk traditions of eastern India. Bengal, Odisha and Jharkhand each have their traditions of the form. Bengal's Purulia Chhau and Jharkhand's Seraikela Chhau see dancers wearing hand-painted masks, with elaborate headgear in case of the former. Based on mythological stories and scenes from everyday life, movements feature mock combats, gaits of animals and household chores. Chhau is most notably performed during the Chaitra Parva festival.
Kalbelia folk dance and song (2010)
Song and dance are a way of life among Rajasthan's Kalbelia community. Ages ago, they were known as the community of snake charmers, but it is their swirling dances and impromptu music that they are famous for now. Dancers are usually women, whose black ghagras whirl with their movements accompanied by songs and instruments such as the khanjari and poongi, played by the men. Songs are often composed impromptu and usually involve mythological or folk tales.
Mudiyettu theatre and dance drama (2010)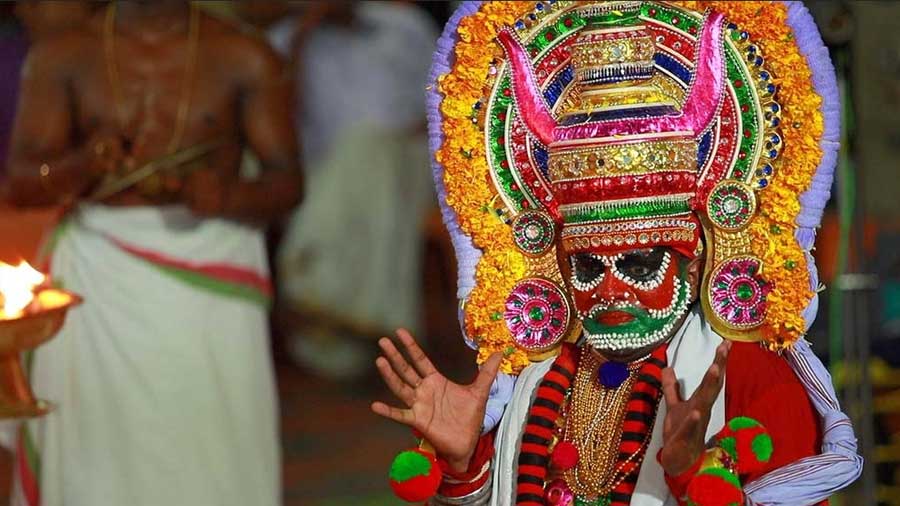 Mudiyettu is usually performed in Kali temples in the Keralan villages of Chalakkudy Puzha, Periyar and Moovattupuzha
This ritualistic dance drama from Kerala is a community-theatre form that usually involves the participation of the entire villages. Stories based on the battle between Goddess Kali and the demon Darika are enacted in temples after the annual summer harvest. Dancers have to purify themselves by fasting and through prayer before performing in front of a large kalam (kolam) of Kali drawn on the temple floor. Mudiyettu is usually performed in Kali temples in the villages of Chalakkudy Puzha, Periyar and Moovattupuzha.
Buddhist chanting of Ladakh (2012)
The monasteries of Ladakh follow two forms of Buddhism — Mahayana and Vajrayana — and have four major sects namely Nyngma, Kagyud, Shakya and Geluk. Ritual chanting is an integral part of the practice of Buddhism. Each sect has various sacred texts with the philosophy and teachings of Buddha and several forms of chanting based on those texts. Lamas usually chant in groups accompanied by the music of cymbals, drums and horns.
Sankirtana (2013)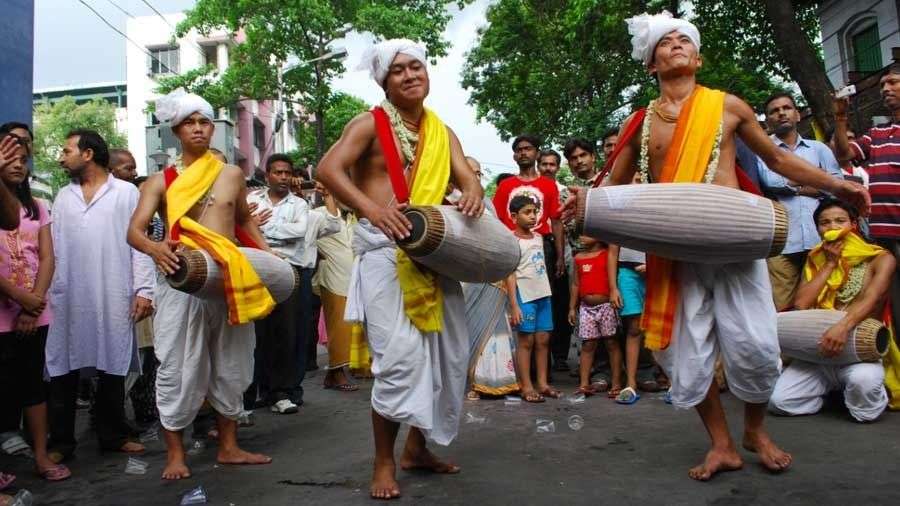 Manipuri dancers perform Sankirtana
Shutterstock
The tradition of kirtan is a distinct part of rituals and ceremonies among those who follow Vishnavism. For the Vaishnavites of Manipur, their ceremonial occasions are marked by the ritual song, dance and drumming known as Sankirtana. Two drummers and about 10 singer-dancers usually perform in a courtyard or hall encircled by devotees. The knowledge and skills are considered sacred and often passed from mentor to disciple.
Traditional brass and copper craft of utensil making among Thateras of Jandiala Guru (2014)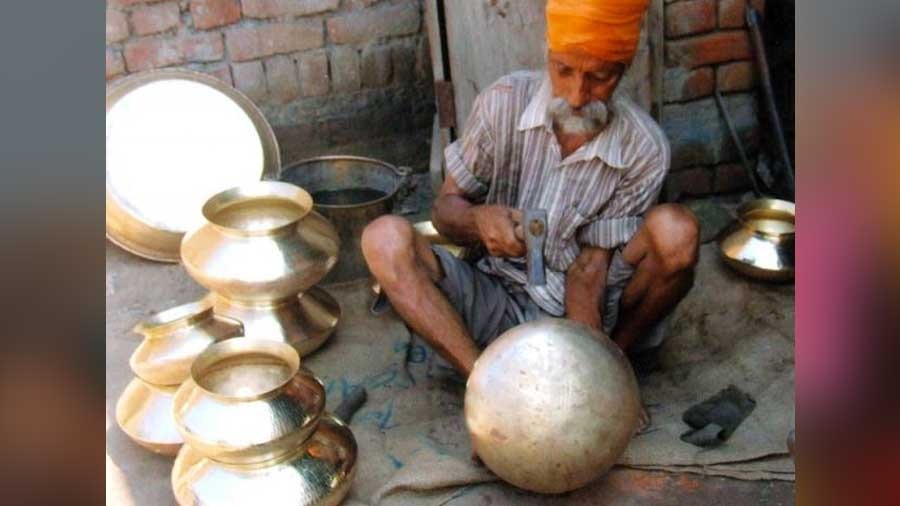 The Thatheras are known for their traditional technique of making brass and copper utensils
UNESCO
The Thatheras of Jandiala Guru in Punjab are known for their traditional technique of making brass and copper utensils. The use of these metals and some other alloys are believed to have health benefits. The labour-intensive technique begins with heating and hammering cakes of metal and ends with giving the finished utensils a golden shine using sand and tamarind juice. The craft is usually passed from generation to generation.
International Day of Nowruz (2016)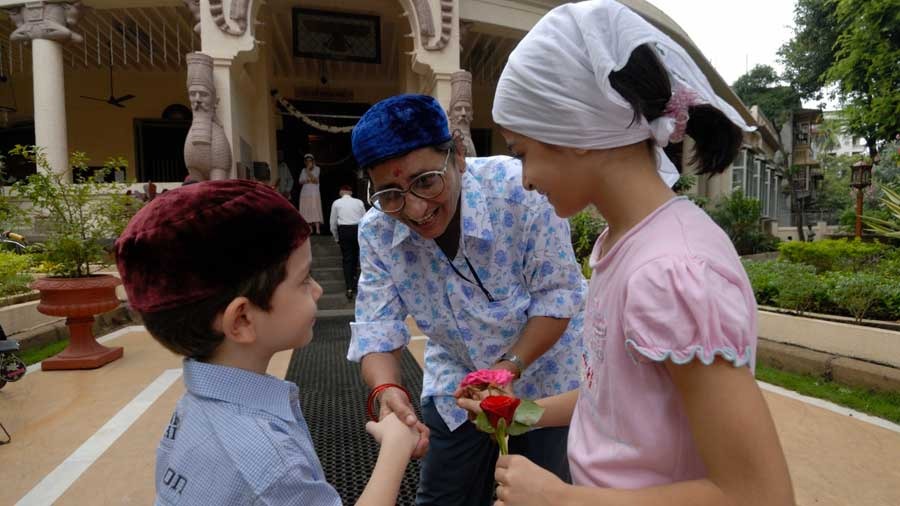 Parsi and Irani communities in India celebrate March 21 as New Year's Day
Shutterstock
India shares this day with countries around the world. March 21 marks the start of the new year for the Parsi and Irani communities in India. It is also celebrated as New Year's Day in Afghanistan, Azerbaijan, Iran, Iraq, Kazakhstan, Kyrgyzstan, Pakistan, Tajikistan, Turkey, Turkmenistan and Uzbekistan. There are many ways in which this day is referred to and it means "new day".
Yoga (2016)
Yoga is possibly the thing everyone associates with India. There are so many ways to define yoga, from simply a wellness philosophy to a way of life. Traditionally taught in the guru-shishya model, it is now widely practised by everyone around the world.
Kumbh Mela (2017)
The Kumbh Mela is the largest gathering of pilgrims in the world. The Kumbh is held in Allahabad, Haridwar, Ujjain and Nashik every four years and devotees gather to bathe in the sacred river. From ascetics and saints to common folk, there are people from every walk of life who attend the Kumbh seeking purification.
Durga Puja in Kolkata (2021)
If there is a time when Kolkata really comes alive, it is during Durga Puja. The city's favourite festival is also celebrated in other parts of India and the world, but nowhere with as much heart and joy. This is India's latest addition to the Intangible Cultural Heritage List.