Driving through rural Bengal in the late winters is a spectacular experience. Early morning mists melt away to reveal acres of blooming mustard fields — bright yellow carpets glinting in the golden sunlight — and inspires one to spontaneously hum Tagore, "Akasher lagey dhnada, robir alo oi ki bandha..." Such mornings also demand detours and unscheduled stops.
It was during one such unplanned reroute to experience the mustard maze that we found Natungram. On the way back to Kolkata from Santiniketan, we took the alternate Kalna-Katwa road to Burdwan instead of Durgapur Expressway, passing by previously uncharted names like Mangalkot, Srikhand, Katwa and Aghradwi. The last two rang a bell and we were sure they were the railway stations closest to Natungram, the artisans' village famous for the brightly painted wooden owls. Lunch was put on hold and we sought directions to "kather pynachar gram" (the village of the wooden owls).
The village of the wooden owl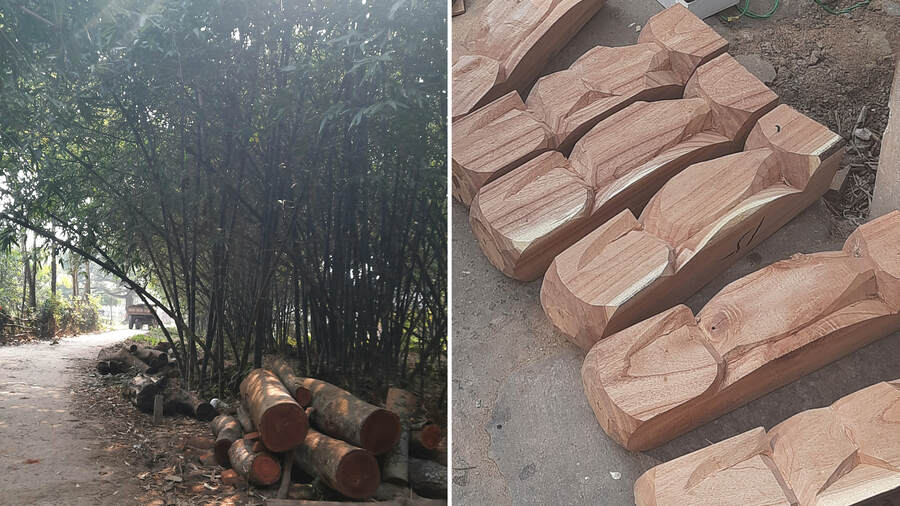 The piles of wood sitting by the side of the village paths are an indication of the village's rich tradition of wood carving
Natungram, a 10-minute drive from Aghradwip station, seems no different from any other small Bengal village — sleepy and green with mango and bamboo groves, algae-covered ponds, waddling ducks and friendly village elders eager to talk. Beyond the first glance, the huge tree trunks lying by the road, or piled high under the trees, catches your eye and as you enter the village, pops of colour stand out in the bucolic setting.
Women, young and old, sit outside their homes or in their meagre courtyards, painting the wooden owls that their men have carved out of single blocks of wood. There are splashes of bright colours everywhere from warm red and orange to bright yellow and green, even garish pink and blue.
This place is a little different from other villages in Bengal. Natungram has a story to tell, and art to sell.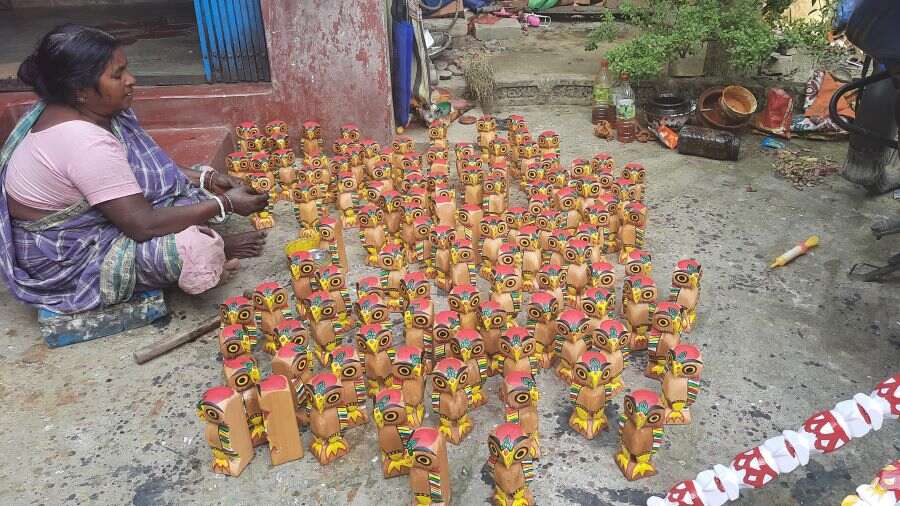 It is usually the men who chisel single blocks of wood to create the figurines, while the women paint them
A tradition passed on in wood carvings
Natungram is predominantly a village of wood carvers, whose ancestors were sculptors as well who settled in this region about 250 years ago. They passed on their skill and their trade-specific last names — usually Bhaskar and Sutradhar — and every one of the village's 50-odd families has skilled wood artists and painters.
Jayanta Sutradhar, a school teacher and artist, mentioned that the very first wooden figurines carved here were that of Gour-Nitai, with the raised arms fixed externally on the carved blocks. This is probably owing to the fact that Nabadwip, the birthplace of Sri Chaitanya, is only about an hour away by road. Radha-Krishna and raja-rani (king-queen), often carved together as a single piece, were also much sought after.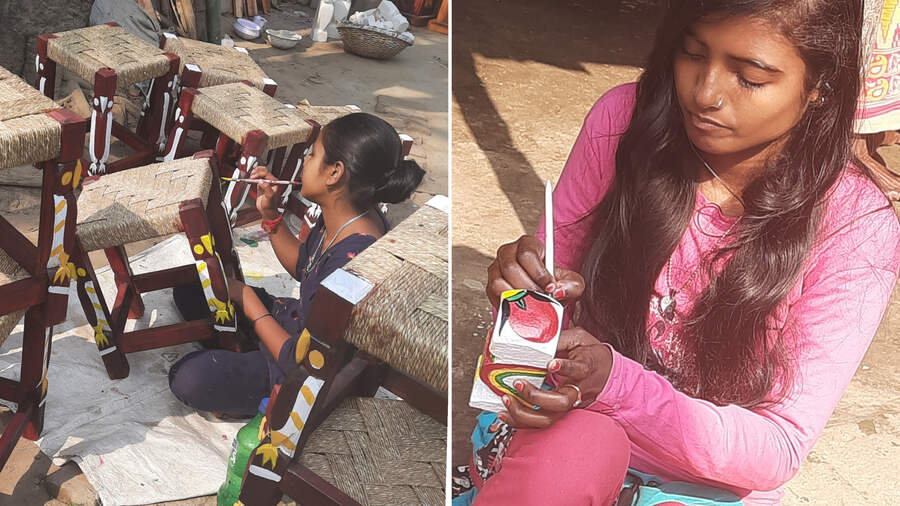 Artists' children, like Class VIII student Haripriya Sutradhar (right) join in to paint the wooden owl. The motif also finds its way into a number of different things including furniture
While the artisans dabble in different kinds of woodwork here from creating figurines of gods to furniture, Natungram today is known for its pyancha, or the bright hand-painted wooden owl figurine. The owl, worshipped as the vahana or familiar of Goddess Lakshmi, is also a symbol of good luck in Bengali culture. It has now metamorphosed into decorative fixtures in varying shapes and sizes, gracing almost all Bengali homes. The stylized owls and the king-queen figures are also found carved on stool and chair legs, cabinets, key chains, wall clocks, masks, trays, string curtains and a myriad other things. These are found displayed for sale in front of all the homes in Natungram.
The village plays host to an annual arts festival geared towards showcasing the handicraft. Even though the official programmes stalled during the pandemic, the entire village doubled as an arts fair when the real fairs and the artists' source of sustenance were few and far between. Interacting with the enthusiastic artisans and buying the artefacts directly from them is the best part of the visit. The festival is back this year, to be held from 25-27 February
We left with our bags and hearts full, and with fond memories of sawdust and paint brushes, and pictures of warm smiles and pride shone in tired eyes.
How to go: Natungram is about 150 km by road from Kolkata, perfect for a day trip. The nearest railway stations are Katwa and Aghradwip.
Stay: One can explore the newly set up Resource Centre by the West Bengal Khadi and Village Industries Board (WBKVIB). The double-storied centre managed by the artisans has a small exhibit of wooden dolls, a small canteen and four rooms that can accommodate 16 guests. Contact Dilip Sutradhar (9333386501) or Gauranga Bhaskar (7679099205) for information.