If you have swayed with the Baul singers at Burdwan's Ban Nabagram, watched the theatre performances at Tepantar, admired the dokra art of Dariyapur or the patachitra of Pingla in West Midnapore, and visited these local cultural hubs any time in the last decade, then you've witnessed the work spearheaded by Banglanatak dot com.
The Kolkata-based social enterprise has steadily, over the last 20 years, weaved the seeds of entrepreneurship, putting the handicrafts of Bengal on the global map. A grassroot development partner of UNICEF for 12 years, their work has helped alleviate 25,000 artists from poverty. In fact, their work was instrumental in Chhau dance earning its Intangible Cultural Heritage (ICH) tag in 2010.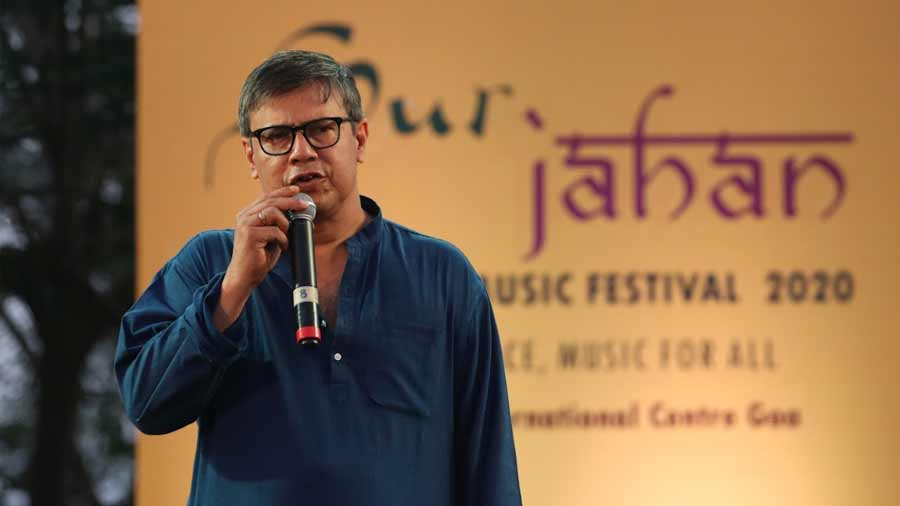 The initiatives run by Banglanatak dot com have helped shape rural art and cultural hubs, which are now popular tourist destinations
Courtesy: Banglanatak dot com
One of the founders of the organisation, Amitava Bhattacharya, is a self-proclaimed "Kolkata boy through and through". A student of Ballygunge Government High School, St Xavier's and IIT Kharagpur, he returned home after a decade in Silicon Valley to start Banglanatak dot com in 2000.
He gave My Kolkata insights into Banglanatak dot com, creating an artist-driven model, the importance of preserving traditional arts, the need to be chaap-free and much more, in his own words…
'The city that taught me everything'
This city has taught me everything. I have watched movies at New Empire as a St. Xavier's student, when tickets were Rs 1 and four annas. In school, I saw Mother Teresa's work with leprosy patients first-hand, and that had a tremendous impact on me. Nirendranath Chakraborty's poetry was another big influence, and Shakti Chattopadhyay is a part of life. Satyajit Ray was an alumnus of my school and he would visit sometimes to scout for child actors for his next project. These people have all had an impact on my life.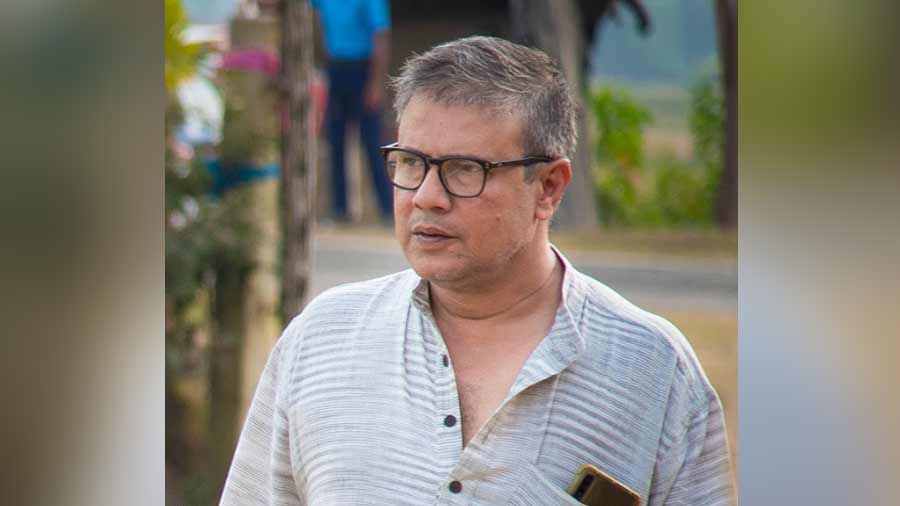 After a decade working in the software industry at Silicon Valley, Bhattacharya returned to India in 1999
Courtesy: Banglanatak dot com
From then to now, Kolkata has shown me that freedom of choice is a very important part of the city. Here, a puja is not a religious festival, but a cultural one. In fact, I was so happy that the ICH tag was given to the Durga Puja of Kolkata.
I think, in many ways, this city adores and imbibes the cultural philosophy of no discrimination as espoused by Mother Teresa. There's a sense of brotherhood and an equality of economy here. Whether you live in a high-rise or outside it, there's always a culture of respect. Kolkata celebrates and protests in equal measure — a walk to celebrate Pujo's ICH tag and also a walk to make a statement when America attacked Iraq.
There's so much history with the old and the new existing together. And the wit! The American Consulate stands on Ho Chi Minh Sarani!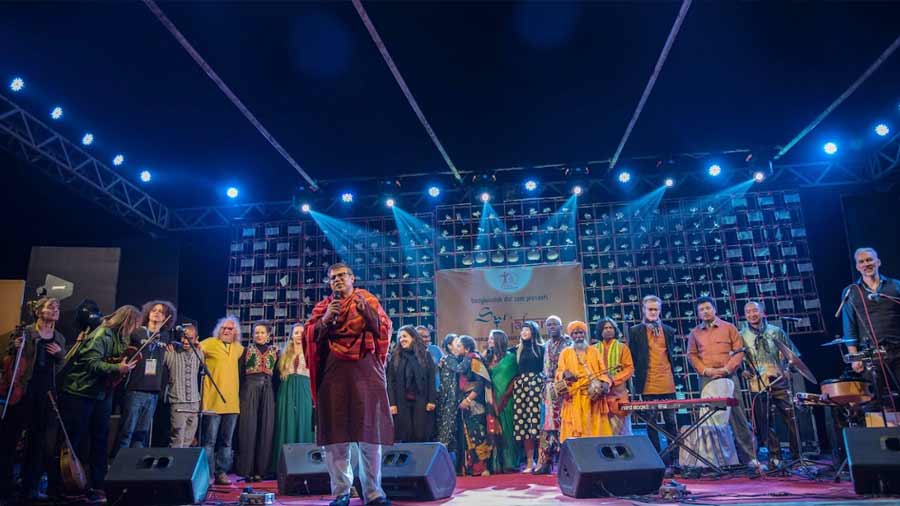 'We don't run Banglanatak like a typical NGO and are not donation-driven. We bid on global projects and a chunk of our earnings go into running our initiatives,' Bhattacharya said
Courtesy: Banglanatak dot com
Beginning Banglanatak dot com
I'm a selfish man and I give immense importance to my happiness. When I returned to India in 1999 after a decade in Silicon Valley, I wished to walk a different path and my travels to villages in India were fuelled by that thought. Reaching out to the country's most media-devoid areas, which were rural and marginalised, set the journey for Banglanatak.
The work I've been doing makes me very happy and that's why I pursue it with sincerity. And if my means of happiness also helps someone else, then that's a bonus.
The word Bangla is used in different contexts. One we don't hear often anymore is the phrase, "Bangla byapar", which also means "paati byapar", usually used to imply something is unimportant or ignored. That's why I chose Bangla. The direct translation of natak is drama or theatre, but a more encompassing meaning is 'culture'. So, 'Banglanatak,' and then 'dot com' to give the sense of global connectivity.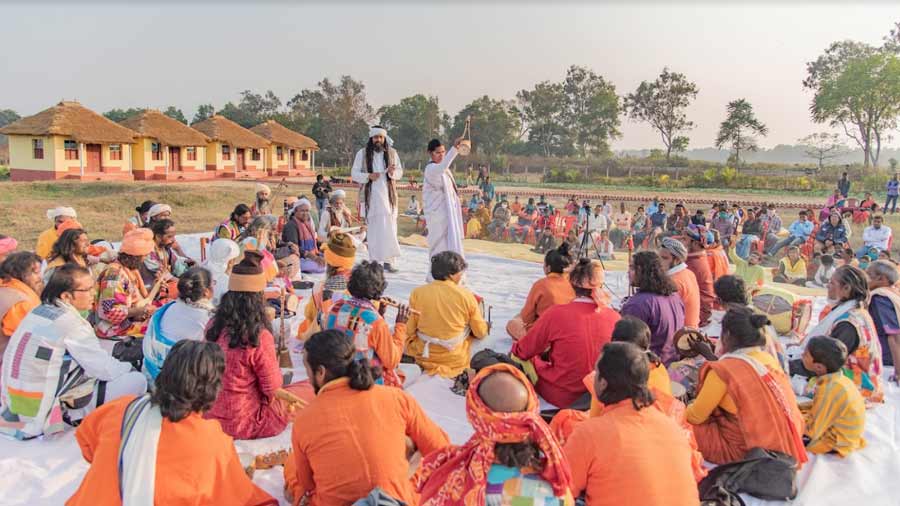 The Ban Nabagram Baul Ashram is one of Banglanatak's most popular tourist hubs, and also a frequent getaway for the team
Courtesy: Banglanatak dot com
Banglanatak dot com — take the culture and connect it globally, and that's exactly what we do.
It started as a company, which my wife and I co-founded, and two years later, the employees founded a society – so together we are a social enterprise. It's like a family here and we have people who've been with us for 20 years. In fact, we're a fun bunch and you'll often find us taking trips to our Ban Nabagram Baul Ashram or to Tepantar, just to visit friends and family. We sometimes take our visiting artists as well and spend time in these places, soaking in the arts.
Walking a different path
We don't run Banglanatak like a typical NGO and are not donation-driven. We bid on global projects and a chunk of our earnings go into running our initiatives. That way, the goals and agenda are driven by us. If someone wishes to contribute keeping that in mind, we welcome the support. We've created our own model and it has been like swimming against the tide, but our model is completely artist-oriented.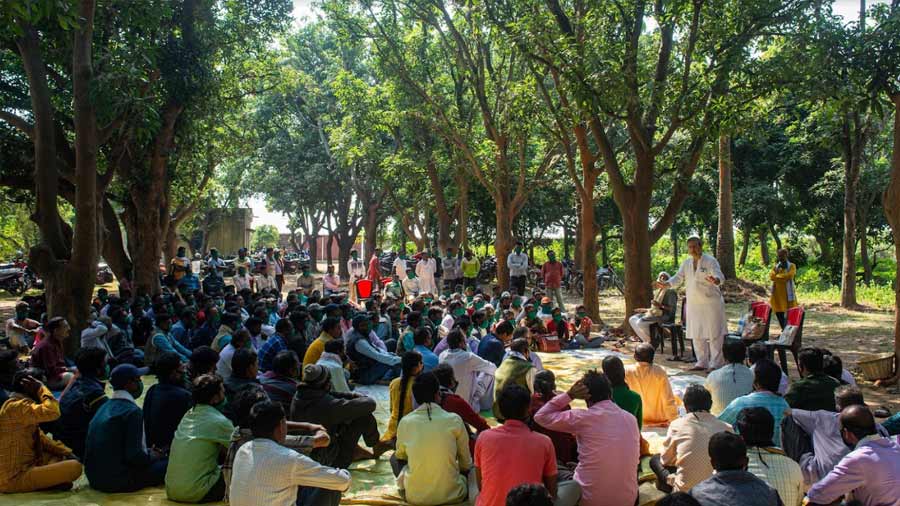 Banglanatak's rural initiatives began with the Communication for Development programme to open forums of two-way communication at the grassroot level and run social and sanitation drives
Courtesy: Banglanatak dot com
Our work in Bengal's villages began with Communication for Development with UNICEF, state governments, Bill & Melinda Gates Foundation, etc. Even after significant contributions and drives, we realised that the actual problem of poverty was not being addressed.
The idea was to use what they had to help them, instead of introducing something new or urbanised. While researching ways to do that, we found the gold mine hidden in rural India — traditional arts and indigenous culture.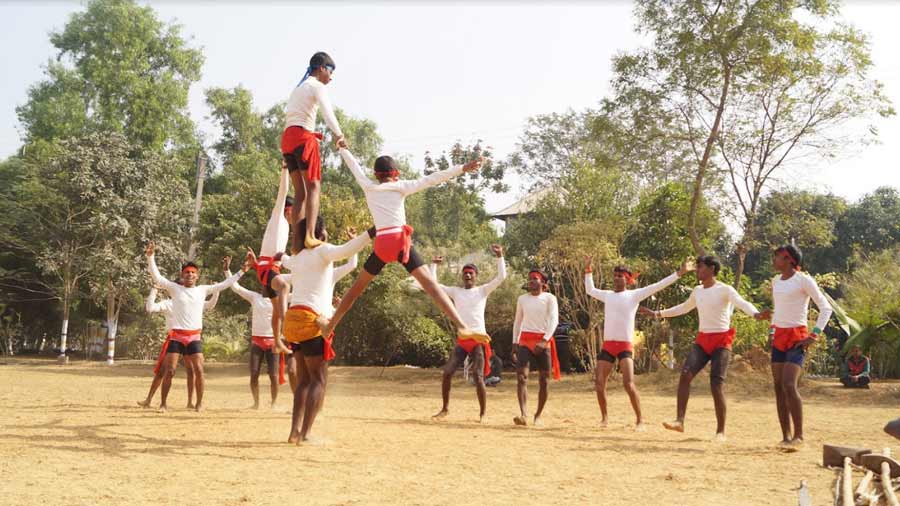 Dancers practice raibenshe, a folk martial dance in Birbhum, Burdwan and Murshidabad districts
Courtesy: Banglanatak dot com
Art for Life: changing passions to professions
We had local theatre groups and folk artists working with us on community projects and realised that their art had been sequestered into a passion or hobby. These artists, who had taken up alternative jobs, were always looked at as unskilled labour, but their skill is tremendous. It is then that the idea of translating passions to professions began.
The skill was there, all we had to do was give them confidence, build a training framework, equip them with the means to learn modern communication tools and link them directly with the consumer market. That's how the Art for Life initiative began.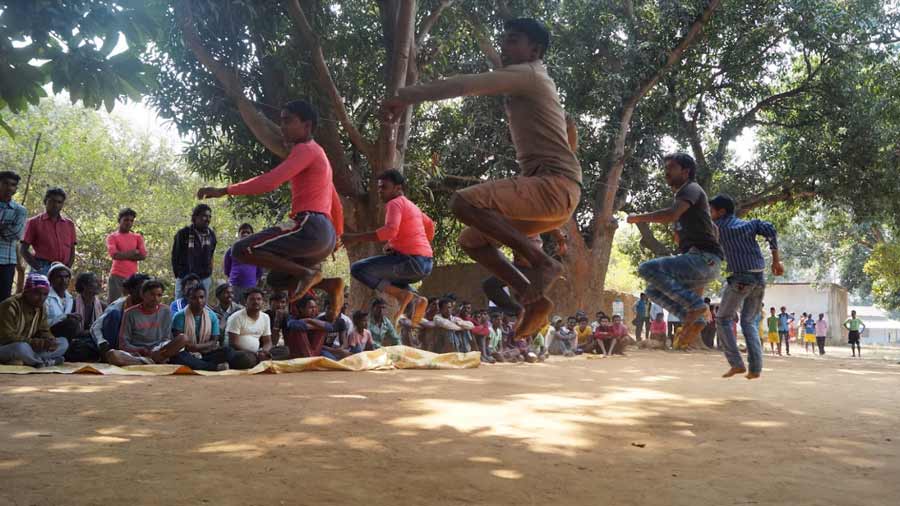 Folk art has a deep connection with familial roots and getting the younger generation interested also helps preserve the art forms
Courtesy: Banglanatak dot com
The Eastern Zonal Cultural Centre helped with a training module based on our traditional guru-shishya parampara. Winning a bid from the EU in 2009-11 gave us a major boost financially and in 2011, UNESCO, ECOSOC and other UN bodies began recognising our work. We got UN accreditation and an UNWTO global partnership among other things.
Collaborating with international bodies and bringing foreign visitors to these villages to meet the artists were an important part of our work. It wasn't just about global reach and exposure, it contributed to the sense of pride for the artists. It also made others curious and helped influence participation in the initiative.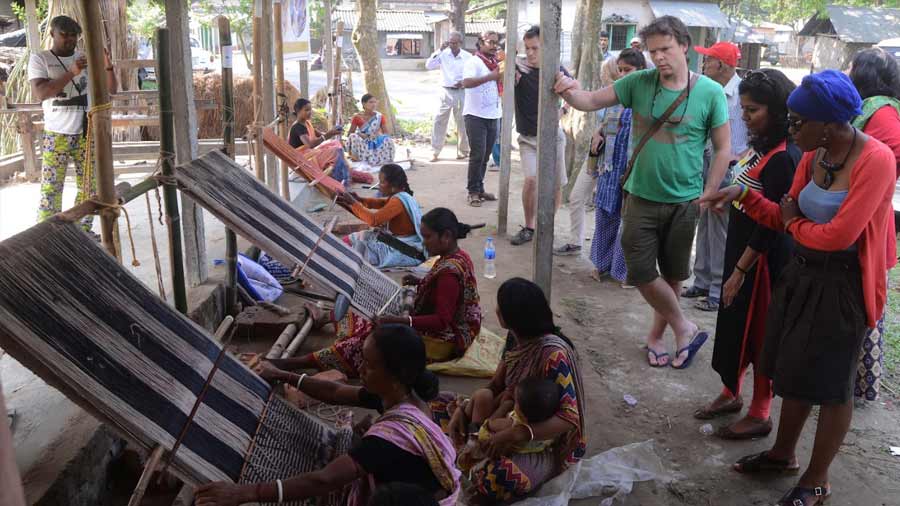 Collaborating with international bodies and bringing foreign visitors to these villages to meet the artists are an important part of Bangalnatak's work
Courtesy: Banglanatak dot com
We soon added village festivals to the mix and in 2013, the West Bengal government got involved with our initiative. We were already partners with UNESCO at this point, then the state government partnered with the UN body to develop rural craft and cultural hubs.
The current Bengal government must be given credit for the work they have done in the last decade creating infrastructure and increasing visibility. Purulia was once branded as Maoist belt, now it is a tourist destination.
Creating cultural tourism destinations
In Bengal, we work with many traditional art and craft forms: Notungram's wooden toys in Burdwan, wooden masks in South Dinajpur, shetalpati and bhawaiya in Cooch Behar and Alipurduar, gambhira in Malda, Sundarban's Bonbibi'r pala along with jhumur and bhatiyali. As well as the most popular ones — dokra in Bankura and Burdwan, Chhau and Chhau masks in Purulia's Charida and patachitra in Pingla, West Midnapore.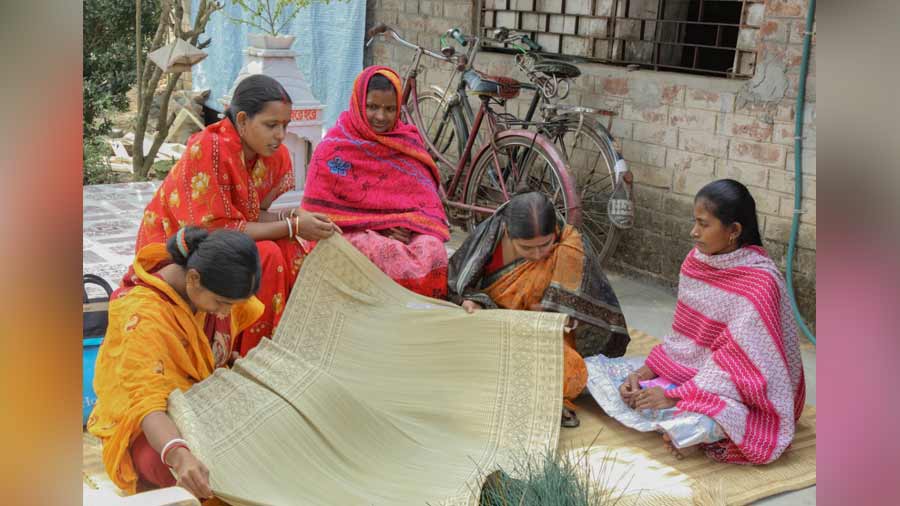 Banglanatak's initiatives in Bengal encompass numerous villages, arts and handicrafts — from 'setalpati' in Cooch Behar to 'Bonbini's pala' in Sundarban
Courtesy: Banglanatak dot com
These marginalised villages are now cultural tourism destinations. It brought immense pride to the artists and craftsmen when they were able to showcase their skill on various platforms and to myriad visitors. Whatever investments were made, more was given back to the community, which also encouraged the next generation to get involved, in turn safeguarding these artforms.
When we started working with Purulia's Chhau artists, they were hardly paid Rs 20 for a performance, now it is Rs 322 for a regular practice session viewing.
Overcoming challenges
When working with communities, one has to build trust. Building credibility involves immersing yourself in their daily lives and understanding their challenges. It comes with time and with respect — for people and their skill. If you or I were to attempt a Chhau move, we'd be lying in hospital.
We had to rethink our one-dimensional urban ideas, such as building cooperatives. Handicrafts and performing arts in rural India are often family-driven. We created samitis in the villages, but realised it was important to develop micro entrepreneurships for both livelihoods and pride. Often, people organise themselves into clusters unprompted to fulfil bigger orders.
Creating a sustainable model was the next part, and involved a training framework and diversifying the art. If I empower one person to train others and also give them the freedom to work in their way within a framework, it sustains itself.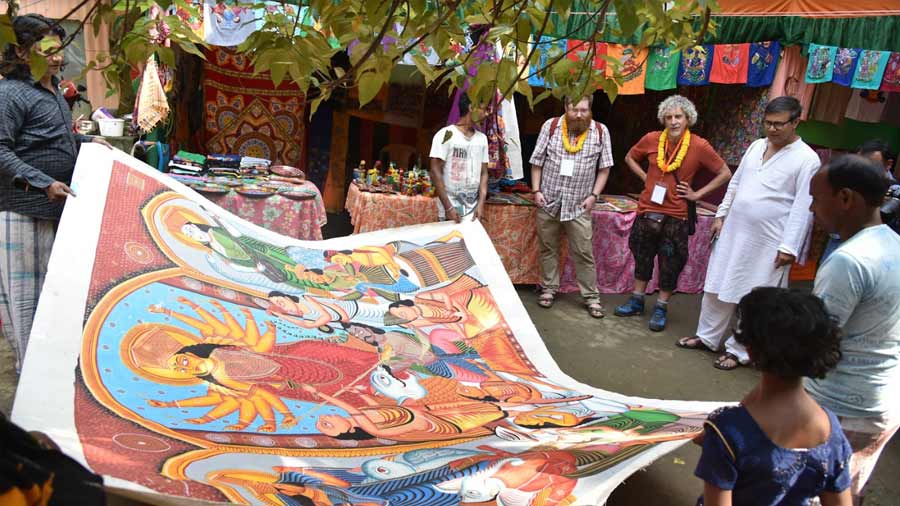 Local village festivals are a big draw for urban and international travellers to experience the rural folk arts of Bengal and Banglanatak usually has a full roster of them every year
Courtesy: Banglanatak dot com
Understanding what the heritage of the art is, has helped in diversifying the form for a larger audience without losing the original essence. For example, patachitra is made with natural dyes from flowers and vegetables. When we met the artists in 2004, some were painting scrolls 35-40 feet long that could only be displayed in museums. People want to display the art they have, so we worked with artists to create collectibles and souvenirs that still used the traditional techniques and colours of patachitra.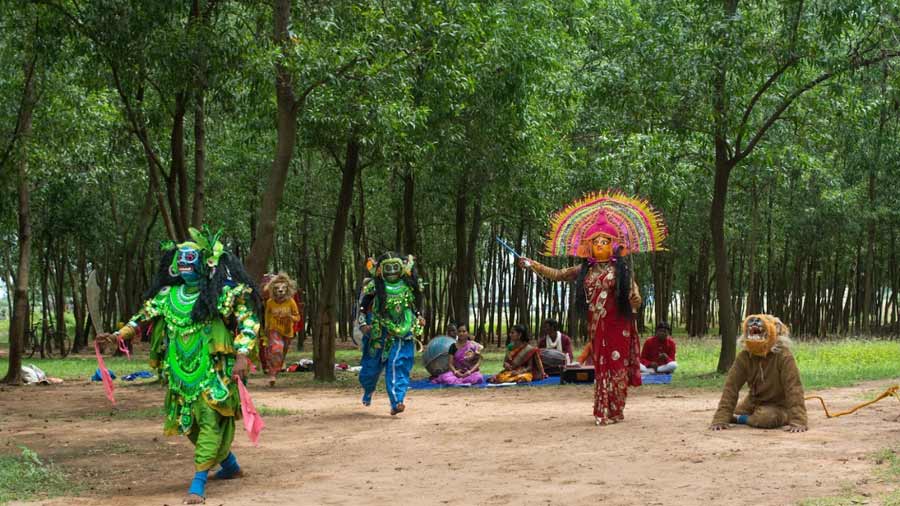 Chhau dance was given the Intangible Cultural Heritage tag in 2010, and Banglanatak played a significant role in the endeavour to make that happen
Courtesy: Banglanatak dot com
The contemporary love for traditional culture
If traditional culture was not contemporary, it would have been dead by now. We organised our first folk festivals in 2010. The first three years we had numerous visitors from Kolkata, then people from around the country got interested and by 2018-19, we had at least 2,000 foreign visitors every year. A French guide book called Petit Futé lists these villages and people have found their way to these hubs by themselves, and that's exactly how we prefer it.
The Chhau mask makers of Charida sold crafts worth Rs 2-2.5 lakh a day thanks to domestic tourists who visited just as the first wave was flattening. It shows the interest in traditional crafts. Kolkata has been especially fabulous. I salute the city for the support and reception.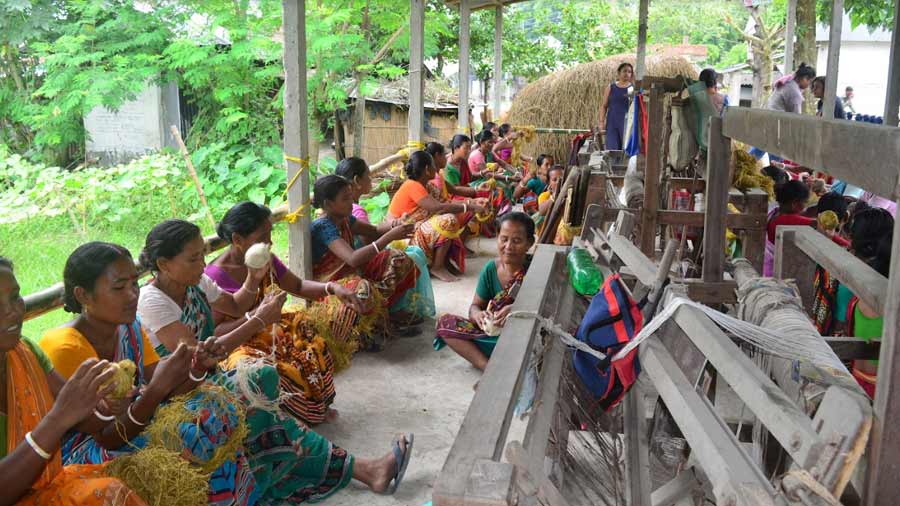 A Dokra workshop in Dinajpur
Courtesy: Banglanatak dot com
The fact that traditional arts and culture survives till date shows that people are still interested. I always tell our visitors to come with an open mind. Keep in mind the artists' rights and remember that they are simple people who may not be able to communicate in English well, but take great pride in their work.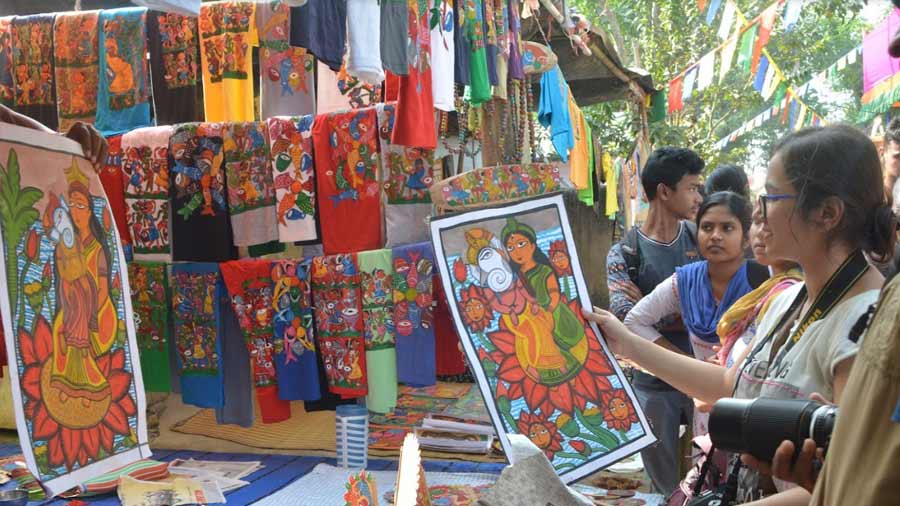 Diversifying art forms to appeal to a wider audience, while still maintaining the integrity of the art's heritage was one of the aspects of developing a folk art-centric programme
Courtesy: Banglanatak dot com
Looking towards a bright future
We've always been a catalyst, and we are happy to be just that—a non-threatening partner who helps build a pond, which can sustain a neighbourhood. In my 21 years working with communities in rural India, I have realised that our cultural heritage can be that pond.
The favourite parts of this job have been the small things, like the satisfaction of knowing there are people standing on their feet now. And not because I gave them fish and rice, but because I taught them to fish – and they fed themselves.