Bhalki Machan, in Burdwan district, is a popular weekend and day-trip destination for Kolkatans, as well as for picnickers from nearby towns. The word machan means an elevated platform used for hunting animals — and the four pillars of this old machan still stand today.
While locals believe it to be a hunting platform that was used by the region's kings to hunt bears, Bhalki Machan has a long and documented history contradicting the local folklore. According to the synopsis of the result of The Great Trigonometrical Survey of India, Volume XII (1880), "At Bhalki, the station consisted of a platform having four pillars, one at each corner, about 35-feet high, on which was supported the stage for the observer and his instruments."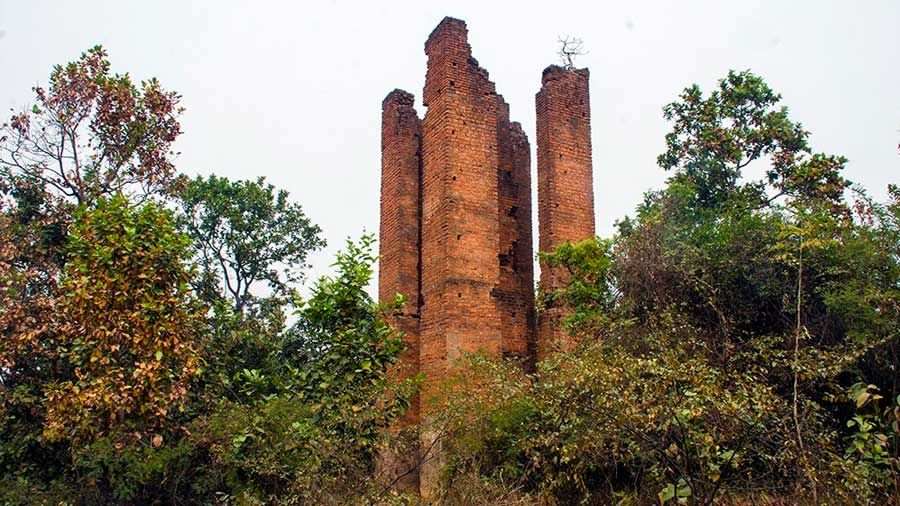 The pillars were originally 35-feet high
Rangan Datta
An astonishing and deadly project
This Raj report suggests that the structure was part of the Great Trigonometrical Survey (GTS) — a project that aimed to survey the entire Indian subcontinent with scientific precision. Often hailed as one of the most astonishing works in the history of mapping and surveying, it was initiated by William Lambton in 1802 and continued for over half a century. The project involved solving equations more complex than any in the pre-computer age and observation towers, atop which surveyors took their measurements, were built across the flood plains of eastern India as part of it.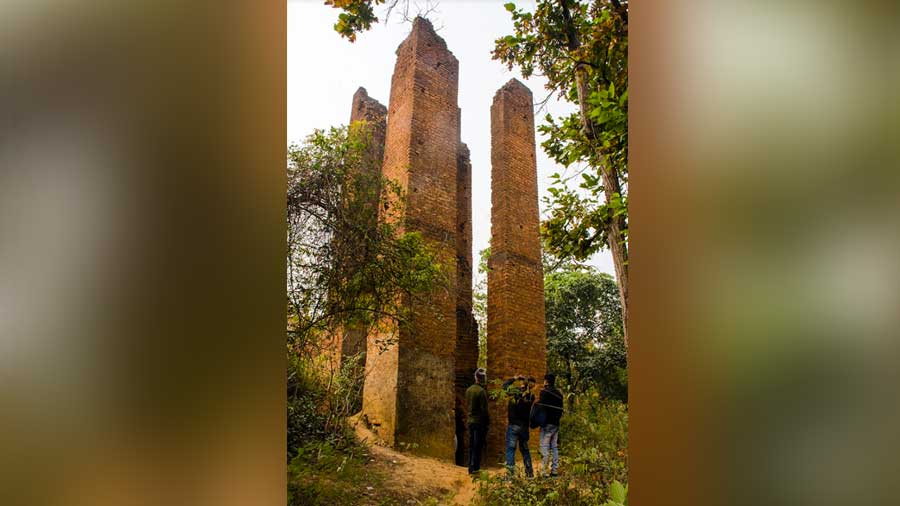 Bhalki Machan is a popular day-trip destination for Kolkatans, as well as for picnickers from nearby towns
Rangan Datta
But it was also the most perilous project of its time – killing more men than any some wars. While tigers, scorpions and snakes took their toll, malaria wiped out whole survey parties.
The dilapidated tower at Bhalki is one of the few GTS posts that still stand today. According to the 1880 report, the tower was designated as No. LXVIII of the Calcutta Longitudinal Series. It further mentions that surveys were carried out from the tower in 1831 and 1868.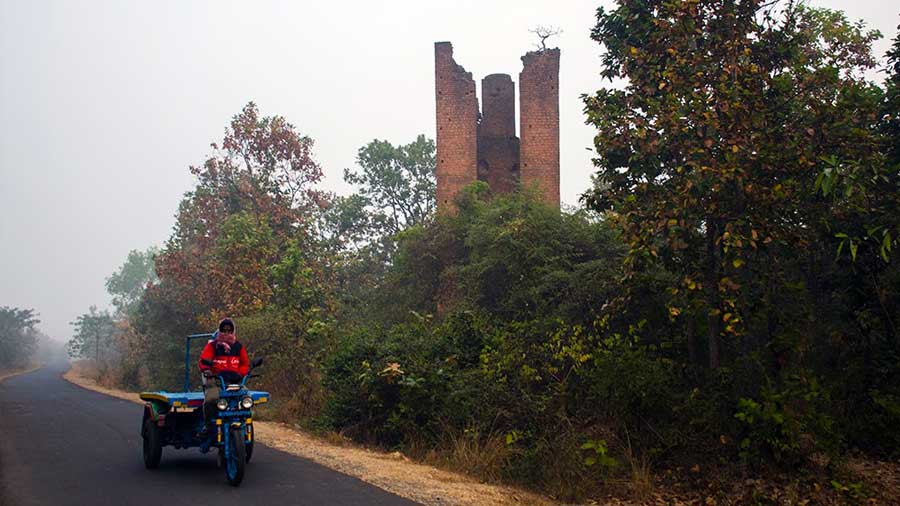 The area is part of an afforestation programme of the West Bengal Forest Department
Rangan Datta
Bhalki Machan is approached via the Kolkata-Durgapur Expressway. A right turn just past Galsi leads to Bhalki Machan. Today, the area is part of an afforestation programme of the West Bengal Forest Department and is part of a beautiful sal forest — but there are no bears left anymore. Instead, a statue of a bear welcomes visitors to Bhalki Machan.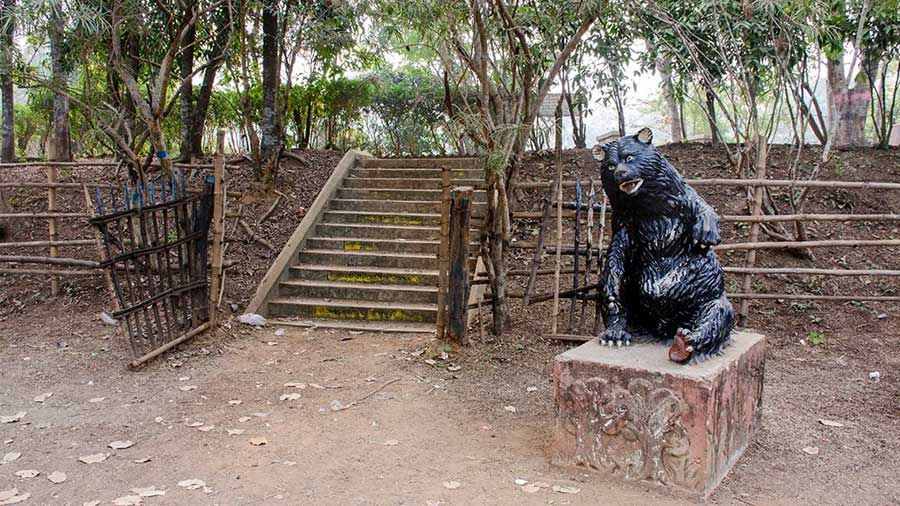 The only bear in Bhalki now
Rangan Datta
The Aranya Sundari Hotel is the only place to stay in Bhalki Machan. It is a basic hotel with rudimentary service and rooms, but provides simple and tasty food.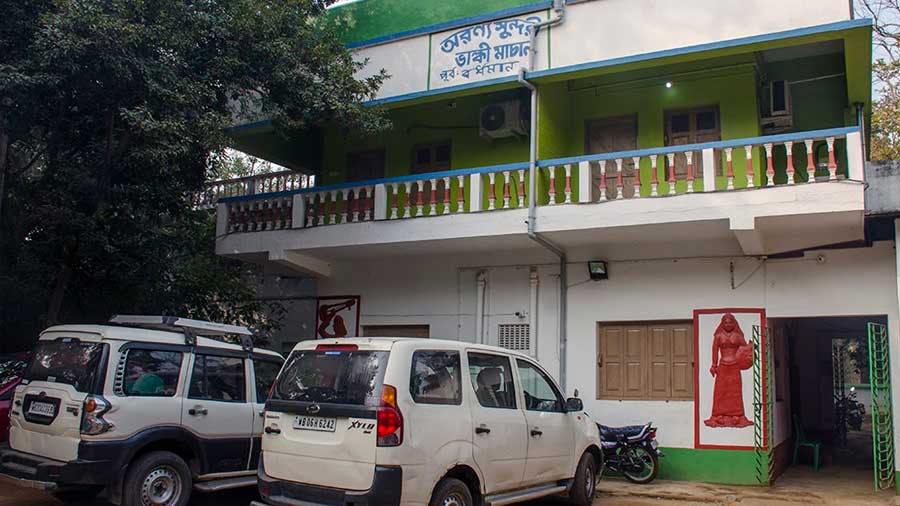 The Aranya Sundari Hotel provides basic facilities
Rangan Datta
The sal forest has a natural charm, but it is often lost owing to the loud music played by picnic parties and the litter, consisting of thermocol plates and liquor bottles, they leave behind. Still, Bhalki Machan can be an ideal weekend destination from Kolkata and provide an interesting glimpse into an overlooked chapter of history — not to mention the fresh dose of oxygen for city dwellers.
But the main attraction is, of course, the machan, which locals still fervently believe to be a bear-hunting platform. The 35-feet-high tower has no walls and has the four L-shaped structures at its four corners. At the centre is another brick pillar with a central vertical hole. At the base of the central pillar is a passageway and a dip pit approached by arched gateways on either side. The pit is presently covered with an iron grill.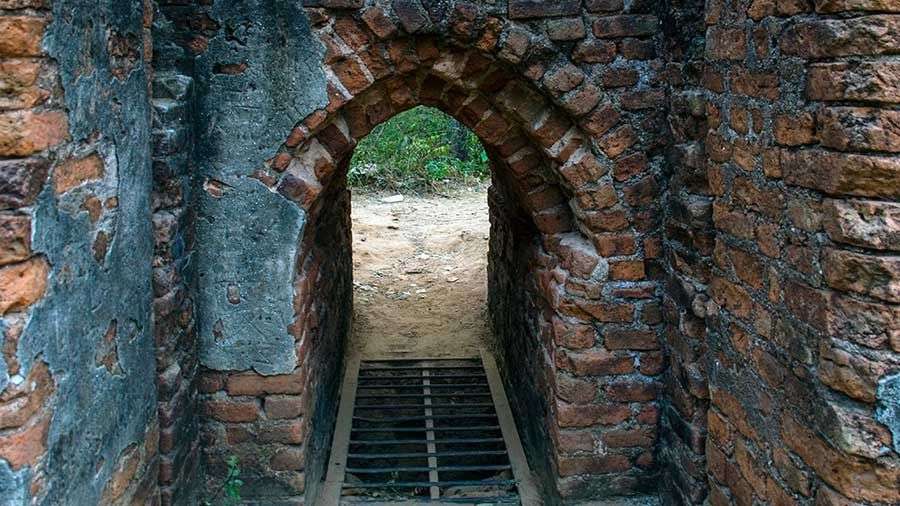 A passageway and a dip pit at the base of the central pillar
Rangan Datta
Sadly, the historical importance of the tower has been forgotten and it lies in ruins. A little administrative effort can maintain the tower and reveal its amazing history — that has long been replaced by a local folklore.
How to reach
By train: Bhalki Machan can be reached by most trains on the Howrah-Asansol route of Eastern Railway. Mankar (11 km away) is the closest station. A rickshaw can be hired from here to reach Bhalki Machan.
By road: Proceed on National Highway 2 towards Durgapur – up to Galsi. Turn right from Galsi on the freshly tarred road that leads to Mankar. On reaching Mankar, locals can help guide visitors to the spot.
Rangan Datta is a mathematics and management teacher by profession and a travel writer and photographer by passion. He has been addicted to discovering off-beat places since his undergraduate days at St. Xavier's College. Blogging and contributing to Wikipedia are his other passions.