Large dokra statues welcome visitors to the complex of the Dariyapur Dokra Artisan Co-operative Industrial Society Ltd. in Burdwan's (Bardhaman) Dariyapur village. An hour's drive from the town centre, this centre is an initiative to bridge the gap between the artisans and their patrons.
The complex sports dokra panels on walls, and various kinds of artwork decorate the spaces within. It houses an office building and a small museum that has on display dokra pieces and details about the craft. In the exhibition areas around the complex, artists from nearby villages display and sell their handicraft. Visitors can also witness the process behind the craft at the workshops located right next to the stalls, where artisans make their dokra crafts.
The art of the craft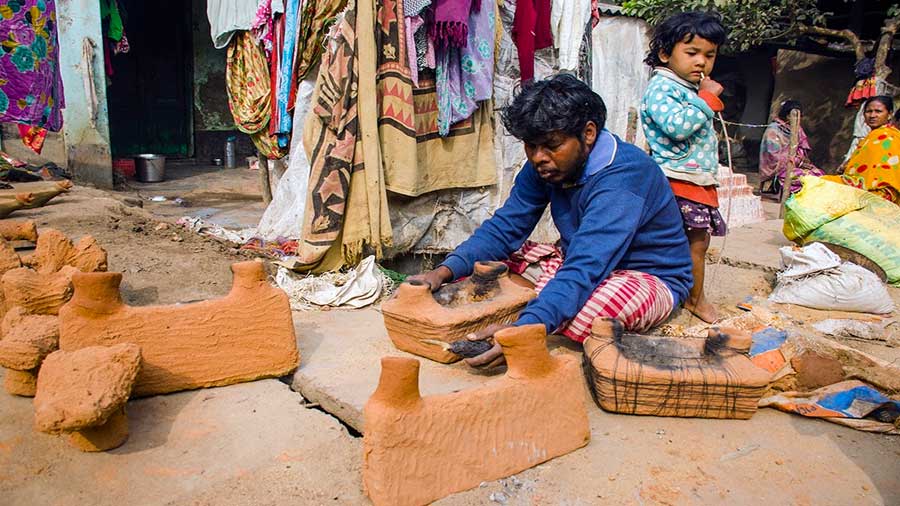 The complex has a workshop area where you can see the artisans work
Rangan Datta
Dokra is an ancient art that uses lost-wax casting to create metal artefacts using copper-based alloys such as brass and is still practiced in many rural pockets across eastern India. 
The process is over 4,000 years old and has remained largely unchanged since. A mould is created with a clay core covered in wax. The wax is carved to shape the finer details of the design before being coated in clay again, forming the outer and inner layers of the mould.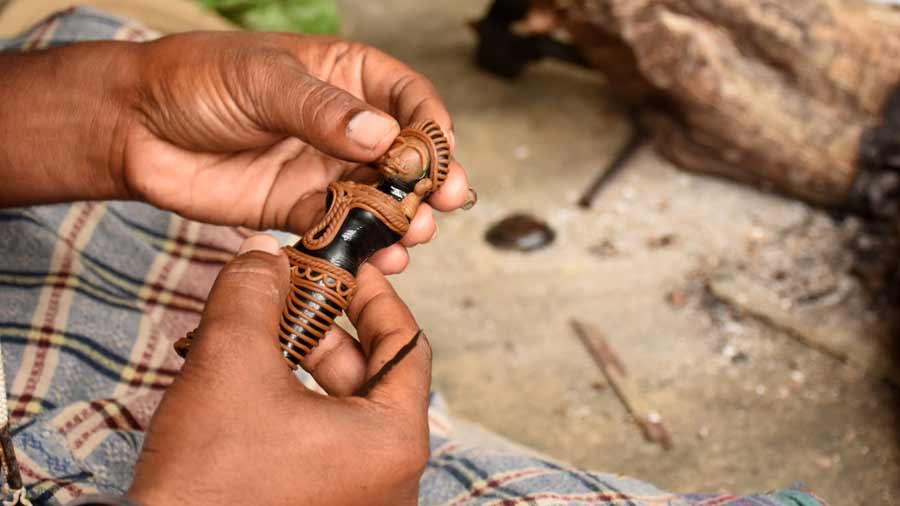 The process involved in creating 'dokra' artefacts is over 4,000-years old
Courtesy: Banglanatak dot com
Molten brass is poured into these moulds and melts away the wax, hence the name "lost-wax casting." The metal hardens to settle into the design carved on the wax, after which the clay layers are chipped off. The final piece is then polished to give dokra artefacts their distinct golden shine.
Creating a support system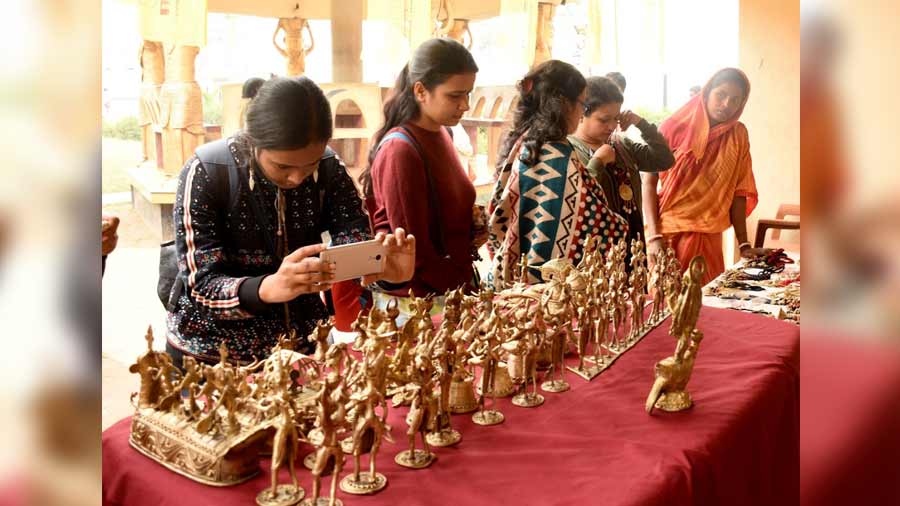 Adapting the ancient technique of 'dokra' to modern sensibilities has helped artists connect with a new demographic
Courtesy: Banglanatak dot com
Dokra art is in great demand worldwide, but more often than not the artisans who produce these masterpieces end up getting the raw end of the deal. A chunk of the profits is eaten up by agents and middle men, leaving the artisans struggling for survival. However, things have taken a turn for the better in the last few years.
With the help of non-profit organisations and social enterprises such as Banglanatak dot com — which was a driving force behind the establishment of Dariyapur Dokra Village — artisans are now coming together to form cooperatives or finding a platform to directly interact with their customers.
Bringing in a new age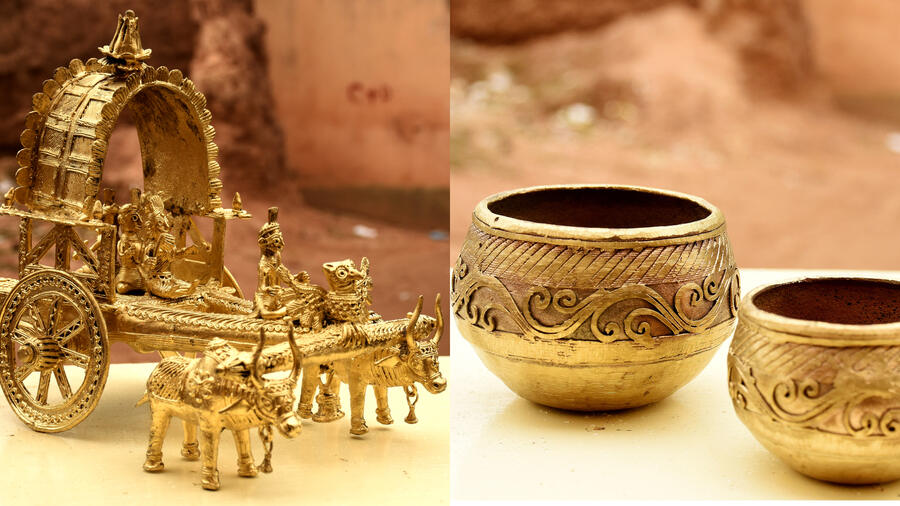 There are myriad items on display at the exhibition centres from home decor pieces to jewellery and souvenirs
Courtesy: Banglanatak dot com
The craft of creating dokra art may have ancient roots, but today's dokra artists have given it a contemporary twist. With an awareness of the changing artistic sensibilities of the time and with guidance from the many enterprises that work with these artisans, the traditional process is now used to make items that will appeal to the new-age customer.
Heavy and chunky tribal-style jewellery has given way to trendier and lighter designs and a range of smaller items such as key chains and tiny figurines have become popular as souvenirs. Adapting this ancient craft tradition to modern sensibilities has helped keep prices affordable and get a new generation of patrons interested in the art.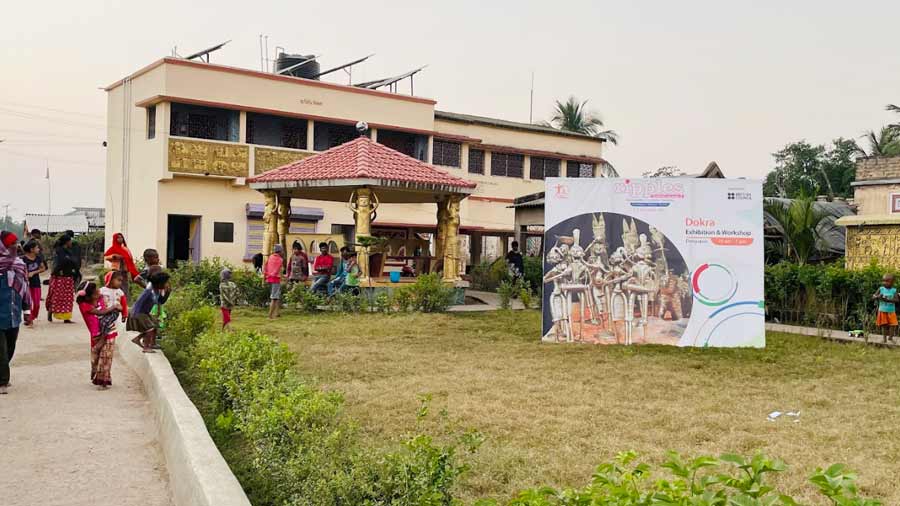 Dariyapur is great for a day trip and there are also nearby options for overnight stays
Courtesy: Banglanatak dot com
Before you go
Dariyapur is about 145 km from Kolkata and can be an ideal day-trip
The nearest railway station to Dariyapur is Guskara, 4 km away
Burdwan town is an hour's drive away and has multiple options for lodging
For those seeking a more rustic experience, the Baul village of Ban Nabagram has an ashram set up for visitors and is a 30-minute drive away
Rangan Datta is a mathematics and management teacher by profession and a travel writer and photographer by passion. He has been addicted to discovering off-beat places since his undergraduate days at St. Xavier's College. Blogging and contributing to Wikipedia are his other passions.