A bad meal has been harder and harder to come by in the last couple of years, as specialist retailers and artisanal brands came out with condiments like never before — be it simmer sauces, seasonings, veggie jams, meat spreads, preserves, dressings or imported relishes. Producing elevated meals at home has become easier than ever. But an over-cluttered market also brought the cult classics into focus — the pantry heroes and legacy brands that are hard to replace.
"There has definitely been a big shift in the way we cook and eat. People have begun cooking a lot more, and experimenting. Kitchen staples like our signature chilli sauce and naturally brewed soya sauce also saw a spike in sales," says Pou Chong's Janice Lee. 
The 64-year-old brand has been preparing for a culinary reckoning. Pou Chong introduced its KIM range in 2017 — a line of premium condiments such as oyster sauce, BBQ Char Siu sauce, seasoning sauce, light soya sauce, dark soya sauce and chilli black bean sauce (a fermented sauce, that can be used in Sichuan ribs, mapo tofu and marinades). The brand's Gochujang (Korean hot sauce) can be an efficient agent for making kimchi, since it stimulates the fermentation process. And KIM's Fung Mee Sauce (Hakka browning sauce) is the go-to ingredient for whipping up a plate of fung-mee mein (Chinese sweet soya sauce noodles) at home.
"The way we use sauces and condiments are key to understanding the home cooking trend. Cloud kitchens and home chefs, for instance, believe they can be at par with restaurants and professional chefs if they have access to the same ingredients. It helps that some of the finest hotels and popular diners from the city are among our clients. So, the buyers definitely think there is a connection between our sauces and good, expertly made food that is worth paying for," Lee shares.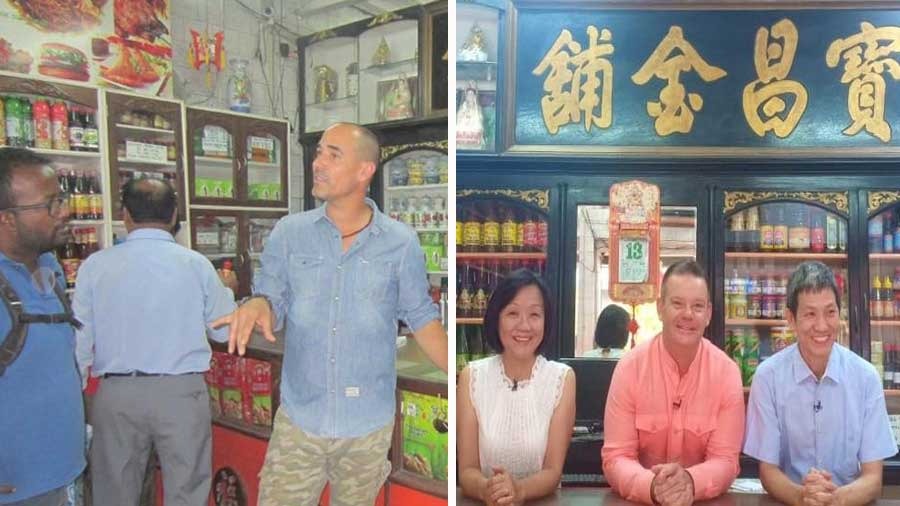 Pou Chong is a must-stop for visiting celebrity chefs like (left) David Rocco and Gary Mehigan
One brand which has steadily been sourcing sauces and kitchen essentials (including the noteworthy plum sauce) from Pou Chong is Wow! China, which is championing 'Chindian' cuisine across the country. The Kolkata-style Hakka Chinese is a seamless fusion — it relies on some homegrown ingredients while retaining Chinese cooking techniques. And Pou Chong's brand philosophy has been entirely driven towards perfecting this comfort cuisine.
Hakka highs
Pou Chong was founded by Lee's grandfather Lee Shih Chuan — who made the original green chilli sauce. This condiment would go on to become pivotal to the 'Calcutta' style Hakka and broader street food culture in the city. A third-generation Chinese-Indian, Lee Shih's father and grandfather were both herbal doctors. Lee Shih took over an old sauce factory in Tangra in 1958 to make signature sauces with Chinese herbs, targeted towards the Chinese Indians living in Kolkata's Chinatown. Eventually, he began mixing Indian herbs with the Chinese ones to create a new blend.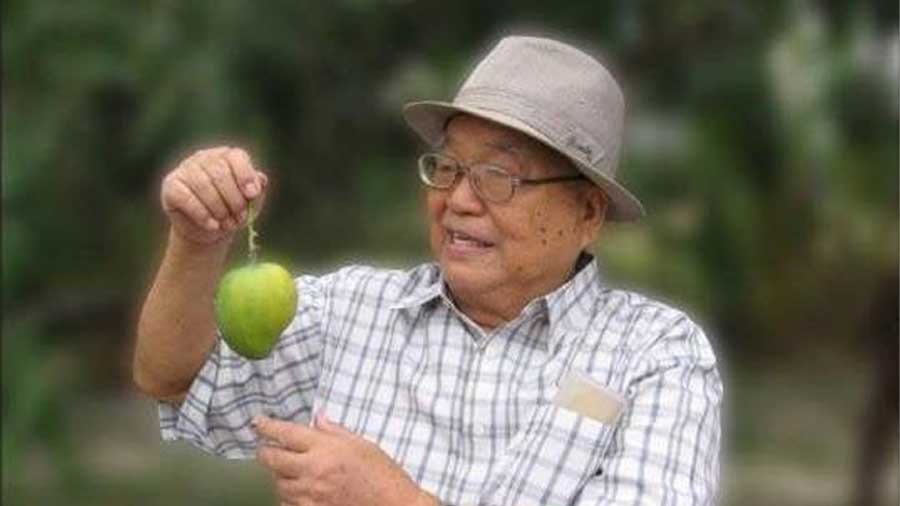 Pou Chong was founded by Janice Lee's grandfather Lee Shih Chuan, who made the original green chilli sauce
"When he first began making the green chilli sauce, he would literally sell it by spoonfuls. Roadside cucumber sellers would use this sauce as a dressing. Eventually, there was a growing demand for it and the green chilli sauce became a staple for Kolkata-style Chinese noodles, Kathi rolls and most importantly, the chilli chicken. It became almost indispensable to Kolkata Chinese food," Lee tells us.
Pou Chong's line-up also boasts several niche, expert-made products that make Chinese cooking easier at home. There's the sharp, zesty Capsiko made with hand-picked red peppers, ideal for dressing sizzlers and chops, there's the delicious Thai sweet chilli sauce and the aromatic prawn 'balichow' pickle, there are Hunan and Hoisin sauces, and a selection of light, springy noodles and prawn chips. But the green chilli sauce remains the game-changer, owing to its subtle tanginess and a well-rounded savoury profile. This, along with the soya sauce, gave the Kolkata-style Hakka Chinese cuisine its quintessential taste — a perfect melange of hot, sweet and sour.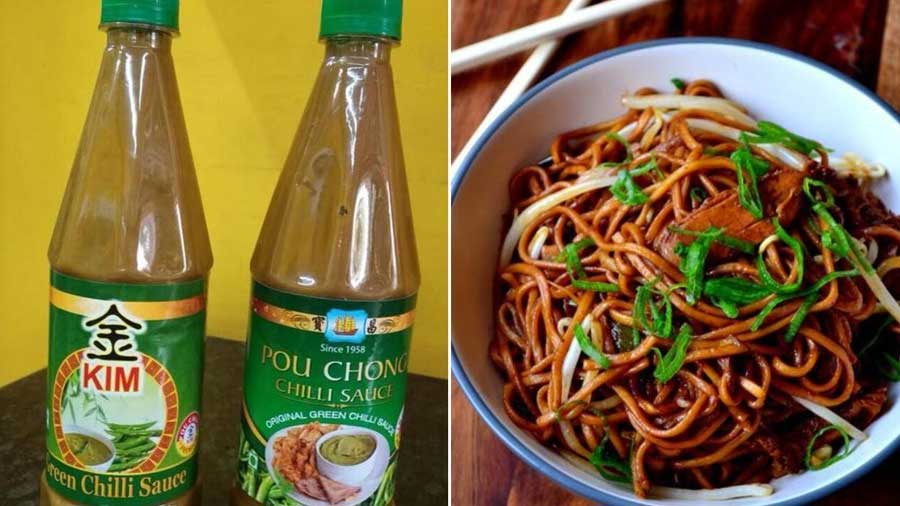 Kolkata-style Hakka chowmein without green chilli sauce? God forbid!
"I've had this cuisine all my life. I've had it in other cities and abroad too, but the taste and profile that we find in the Hakka cuisine here, which is achieved with the chilli and soy sauces, is quite hard to replicate. It's so balanced that it suits almost everybody. It's high on umami and is one-of-a-kind," Lee points out.
The right mix
In a 2018 interview, Asma Khan, of Netflix's Chef's Table fame had revealed that she had learned to cook Hakka chow from a street vendor in Kolkata. The chef also broke down the allure of the reddish tinge that gives it such global renown. "The 'red sauce' that gives it such a wonderful flavour in Kolkata is locally produced, dark brown, slightly sweet soy sauce. I add brown sugar to replicate the red sauce," she had shared. Going overboard with flavours may not be the key to making Hakka the right way, what it really needs is a pared-down, specific ingredient list.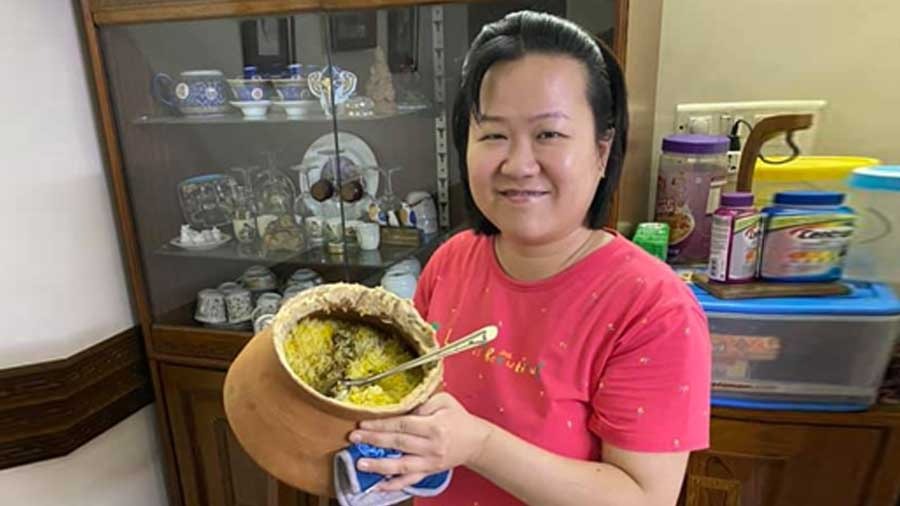 Lee breaks character and digs into another Kolkata favourite
Lee, too, agrees that procurement is key. "We are still specific about where we source our raw ingredients from, since we do not use any artificial flavours. We follow a made-to-order model, it makes it easier to monitor the freshness of the ingredients that go in," she tells us.
In 2018, Pou Chong launched Pouchong's Ming Dimsum (located at 104, Rajdanga Golpark, near Kasba and Acropolis mall) that serves Hakka snacks and specialities such as BBQ Baos, Chilli Pork, Wantons, Sui Mai, Momos, Jumbo Tempura Prawns etc.
"Millennial foodies are keen on experimenting with this cuisine, we've held tasting sessions and it's evident that more and more people are steering towards cooking Chinese at home since the flavours are so adaptable," Lee tells us.
There's a chance the family-run brand may scale up in the next few years, or aim for a stronger national footing. "Of course, we do want to expand and we're working towards a more equipped production unit which will also help us accommodate orders. Here's hoping it all happens in good time," Lee smiles.