Recently, a friend's son came up with a theory I could not but accept: due to repeated famine and a history of food deprivation, people from Bengal are obsessed with food. Famine trauma is in all our genes. And even when we are far away from Bengal, the slightest mention of any Kolkata culinary delight can get us to travel miles. This time in the form of Chilli Chicken, American Chop Suey, Special Fried Rice. A story that began in Kolkata, moved to Bombay and then akin to Sinbad the Sailor, took flight to London.
It has been said that it takes guts, sweat and adrenaline to start a restaurant in London. For Chef Steven Lee from Tangra, add all that plus a leap of faith. For, his successful restaurant — Hakkaland — is a culmination of years of hard work. Located in the plush London suburb of Harrow-on-the-Hill, a stone's throw from the famous Harrow School, the now famous restaurant serves Indo-Chinese, a genre of food that Chef has introduced and popularised in London, winning him the award of the Best Fusion Chef.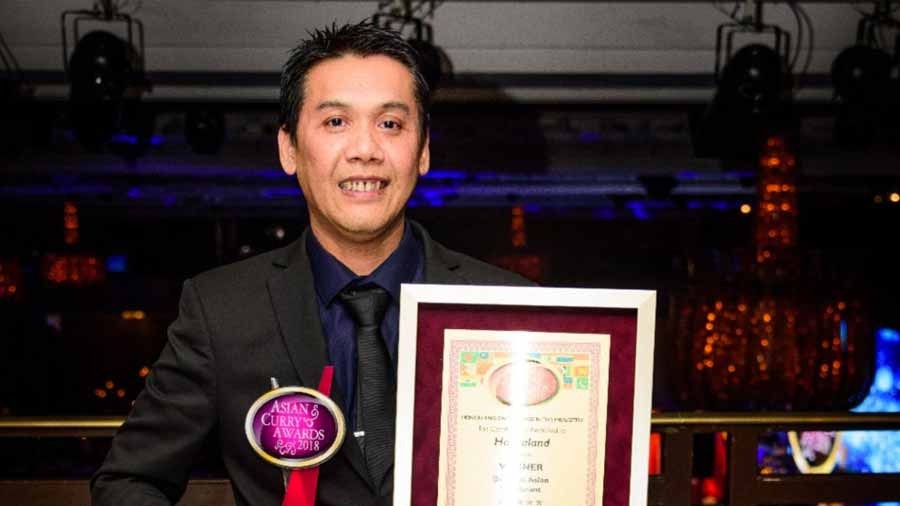 Chef Steven Lee of Hakkaland with the award for Best Fusion Restaurant at the Asian Food & Restaurant Awards 2021
The beginnings of Indian Chinese food would surely start from Kolkata. Chinese traders would cross borders for purposes of business, mainly in trading silks, from the 1700s onwards. With the advent of British rule, a thriving community of Hakka Chinese traders set up home in Kolkata. Soon, the city boasted of not just one but two Chinatowns. One in Tiretti Bazar and the other in Tangra. It was common to find this community settled around Chatawala Gully in central Kolkata. Their trade included tanneries, dentistry, silk trading and shoe crafting – while their ladies managed fashionable hair-dressing salons. A Bengali film, Neel Akasher Neechey (Under the Blue Skies) directed by the award-winning director Mrinal Sen, tried to capture the story of this community.
Local flavours creep in
The popularity of Chinese food seeped into Kolkata culture; Chinese restaurants started popping up all over the posh Park Street. The more traditional ones dotted corners in and around central Kolkata.
The more the cuisine became popular, the more it seemed to add in local flavours. Sichuan became Schezwan and Sichuan peppers were replaced by the local red chillies. Chinese food travelled from Kolkata to Mumbai and then to the rest of the country. Chilli Paneer was added to the menu in addition to Chilli Chicken, to cater to vegetarians. Gobi or Cauliflower Manchurian was created in the restaurants of Bombay. A dish so far away from anything consumed in Manchuria, it would surely make the last emperor sigh in dismay! The once light almost transparent gravies turned brown and red in the process. And soon Indo-Chinese became a distinct cuisine in itself.
Chef Lee is third-generation Kolkata Chinese, born and brought up in Tangra. He remembers his great grandfather mentioning a war and how he had to escape to save his life. He, like most other Chinese families in Kolkata is ethnically Hakka, hence the name Hakkaland. Reminiscing on his early life in Tangra, he remembers his best times flying kites and playing marbles. A rude wakeup call at the age of 17 was when the realisation dawned that he needed to plan for the future. Soon he would find himself in Mangalore, working for his relative's Chinese restaurant. His logic for taking up this job was simple: he wouldn't have to pay for food or lodging, so his earnings would all be his to keep. The first few years were spent chopping vegetables finely, cleaning prawns and learning wok skills.
News of China Garden, the famous Chinese restaurant in Bombay and its creator Nelson Wang, yet another Kolkata boy, reached Chef Lee. China Garden was the glamorous restaurant of the '80s and '90s. A favourite of the Mumbai glitterati, here shipping magnates and industrialists brushed shoulders with well-heeled and perfumed Bollywood stars. Locals walking past would turn to look at the city's most famous, swishing in. It was an atmosphere of wealth and style, but most of all it was about food innovation. Opportunity knocked in the form of a traineeship in this famous kitchen.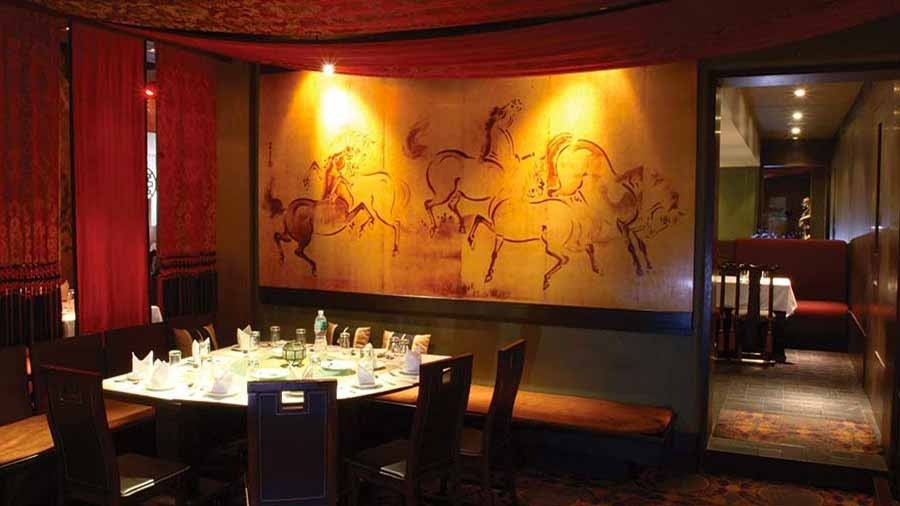 China Garden at Kemp's Corner, Mumbai
chinagarden.in
Here the young trainee saw Chef Nelson Wang dexterously balance pure Chinese flavours with the heat of Indian spices. Inspired by this, young Lee decided to build on this cuisine further. Chef Wang would look at the young trainees and often remark, dismissively, "working in this kitchen is like receiving a million-dollar tip." It's a kitchen chef refers to as the "battlefield" with 22 people working at the same time. And it is in this kitchen that he graduated to the rank of a senior chef.
By now, Chef Lee found himself cooking for celebrity parties thrown by the Godrej and the Bachchans. Not one to forget his teachers, chef always mentions his seniors Nelson Wang and Udit Sarkel. The latter being responsible for his move to London. In Wimbledon, chef worked in the Indo Chinese restaurant, Dalchini, that he helped set up.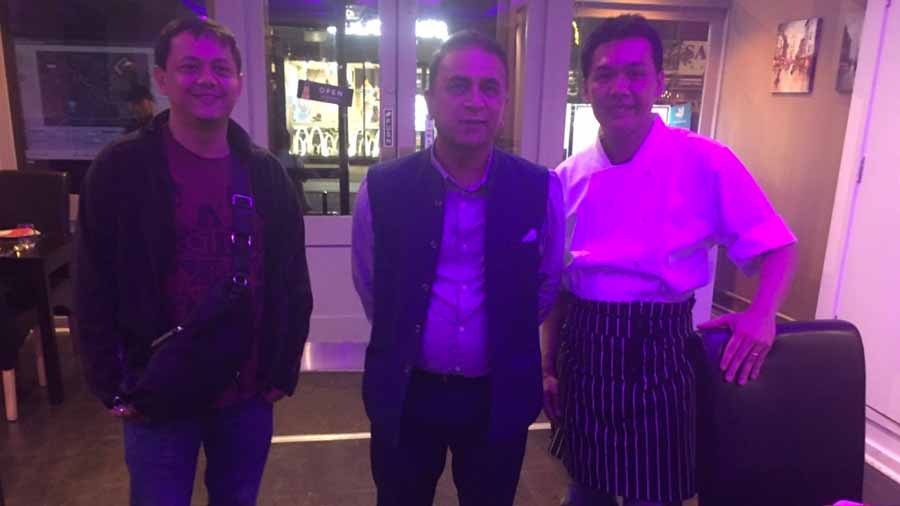 Sunil Gavaskar at Hakkaland
@HarrowTown/Twitter
Remembering his early days at Hakkaland, he often recalls an incident where a family, not being aware of what Indo-Chinese food would entail, sent the waiter in a tizzy trying to order chapatis.
But that is all history. It's heartening to see a house full on weekends. His old friend from China Garden, Johnny Chang, manages the restaurant and the constant spate of Deliveroo and Uber Eats orders coming out of the kitchen.
While the restaurant serves all the nostalgia-stirring Park Street and Tangra favourites, the piece de resistance are the two classical Chop Suey variants — one the tangy tomato-flavoured one bursting with colour and aroma and the other Schezwan variety spicy and golden brown. With crisp Hakka, a smattering of veggies and a lovely golden fried poach on top, this is a full meal in itself that smashes into your palate and senses.
Brexit has not been easy for the restaurant business. Spiralling food prices, labour shortage and the supply chain crisis has hit everyone. The pandemic has caused worries. For Chef Lee, it has also meant a delay in his otherwise annual visit to Kolkata. He misses his share of mutton rolls in Park Street and phuchkas and a trip to his favourite Bengali restaurant – 6 Ballygunge Place.
With the festive season in London, around the corner, families are already blocking their tables at Hakkaland. For some of us here, the familiarity of the chilli-vinegar dipping sauce aroma on entry and the red walls and Chinese motifs, another reminder of boro din and the feasting back in Kolkata. And the wicked thought that Kolkata's loss is London's gain.
Reshom Majumdar is a creative director based out of London. When not at work, she is busy scouting the streets for a new culinary adventure.