Nestled in a cosy corner of Patuli's Jheel Park is an unassuming joint that plates nostalgia along with its home-cooked Bangladeshi and Bengali fare. Be it the Chottogramer Hathe Makha Chingri or the Dhakai Bhuna, Himur Heshel offers a lot more than just a good meal.
"I received my Indian citizenship well past the age of 40," says Sutapa Barua, the owner of the eatery that started as a home kitchen. Barua, who hails from Chittagong, was raised in a conservative family, where her choices were often not her own. When Chittagong University closed for a period of two years in the early '90s, owing to a student strike, Barua's family insisted that she graduate without completing her honours. In 1993, Barua came to Kolkata at the age of 23, to pursue a postgraduate degree in Pali, from Calcutta University.
Seven years later, wedding bells drew Barua back to Kolkata permanently. She spent the next decade as a doting mother and homemaker, eagerly awaiting her Indian citizenship, while simultaneously (and unknowingly) cultivating the skills that led to her success today.
"I was determined to prove to myself that I am capable of doing something worthwhile with my life. After I received my citizenship, I began looking for a job. I had a short but successful career as a consultant, which unfortunately ended as I had to take a step back from my career to focus on my family," shares Barua.
In 2017, after checking almost every box on her to-do list, she decided to follow her passion — cooking.
Himur Heshel — the homely hub of Bangladeshi fare
"It was a spontaneous dinner table conversation that led to Himur Heshel. I thought, 'I'm from Bangladesh, so why not focus on Bangladeshi food?' I knew that in Kolkata, you have to give people something different. Kolkatans are very curious about food, so I had to create my own individual flavours to stand out from the crowd," says the solopreneur.
Himur Heshel began as a home kitchen functioning only on weekends, out of Barua's Sonarpur home. In 2019, it expanded to a full-fledged cloud kitchen, running seven days a week. By September, 2020, Barua had opened a small restaurant in Patuli.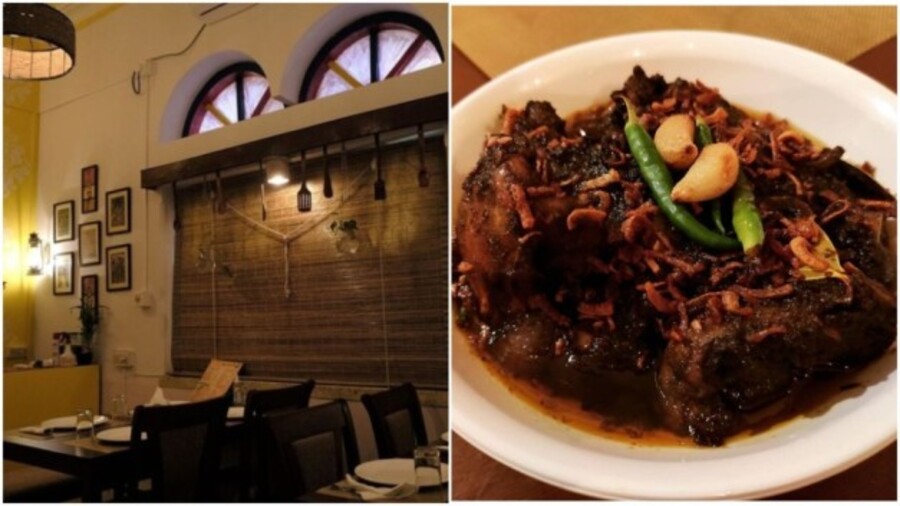 A glimpse of Himur Heshel's interiors and (right) Chittagong-style mutton kala bhuna that's made with 17 spices
A few items on Himur Heshel's menu are an interesting juxtaposition of ghoti and bangal — recipes concocted by Barua herself after prolonged experimentation. "When I introduce unconventional items on my menu, I make sure that the authenticity remains intact, because the essence of my brand has to do with the lost flavours of Bengal. If you sway even a little with spices, the taste of the dish changes completely," she explains.
Her cooking has largely been influenced by her mother, her kakima and thakurma. "I grew up in a family where we mostly ate home-cooked food, so those flavours have influenced both my cooking and my menu. A lot of the dishes are my family's favourites," smiles Barua.
Essential eats at Himur Heshel
The Daber Shashe Gondhoraj Chingri is a major highlight — tender prawns cooked in creamy coconut gravy with a dash of gondhoraj lebu sealing the flavours together perfectly. Barua also recommends the Chingri Daler Crispy Fry which comes with a creamy cheese sauce and Himur Heshel's Stuffed Lollipops.
The fish fry at Himur Heshel has all the elements of a traditional fish fry along with a delicious stuffing. The Kalapatae Mora Bhetki Paturi comes with an interesting addition that effortlessly elevates the offering. A few other must-have offbeat snacks are the Chingri Cheese Pakoras and the Dhakai Chicken Pakoras.
For vegetarians, Barua has set aside a number of appealing options. The Achari Begun is a best-seller that balances sweet and savoury notes with a hint of tanginess.
So, what is the secret to her hearty fare?
"Love," smiles Barua.
Barua is all set to unveil a new Himur Heshel outlet in Patuli on Poila Baisakh. So, if you're planning a Poila Baisakh feast, consider hot-sellers such as Morog Palau, Chingri Bhorta, Mach Bhorta, Chottogramer Hathe Makha Chingri and their khichuri combos.