Ishika Konar briskly sets up the table for the cookout. She slices a pear with the deftness of a skilled craftsman. The sweet freshness of fruits, earthy aroma of basil pesto, and honey-lemon flavours of salad dressing fill the air at La Cucina in Hyatt Regency, Kolkata. Blue denim chef's jacket and black-rimmed spectacles in place, the new executive chef of the star hotel on the Bypass looks as super as the Superfood Quinoa Salad she is about to stir up. 
The Kharagpur girl shares how excited she is to be back in the city in a landmark year that will see the luxury property complete two decades. "Kolkata has a very strong food heritage. I believe the experience that I bring to Hyatt will give me the opportunity to amalgamate the modern art of food and cultural heritage, keeping in mind the nutritional aspects of food," says the Bengali, who is focussed on wellness. 
My Kolkata caught up with the warm and chatty Ishika, who not only shared the recipe for a "fresh and flavourful" salad but also her thoughts about food, hospitality and her journey. 
Recipe for Superfood Quinoa Salad 
Ingredients (quantity flexible)
Red quinoa, boiled  
White quinoa, boiled 
Julienned pears, red apple, green apple and carrots
Chopped dehydrated figs
For the dressing
Olive oil
Basil pesto
Himalayan honey 
Lime juice
Salt and pepper 
Method 
Toss the salad with a light hand and serve on a plate.
Garnish with pomegranate pearls and microgreens.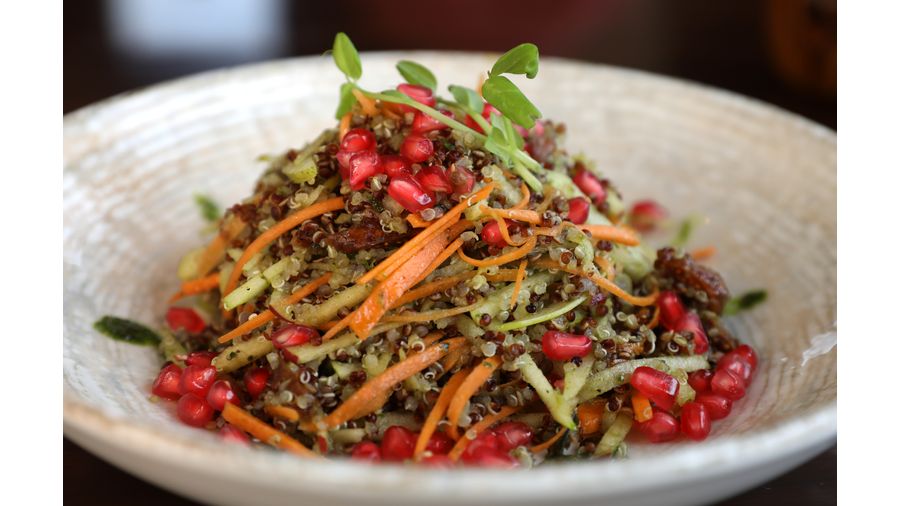 Superfood Quinoa Salad 
11 questions with Chef Ishika Konar
As one of the two female executive chefs in the city's star hotels, what is your message for women wanting to join the kitchen in hospitality?
Hospitality is an industry that demands time, hard work, knowledge and skill. It might not be a conventional occupation but it needs a lot of flair. In the city's star hotels, chef Madhumita (Mohanta, of The Lalit Great Eastern) and I are the only two lady executive chefs but there are a number of brilliant young women joining the industry. According to me, having a strong focus is important to survive in the industry along with having one's family's support because this profession can be very demanding. I think openness and acceptance is needed from society and one's family. I've been in this industry for 18 years, and I am the mother of a 14-year-old son. If I can do it, so can every other woman, who has the zeal to learn.  
What excites you the most about food? 
Food is an integral part of every occasion in one's life so what excites me is being able to create delicious food that people would be eager to try. The juxtaposition of newness and freshness along with being able to create a consistent quality of food is what I'm loving right now. 
Your biggest learnings in two decades of work life? 
I have realised that the most important thing is adaptability. When one talks about being a chef, understanding food is just the basic component. Today, my responsibilities extend beyond food. I manage a big team and work alongside different departments, create menus, maintain quality checks, calculate food costs…. Another learning has been understanding how important it is to strike a work-life balance and knowing the importance of family in one's life. 
Name a dish that is deeply connected to your childhood and why?
Oh my! It has to be the doi maach that my mom makes. She used to make it with katla maach and I absolutely love it. I'm very fond of fish and I'm a self-proclaimed foodie. This recipe is so easy to make with simple ingredients. It's moderately spiced and delicious. The texture, softness and taste is just heavenly. Cooking fish is very close to my heart. It requires a lot of attention while cooking because it cooks fast but I love how versatile it is.
Your favourite ingredients to work with are...
Fruits, without a doubt. Being a Bengali, I have a sweet tooth and I adore the crunch and natural sweetness that fruits add to dishes. I love to incorporate fruit juice, fresh coconut milk and stewed fruits, to name a few, to the food. This has become my unique identity as a chef over the years. I simply love eating figs, both dried and fresh. 
If you were not a chef, what would you be?
I would definitely be in the police force. My uncle was in the force and my cousin brother still is. As a child, I was always intrigued by this profession and being good at sports in school, it seemed like something I could see myself doing. 
Your favourite cuisine and dish to eat is…
Bengali cuisine, hands down! I love my home food like bhaat, bhaja moog dal, begun bhaja, postor bora, Ma'er haater shukto, doi maach, tometor chatney. The best part of Bengali food is that it is not exaggerated with too many spices. The simplicity and taste of this cuisine is what I love. The fact that everyone has their own rendition of a dish, which is equally delicious, excites me. 
If I could, I would love to cook a meal for…
Aamir Khan, for sure! Not only am I a big fan but he is also my childhood crush, just like many other '90s teens. He is a true perfectionist therefore the food needs to be perfect as well — a true challenge for any chef!
I would love to eat a meal cooked by….
Chef Arif Qureshi, for sure! He was my sous-chef when I was with JW Marriott Aerocity, New Delhi. He is an Indian chef from Lucknow and very strong-headed. His food talks and creates magic. I've watched him evolve and uske haat ka khana baat karta tha! 
What are your culinary plans for Hyatt?
I would like to incorporate the aspect of wellness into hospitality. From my experience at Atmantan Wellness in Pune, I learned how ingredients work with each other and how they contribute to one's health. I wish to serve food that is not only tasty but also has the nutritional value that guests may need to incorporate into their diet.
I would also love to enhance the finer details of the food. The finishing of every dish is important to me. Food requires love, time, passion and pride. I hope to guide my team and work together towards consistency of a product, authenticity of a dish and openness to new creations.
Finally, Kolkata to you is… 
Home. Be it the Kolkata Book Fair, Nandan or even pujo shopping at Gariahat, all of it is a part of every Bengali's existence. For so many years, I've been a probashi Bengali living in other cities in the world. Moving to Kolkata has given me the opportunity to be closer to my family, primarily spending quality time with my mother and son. 
A few new additions to the Hyatt Regency menu:
Coconut-infused sun-dried tomato and arugula polenta served with warm thyme wild mushroom: The polenta is creamy while the little bits of sun-dried tomatoes add a tangy sweetness. The mushrooms are juicy and add a savoury bite to the creaminess of the dish.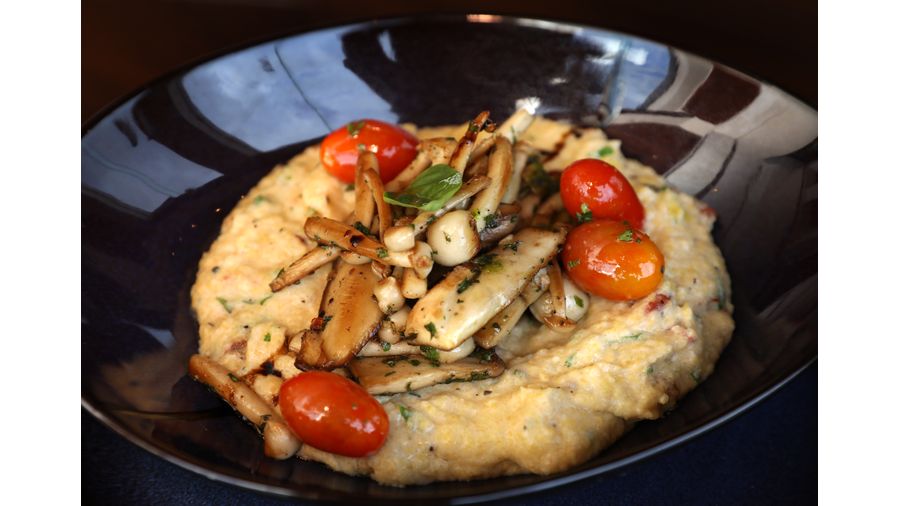 Deconstructed Arabic mezze with green pea hummus, olives, feta cheese, cucumbers, cherry tomatoes and an emulsified orange juice glaze: The pea hummus offers a sweet freshness, which when mixed with the other components is enhanced. The crumbly feta juxtaposes the crunch of the tomatoes, cucumber and olives. The orange glaze is sweet, sticky and almost caramel-like, which lends a fruity flavour to the dish.