Sambit Banik could be described as an academic – he began his career as a lecturer. He could also be described as an entrepreneur since the Le Cordon Bleu, Paris, alum helms three successful restaurants in Kolkata, all with distinct, uniquely curated menus.
However, it's probably best to describe Banik as an artist. With the plate as his canvas, a spatula as his brush and an array of ingredients as his colours, what Banik aims to create is art. "I specialise in progressive cooking and culinary art, I create food that will make an impression. I want to make memories with my food, so I ensure that my food appeals to all senses – from one's eyes to their palates," says Banik.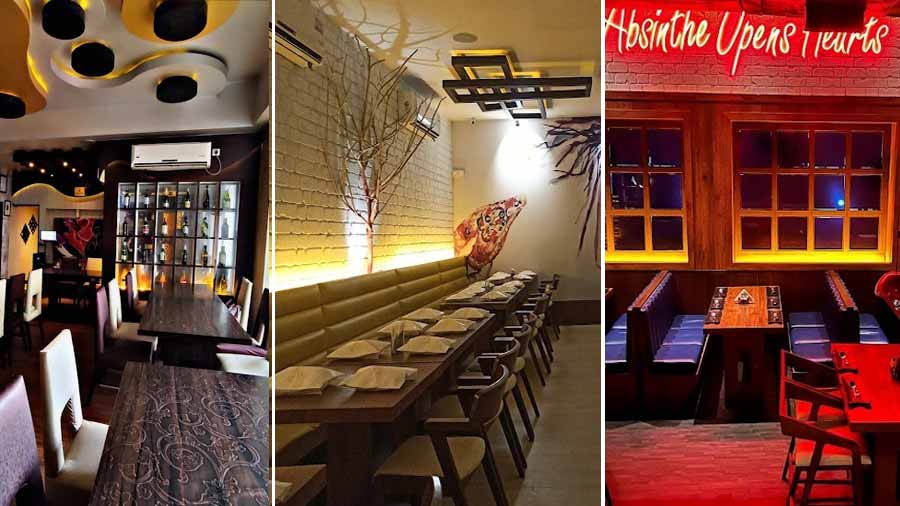 Banik's three ventures: (left) Ballygunge's Spice Kraft, (centre) The Saffron Tree at Southern Avenue and Sloshed by Spice Kraft in Sector V
Banik vitalised Kolkata's taste buds in 2015 with Spice Kraft, he gave the city a taste of nawabi history with The Saffron Tree in 2018 and in 2021, he created a buzz with Sloshed by Spice Kraft. 
My Kolkata caught up with him to learn more about his new and 'progressive' endeavours.
Creating a buzz in Sector V
Sector V's Sloshed by Spice Kraft was launched right in the middle of the pandemic – in October 2021. Banik made no bones about designing a space that is all about its hooch. "Spice Kraft and The Saffron Tree both focus on food, so I wanted to do something with alcohol this time. Sloshed by Spice Kraft has 50 variations of Long Island Iced Tea and 30 flavours of sangria," reveals Banik. 
The marketing professor in him identified a niche for robust LIITs and herbaceous sangria pitchers and the chef in him saw this vision through. "The classic LIIT is tired. I prefer a dash of coconut water or some mango notes with the traditional four alcohols instead of the regular coke. Over the last few years, I have been looking for a good sangria. I use rosé wine as a base for my sangrias and add sparkling champagne and herbs to elevate the drink and bring in the desi element," says the solopreneur.
The focus is on chaknas, which complement the alcohol. Turns out, there's a science behind curating a pairable fare. "I explored Indian cuisine while curating this menu. There are so many unique spices that you can pair with alcohol. All you need to do is figure out the balance. If you have a heavy spice, it will go well with a heavy protein and a good scotch. On the other hand, a lighter drink will pair better with delicate spices," explains Banik. 
You'll spot a pork belly kathi roll, a peanut butter chicken kebab, roast chicken and cranberry juice phuchkas, mutton liver flambeed with gin and Golbari-inspired pork kosha bao – a fascinating mix.
Banik insists on festive menus for each of his venues, during the Christmas and pujo seasons. The Anglo-Indian buffet and the grilled prawn malai kebabs are widely popular and are now available year-round at Spice Kraft and The Saffron Tree, respectively.
Basics: The essence of his food
Many confuse Banik's fare for fusion food. "Technically speaking, what I make is not fusion food because I don't fuse food together. I elevate cuisines with my techniques. It's progressive cooking – authentic food that is elevated," says Banik.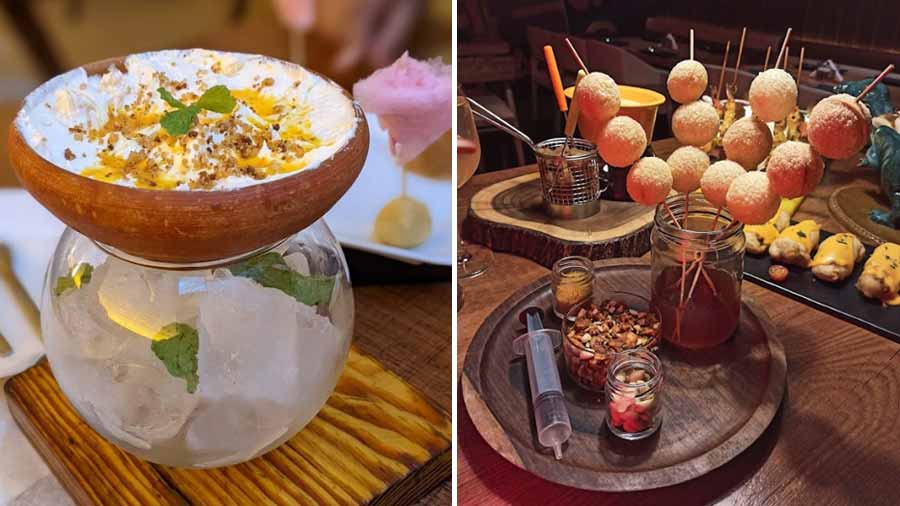 (Left) Phirni Creme Brulee and (right) Roast Chicken Phuchkas with cranberry sauce by Banik
Despite his love for spectacle, Banik prioritises technique over trend. He tells us that a clear understanding of the basics of cooking is paramount. "Never mix something for the heck of blending two types of food together. If you're making something like the pork belly boti kebab, you need to know that pork loves citrus. Then, automatically you'll know that the next step is to add a drizzle of tamarind or lime," shares the chef. 
The jury's out on whether Kolkata is keen on spending big bucks on new-wave experiments on their weekends. But Banik's stance on pricing is exactly what you'd expect from someone who approaches food like art. While the menus at each of his properties are vastly different, the price points are the same because the chef believes in making affordable, accessible food. 
"As a chef, I want more people to sample my artistry. If I was a singer, I'd be happier singing at Nazrul Manch with a host of listeners, than at London's Royal Albert Hall with only two people for an audience," he quips.
The king of pork biryani
Banik woke up in the wee hours of the morning one day, craving a 'fat-laden dum-style biryani with a well-rendered piece of pork'. This untimely craving eventually birthed The Saffron Tree's famed Pork Biryani.
"People crave pork and people love biryani. So, a pork biryani makes a lot of sense. I wanted to make something that's close to my heart. The foodie in me came out and now I can call myself the pioneer of pork biryani," remarks Banik.
The Saffron Tree's pork biryani has garnered a cult following in the city. During the closing hour, the front desk is often buzzing with frantic calls for a serving of the signature dish. And there are some requests even Banik can't turn down.
"In June last year, I got a call from a doctor right before we were closing. He asked for seven plates of pork biryani. His love for the dish was apparent to us and doctors like him are putting their lives on the line for us every day, the least I could do was cook him a good dinner. I made a fresh handi of biryani, switched on my Swiggy portal and served him within 45 mins," Banik fondly recalls.
The showman chef
Despite his love for technique, Banik can't forgo the element of spectacle. On occasion, he'll put on a show while serving you his food. "We like to ensure that people really experience our food. I have put a lot of passion into the dishes at the three restaurants so we can put on a show. You could even say it's theatre for food," says Banik.
Take the Jamia Masjid Butter Chicken, for instance. While researching this dish, Banik ate every meal at the local shops near Jamia Masjid for seven days. 
"This dish is inspired by the French flambé. We cook the chicken in the kitchen, but assemble the tarka at the table itself. The French do a flambé at the table and we do the tarka at the table. We serve it on a sizzler and keep the authentic Indian flavours intact," he explains. 
The dessert menu at Sloshed by Spice Kraft too strives to be Instagram-worthy. One dessert that stands out is the mushroom forest – milk fudge, cookies and macaroons come together with a drizzle of chocolate shavings to sculpt a pretty mushroom in the middle of the wilderness.
What's next?
Banik looks forward to writing a book in the future – not a cookbook, but a book on India's rich culinary history. "While researching for The Saffron Tree's menu, I absorbed an immense amount of knowledge about Indian history and culture. There's a story behind each biryani and a difference between the biryanis of every state in India. The Lucknowi biryani and Kolkata biryani are different from other regions in the country. Some biryanis are more robust and made from whole spices. Others have a lot of costly spices added to them. There is so much research on the intricacies of Mughlai cuisine, and I want to capture it all in a book," smiles Banik.
My Kolkata's rapid-fire
A chef you look up to? 
Heston Blumenthal 
What's your favourite quarantine trend? 
Dalgona coffee 
What's your go-to spice? 
Kebab Chinni 
What's your favourite cuisine while travelling? 
French cuisine. It's beautiful and impressionable.  
What's your go-to comfort food? 
Biryani with two pieces of aloo.
What's a meal you wind down to? 
A fish head curry, hands down.
Do you have any advice for Kolkata's foodies? 
Go and eat at the tiniest places, that's where the best food is.