Bangladesh's 'chef guru' is nowhere as intimidating as her tag led us to believe. Jaheda Begum is as bubbly as she's versatile. Her enthusiasm and zest for life is reflected in every sliver of her delicious Bangladeshi fare. The chef, who is currently working as the head of the F&B production department at the National Hotel and Tourism Training Institute, Bangladesh, is committed to working with aspiring chefs. Jaheda started her culinary journey in 2000 and in the last two decades, has managed to leave an indelible mark in the food circuit, and has earned the title of 'chef guru'.
My Kolkata caught up with the chef shortly after she wowed Kolkatans with some authentic Bangladeshi food at the International Institute of Hotel Management's International Food Festival. Excerpts from the conversation…
What is something that people don't know about Bangladeshi food? 
Most people confuse Bangladeshi food with Indian food, because the cuisines share some similarities. But the spices that are used in Bangladeshi food are very different. It differs within Bangladesh as well. We have many districts and each district has a different cuisine. Many people also assume Bangladeshi food to be sweet, but in reality, it's somewhat spicy. Bangladeshi food uses a lot of bata masala (masalas ground together into a thick paste) and very few dry powdered spices, which is something most people don't know about the cuisine.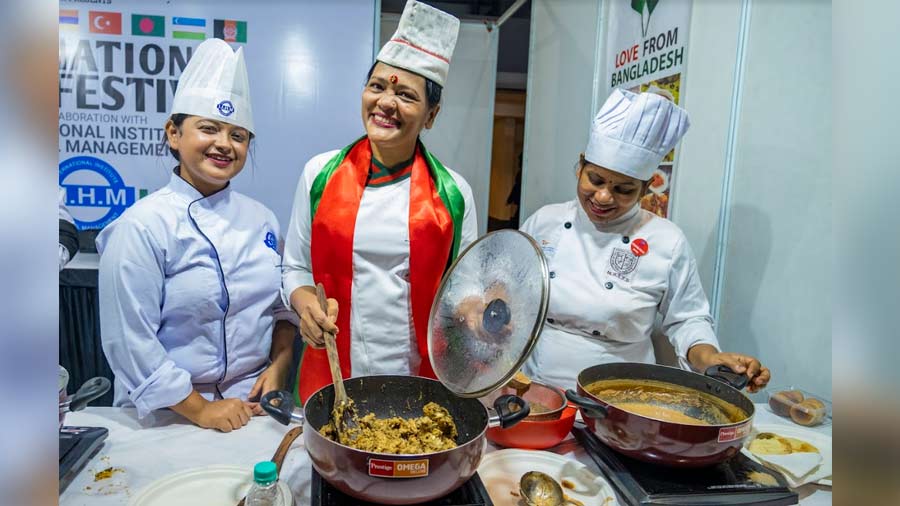 Jaheda Begum with young chefs at IIHM
What is your favourite cuisine to cook?
My favourite cuisine to cook (and eat!) is definitely Bangladeshi cuisine, because I am currently working in a leading position in the country — I am a food ambassador for Bangladesh! I also really like African food and Indian vegetarian food.
What's the most essential ingredient used in Bangladeshi cookery?
We use a lot of garlic and ginger paste. No dish is made without this because it adds a robust flavour to the food. We also use cumin paste, coriander paste and red chilli powder — in huge quantities! We love our food spicy and packed with flavour.
How is Bangladeshi food different from Bengali fare?
I have noticed that most of Kolkata's foodies know the taste of Bangladeshi food and appreciate it and that makes me really happy! I would say that many of the spices are different — we don't use a lot of panch phoron or curry patta. 
If you were entertaining the biggest names in the food world, what would you make for them?
Exactly what I made for the International Institute of Hotel Management's International Food Festival! There was a traditional Dhakai Biryani served with a raita, jorda and Bangladeshi milk tea.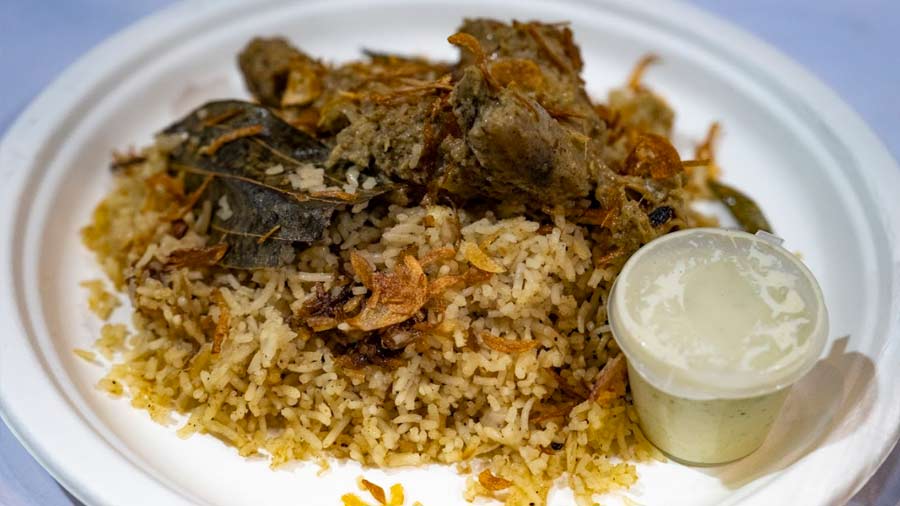 Dhakai Biryani by chef Jaheda
A rapid-fire round with the chef

What is Bangladeshi street food like? 
It's very similar to Kolkata's street food. We have fuska (phuchka), chotpoti, chatni and corn fry.
Tell us about some unique Bangladeshi delicacies…
We have so many! A few unique ones are Hilsa Biryani, Shorshe Hilsa, Firni, Korma and Rezala.
What is your favourite dish to cook?
Hilsa Dum Biryani 
What is your favourite Bengali dish?
Hilsa and brinjal fry
What is your favourite spice?
Green chillies, because I love how the kitchen smells when I'm cooking with them. It spreads its aroma everywhere! I also love fresh coriander and tomato.
What does the future have in store for you?
I would like to establish a food museum someday!