In the spring of 1993, almost every Indian food-loving household with a television set, acquired a notebook.
Three decades later, the same notebook — now old, frail and dusty-brown hued — is sacred. Its pages sandwich hand-written recipes, some gently scripted and some jotted down swiftly, which are now carefully passed down from generation to generation, much like long-preserved family heirlooms.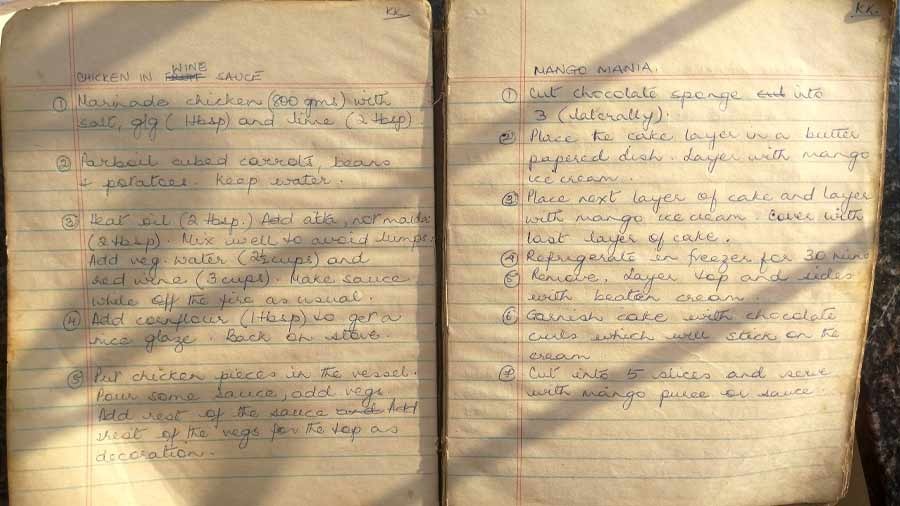 Recipes for 'Mango Mania' and 'Chicken in Wine Sauce', which aired on 'Khana Khazana' in 1999
Lygeia Gomes
If you're wondering what the origins of these hallowed recipes are, the answer is of course Khana Khazana, which, after first airing in 1993, delved into the intricacies of Indian cuisine, broke it down in an intelligible manner and won every Indian foodie's heart.
The man behind the iconic show — chef Sanjeev Kapoor — was in Kolkata recently for the Bengal Global Business Summit. My Kolkata caught up with the star chef for a quick chat on the final day of the summit to discuss his new app, his philanthropy projects, cooking with courage, his love of Kolkata's aloo posto and more.
'I've always believed in making the kitchen a fun place'
Khana Khazana was all about food that was simple and yet sinful. That ideology remains intact even today. "I am currently working on making food-related content for smart devices. The type of content we are creating will essentially make life in the kitchen much simpler and easier. I've always believed in making the kitchen a fun place and that's what Tiny Chef is all about," he said. 
Tiny Chef is an app that uses machine learning and AI to create an intelligent kitchen. You'll come across all kinds of food-related content, cooking tips and shopping essentials. "All you need to do is download the app!" laughed Kapoor. 
'When you're lucky enough to get so much in one lifetime you must give back'
Over the last three decades, Kapoor has built an empire that allows him to champion several social causes. He's actively involved with the non-profit Akshaya Patra, he works closely with autistic children, he has joined hands with the World Central Kitchen, and recently, he took on spreading awareness about clean cooking. 
"When you're lucky enough to get so much in one lifetime, you must give back. I wouldn't say that there was one big incident that happened to me that drives my philanthropy. In fact, it's the little things in life that impact me," said Kapoor.
"Right now, I am focussed on spreading awareness about clean cooking, which is an initiative by the United Nations, where we educate people about how smokeless cooking is important. It's not only cigarette smoke that kills, charcoal smoke can kill too. Apart from that, we've been continuing our work with the World Central Kitchen in India and we're also trying to help the people in Ukraine."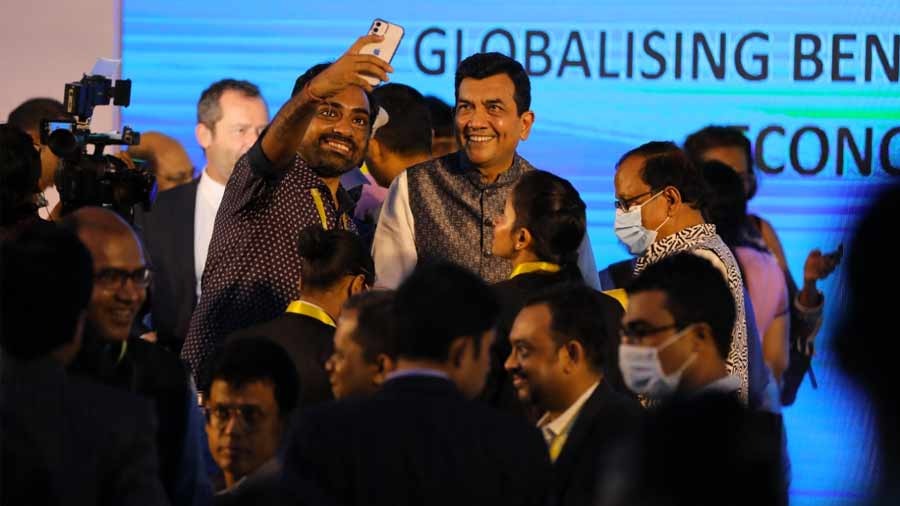 The chef is mobbed for selfies at the Bengal Global Business Summit
Arijit Sen
'If you have the courage to stand out, you'll become outstanding'
Kapoor attributes his success to taking the road less travelled. Be it learning Sanskrit instead of Hindi as a third language in school, having architecture as a graduation degree, or a television show in the early '90s — he has always made out-of-the-box decisions. 
"It takes a lot of courage to make decisions that are unconventional, but if you do it with the right amount of diligence, passion and sensitivity, it's bound to work. If you have the courage to stand out, you'll become outstanding!" he said, noting that this is his advice to all aspiring chefs. 
'It takes a lot of courage to make decisions that are unconventional,' the star chef said
Arijit Sen
A quick-fire round on Bengali 'khana' and Kolkata's 'khazana'
My Kolkata: What is your favourite Bengali dish? 
Sanjeev Kapoor: Apart from the sweets, my favourite dish is definitely aloo posto.
A Bengali spice you enjoy cooking with?
Radhuni.
Your all-time favourite restaurant in Kolkata?  
I've tasted food from Kewpies, Suruchi, Aheli, 6 Ballygunge Place, Oh Calcutta — and I think all of them are great.
The Kolkata street food that you crave?
Jhalmuri! And I have it exactly the way the vendor makes it — no additions or subtractions!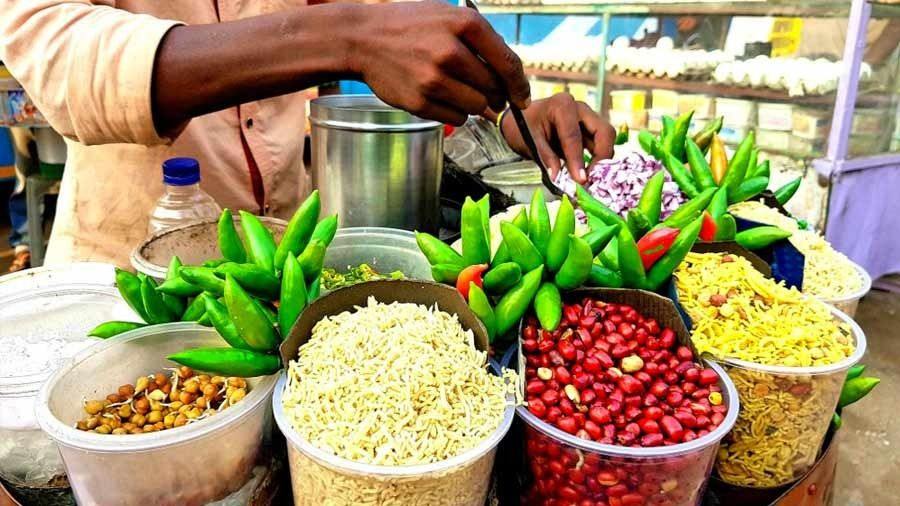 TT archives
Spots you visit when in Kolkata?
It all depends on my mood really. Sometimes I feel like going to the alley behind the stock exchange and having chai and toast or I go to Victoria Memorial for the kulfi served inside a mango. Nights are reserved for Park Street. 
The Khana Khazana recipe that is closest to your heart?
That's really difficult to answer! But what I can say is that my first recipe, Shaam Savera, is celebrated the most and worth mentioning. My favourites change a lot. Every time I cook a new dish, it becomes my favourite. 
Who cooks at the Kapoor residence?
If I am at home, I cook! Otherwise, my wife cooks. She's an excellent cook and so is my mother.
What do you cook for your fam-jams? 
Sometimes it's different types of biryani. I also cook Italian a lot. Last weekend, I made a steamed fish with lemongrass that they enjoyed!
Is Kolkata another home for you?
My aunt is from Kolkata, so for me, it's always been home. Ever since I was a toddler, I've been coming to Kolkata fairly regularly. So yes, it is home for me.