Growing up, chef Enzo Oliveri had one diurnal chore. He'd skip across the cobbled pavements of Sicily every morning to pick up a pound of bread for his family. Something about this experience — the smell of a freshly baked loaf, the effortless grace with which the dough rose, or simply the twee bakery — made him fall in love with food. "I knew very early on, at the age of eight, that food was my future," says Oliveri.

Oliveri, 59, has headed over 50 restaurants all over the world including Fratelli La Bufala, Osteria Chartwell, Tasting Sicily, Olivenzo and El Patio. He's the president of the Italian Federation of Italian chefs. He's been on multiple cooking shows (his favourite is "the one with Gordon Ramsey''), and he's plated for the likes of Princess Diana, John Travolta, Al Pacino and Robert De Niro.
My Kolkata caught up with the chef about his culinary journey. Edited excerpts from the conversation…
First things first, who is Chef Enzo Oliveri at the core? 
Chef Enzo Oliveri is a passionate Italian chef who understood that he had a fascination for food and a hunger to learn at a very young age and has spent his life doing so. Cooking is what I love to do!
What's your take on the Italian food served in Kolkata — is it authentic? 
Original Italian food is rarely replicated anywhere in the world as it is very difficult to define. It differs from region to region, like Indian food. Every region in Italy and every nation in the world takes the essence of Italian food and cooks it in a manner that suits its own palate. And that's how it is in Kolkata as well. The basic flavours of an Italian dish are incorporated and then chefs venture out, giving it their own personality. 
In fact, I myself would advise adding some chilli to Italian food in India! 
What is something that people don't know about Italian fare? 
I think that people need to know that pasta and pizza is not the entirety of Italian cuisine. Italian food is so much more. It's so complex and yet simple — the complexity lies in its simplicity. There are 25 regions and all have different sorts of flavours, which adds different layers to the cuisine. I think a lot of people don't know about the various cheeses of Italy. My suggestion would be to start with the Pecorino Romano and Pecorino Toscano.
If you were entertaining the biggest names, what would you cook for them?
I would study who they are and where they come from before preparing a menu. It is important to know who you're cooking for and the food they enjoy eating. 
Of course, if I have to play by my strengths and impress somebody I will cook Sicilian food with the original Sicilian ingredients because I know that that has a 'wow factor'. 
Most of the time, however, it depends on who you're cooking for. I'll give you an example: When Sylvester Stallone comes to London, I serve him meatballs because he says it reminds him of his mother's cooking and he thoroughly enjoys it.
You have an enviable list of people you've cooked for from the likes of Princess Diana to Robert De Niro. Give us a glimpse into the experience?
When celebrities pick me among the thousands of chefs they can choose from, it makes me extremely happy and flattered. I have served John Travolta, Al Pacino, Robert De Niro, and Michael Douglas too!
I try to cook different dishes for them and in the past I have even designed dishes specifically for a visiting celebrity. When Charlie Sheen came to my restaurant I made him an extravagant pistachio-based pasta because that's what he likes — extravagance!
What advice do you have for budding chefs looking to perfect Italian cooking?
My one piece of advice would be to learn the basics. The basics of Italian fare are tomato sauce, cream sauce, how to cook pasta and how much salt to use. If you master the techniques of the basics, you can venture out and develop your own creations easily. Always remember to not be in a rush to speed up your culinary journey. Food needs its own time and you must give the right amount of time to see the best results.
You were recently at IIHM's International Food Festival 2022. What was the experience like? 
It was fantastic. Seafood is what I like the most and Kolkata is known for fish so I was really looking forward to tasting the local catch. I had the opportunity to interact with chefs from all over the world, which was really fantastic.
Octopus fishing with Gordon Ramsay in Sicily
I have visited India many times, thanks to the International Institute of Hotel Management, so I understand the palate. One dish I served was Arancini which you'll find in any Italian restaurant in India but I wanted to serve it the way I prepare it. It's a Sicilian dish so I wanted to bring the original version to Kolkata. I am now teaching the same to IIHM students across the country so they can replicate original Sicilian fare.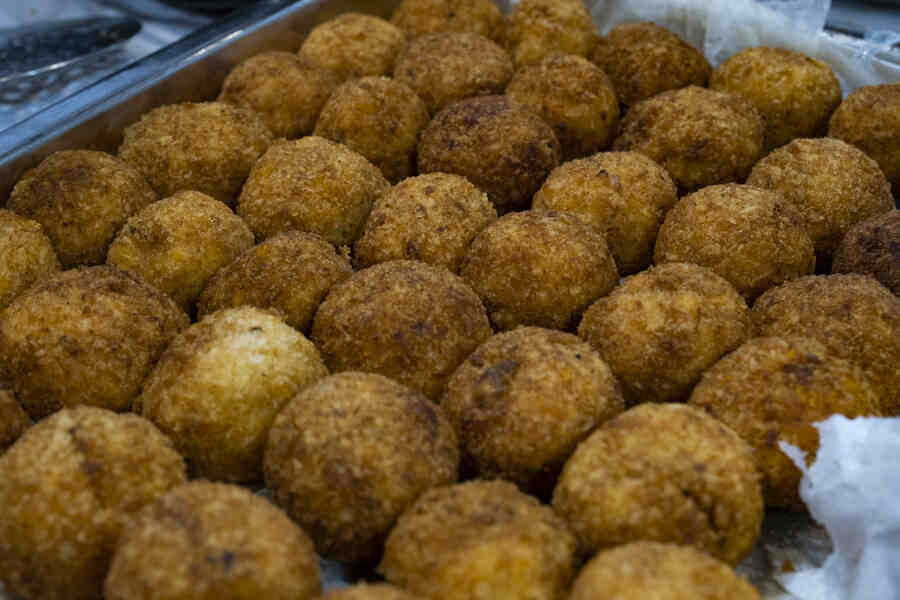 Sicilian dish Arancini served by Chef Oliveri at a food festival in Kolkata
Ritagnik Bhattacharya
Do you use your mother's tomato sauce recipe in your kitchen? Are you willing to share the recipe with us?
I most certainly do. I use my mother's tomato sauce as a base for every sauce I create.
Yes, of course! It's just three ingredients — tomato, basil, and onion. Add a bit of olive oil to the pan and fry the onions well. It's a very basic sauce but the timing is crucial. Once you have this sauce you can add more ingredients and make it more complex, but this base sauce is the real thing.
You've repeatedly mentioned that scallops are your favourite dish. Where have you eaten the best scallops, and were they made by you? 
Yes, scallops are my favourite dish! 
No (laughs) unfortunately the best scallops I have eaten weren't my own creation. French chefs definitely make the best scallops in the world. They treat them with so much passion and love — no one else in the world does this. This is what gives them such a beautiful taste. 
You've mentioned that your comfort food is Indian! Tell us more… 
I love regional Indian food. What I like the most is Biryani and I love tasting the different types available in India —  it's definitely one of the dishes that has me intrigued. I think it's comforting because it's so diverse. My wife and I make sure to eat Indian food in London at least once a week.
You've said that you feel more at home in Kolkata than anywhere else! What is one thing that makes you feel this way?
It's the people. They make it feel like home. IIHM makes me feel like I'm a part of their family on every occasion. As I arrive in Kolkata, the welcome that I get from the students and teachers is amazing. They've welcomed me into their family and culture, which is what makes it so special. 
What's your favourite Indian spice to cook with?
It's a toss-up between garam masala and red chilli. 
Lastly, your favourite Bengali dish?

Kochuri and aloo'r torkari!