When people spot him at catering events, they often say, "Debashish! You're here, so we know the food will be fantastic!" That's the kind of reassurance you get with Debashish Ghosh or Debashish da as he is known to many. 
He joined Speciality Restaurants in 2000 when he was 35 and the holding company had two brands (Oh! Calcutta and Mainland China) and four outlets. Over 22 years, he's become synonymous with Speciality, putting the 'special' into the dining experience for the customer at any of the 21 brands and 120-plus outlets the group boasts of today. He's also a proud father — his son Debayan plays a key role in London's Chourangi. 
My Kolkata 'woks the talk' with the man who's on speed dial for many A-team Kolkatans, about his personal journey alongside the big brand.
My Kolkata: You've been with Speciality Restaurants for more than two decades. Do you remember your first day at work?
Debashish Ghosh: I joined the brand on October 18, 2000, to be precise, after Durga Puja. I had requested Mr Anjan Chatterjee (chairman and managing director of Speciality Restaurants) for that because usually in the hospitality world, festivals are always hectic. So I remember spending time with family and friends before joining! 
To be honest, it was a different feeling. I used to work with a five-star hotel prior to that, but I think once you get into the work and the kitchen, it's all the same. Mr Chatterjee always said that he wanted a five-star restaurant with three-star pricing. 
As general manager of Speciality Restaurants today, you juggle many roles. Which do you enjoy the most? 
From the very beginning, I loved meeting people, so PR activities are where I thrive personally. I love the process of executing large outdoor catering events. The meticulous planning of small details — from hiring of cars to building the buffet — I find it all very exciting and interesting. In this whole process, my team helps me out a lot and their support is brilliant.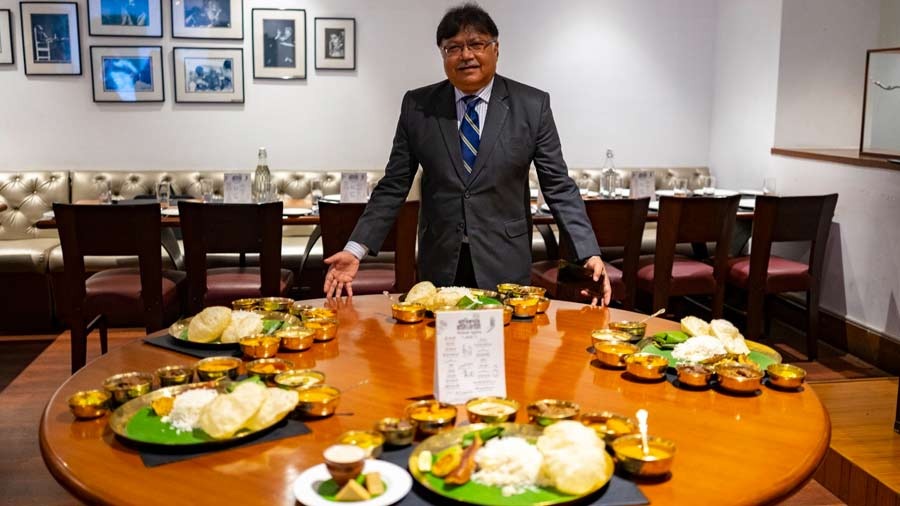 At the press launch of a Satyajit Ray-inspired menu at Oh! Calcutta in Forum Mall
Ritagnik Bhattacharya
How would you describe the growth of Speciality Restaurants?
Leaps and bounds (laughs)!
Mainland China on Gurusaday Road was already the brand's fourth restaurant along with Oh! Calcutta when I came on board. Now, after 22 years, we have Cafe Mezzuna, Flame and Grill, Riyasat, Episode One (in Mumbai) and so many more brands and outlets. With the amount of competition in the F&B industry now, we realise that our sustaining in this industry is truly remarkable. We are always innovating, bickering amongst ourselves to create a unique product for our clients!
[Speciality Restaurants has 21 brands with 120+ outlets spread over multiple cities in India like Kolkata, Mumbai, Bangalore and more, along with outlets in Dhaka (Bangladesh), Dar-es-Salaam (Tanzania), Colombo (Sri Lanka), Dubai (UAE) and London (UK)]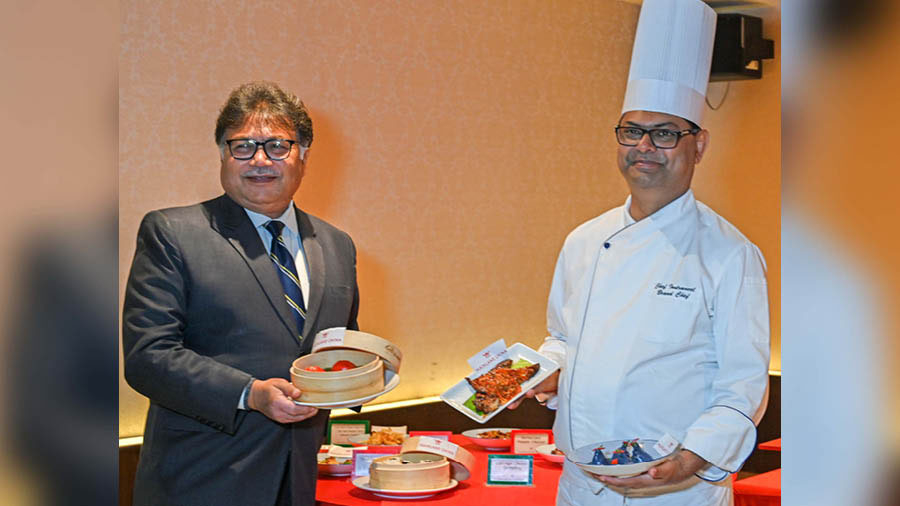 'We are always innovating, bickering amongst ourselves to create a unique product for our clients,' says Ghosh
With so many restaurants under the Speciality brand, which ones were the most exciting to launch and why?
Cafe Mezzuna and Riyasat for sure!
Cafe Mezzuna was exciting to launch because the concept and dining experience was completely new. On the other hand, launching Riyasat was exciting because of how unique the cuisine is. Anyone who has walked into Riyasat (South City Mall) has always had good things to say about the food.
The most challenging brand to launch was Chourangi, because Oh! Calcutta is closest to Mr Chatterjee's heart. He wanted to launch the brand in London, but due to some copyright issues, we couldn't procure the name 'Oh! Calcutta', and that is how Chourangi was founded.
Being the speed-dial person for so many A-list Kolkatans, is it pressure, privilege or both?
Definitely both! When people spot me at catering events, they often say, "Debashish! You're here so we can be sure the food will be fantastic!" — this is surely a privilege, but also a huge pressure.
The need to live up to those expectations is a challenge, but also a great privilege. We keep asking for feedback from our clients because tastes keep changing and we have to keep up with that. We even anonymously order food from our restaurants as an exercise in quality checking, which ensures our food and service standards are always up to the mark.
Which is your personal favourite brand and outlet?
My personal favourite brand would have to be Oh! Calcutta, but my favourite outlet of all time would be Mainland China at Gurusaday Road. This outlet has won the brand name, love and lots of respect!
What is it like working closely with Anjan Chatterjee? Can you share a special anecdote?
Learning… so much learning. Every step with Mr Chatterjee is learning. We all draw so much energy from him, he is very energetic. I have never seen him tired. He is always charged! He gives you the space to work and has a lot of confidence in his team, along with being extremely grounded. Whenever he is in Kolkata, we love to go and hang out in Mocambo, or at Gurusaday Road where we order in biryani and chaap and have a good adda session!
As someone who has seen the evolution of the F&B industry over the past few decades in Kolkata, which period, according to you, had the strongest turn?
So many exciting things happened during the years 2002 to 2005. The eating-out graph turned during this time with new outlets and restaurants opening, along with so many nightclubs, and many new chefs came to the surface. It was a good change. We saw another change between 2021 and 2023, during and post the pandemic. It was truly a harrowing time for the industry; a very difficult and cruel time for us all.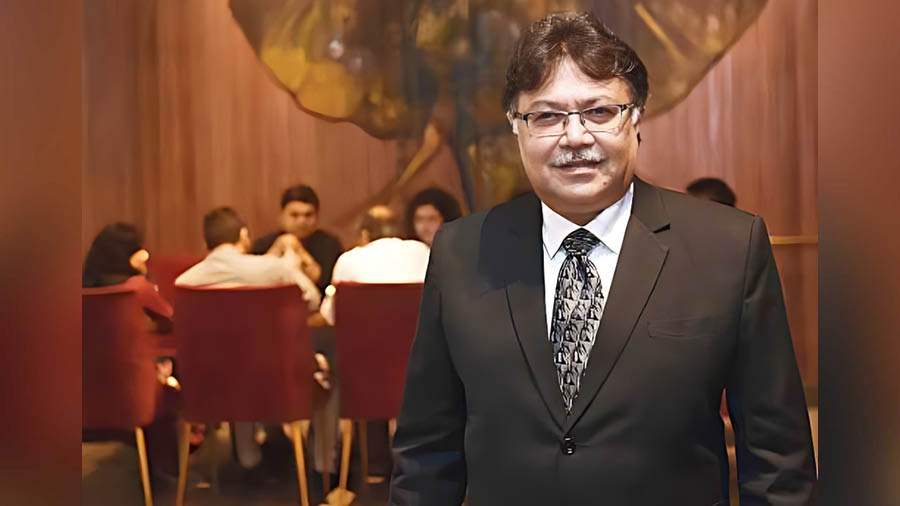 While the period between 2002 and 2005 was new and exciting; during and post the pandemic, it was truly a harrowing time for the hospitality industry, says Ghosh
TT Archives
Now a question for a proud father — how does it feel to see your son playing a key role in Chourangi?
My son, Debayan, initially wanted to do automobile engineering, but suddenly he decided to enter the hospitality industry! I was truly surprised. After completing his undergraduate studies at IIHM in Kolkata, he wanted to pursue his Masters, for which he went to the UK to study at Coventry University London Campus. We were working on Chourangi at the time and Mr Chatterjee used to interact with him whenever he was in London.
When he started looking for a job, Mr Chatterjee said, "We are opening a restaurant in London, how can he work anywhere else but here?"
He started work at Riyasat and then moved to London to work in Chourangi. It feels really good to see him work and enjoy his work!
With so many years of experience in the F&B industry, name three things today's consumer is looking for?
Consistency, cleanliness and good taste!
WOK THE TALK
Which is your favourite dish from Mainland China?
I love the Cantonese-style Pan-Fried Noodles with General Tao's Chicken or Chicken Taipei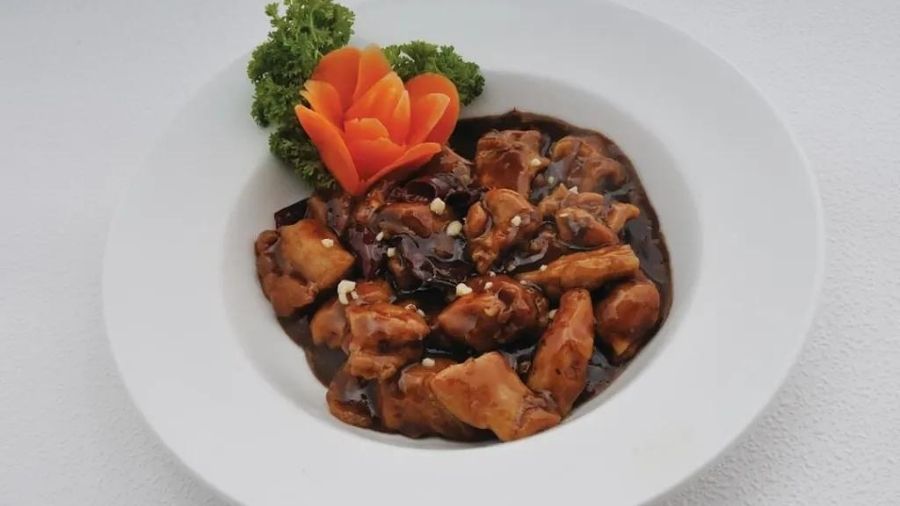 General Tao's Chicken has diced chicken in a sweet, sour and spicy soy sauce with crushed peanuts
When you're not eating at any of your restaurants, you dine at…
6 Ballygunge Place because I love Bengali food too much! I also love a good fish roll from Bijoli Grill
Which restaurants have you received the most number of request reservation calls for?
Mainland China, Oh! Calcutta and Riyasat
Favourite memory of working with Speciality Restaurants?
Mr Chatterjee has allowed me to mingle with a lot of people — celebrities, bureaucrats, politicians, sportspersons — and I love that!
What is most important for a 41-year-old brand to stay relevant?
Quality and consistency of food along with affordability