'Then two clever Bangali boys understood… it is easier to conquer Britain with nothing but good Calcutta food'
Last Mahalaya, "two clever Bengali boys" Anjan Chatterjee and Aditya Ghosh "conquered" London by opening Chourangi. The restaurant, located just off Oxford Street, serves flavours of Kolkata from Chingri Cutlet and biryani to Ball Curry and phuchka.
This Mahalaya, musician Sawan Dutta celebrated their victory in a wacky song vlog Pet Pujo London 2022. The three-minute video on Sawan's YouTube Channel, The Metronome, is steadily going viral. 
The video shows 'Bengali Aunty' off to do her pet pujo in London this year – monkey cap and red bindi firmly in place. She visits Chourangi restaurant to check out what exactly is causing the hoichoi (commotion). Only to learn 'what Robert Clive couldn't do with his gun, this Ghosh-Chatterjee duo has done'.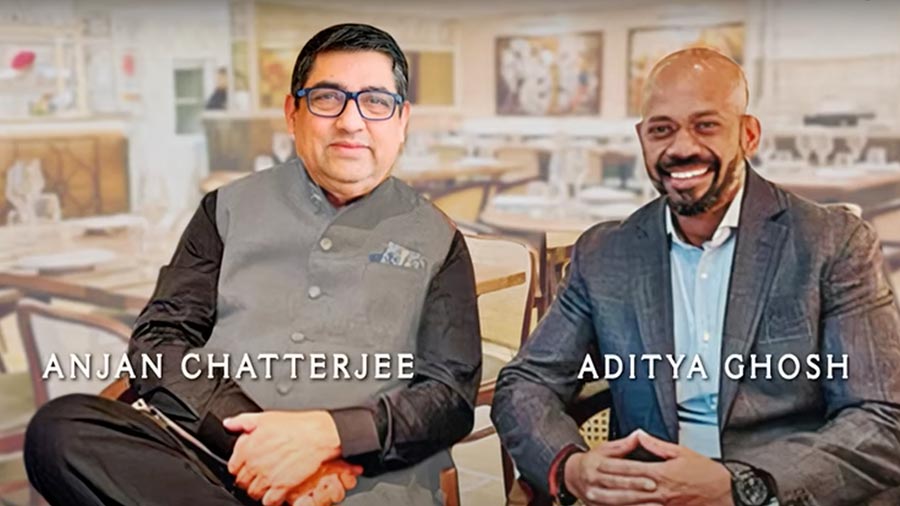 The vlog song is winning the hearts of Bengalis around the world, especially in London.
"This vlog has gone through the roof. I have been getting so many messages and calls," shares an excited Anjan Chatterjee. "It was something we collaborated on just for fun. Sawan is a good friend and so I told her: 'Here's a thought I have for a video about Chourangi'. When England invaded Bengal, they did it through battle, we will fight back with food. It'll be like a badla (revenge)… and she loved the idea! And who better than Sawan to say this in her own style?"
Chourangi, the restaurant, was born when two "Bangali genius" minds were chatting over a drink. "I have known Aditya [Ghosh] for ages. He is an ardent foodie and he would visit our house and eat any amount of Kosha Mangho and Malai Chingri! It was my personal dream to take Calcutta food to London and when we talked about Chourangi, he wanted to be a part of this journey. He had just left an airline company and so I asked him, 'Are you sure?' He said yes, and we opened the restaurant on October 7 last year, which was Mahalaya," says Anjan.
The rest, as we know, is history. Literally. Including a reference to the Battle of Plassey in the song vlog.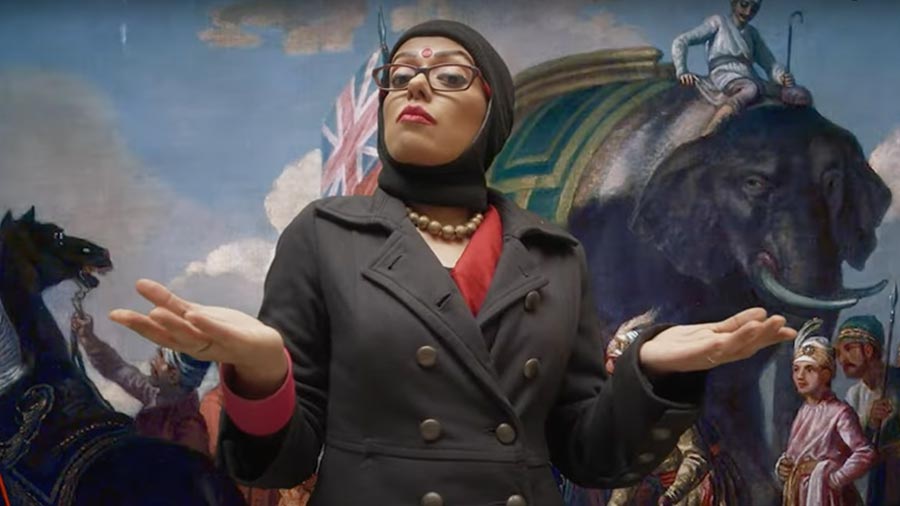 "Anjan's crazy, wacky Battle of Plassey/Robert Clive parallel completely cracked me up! And I told him this kind of madness was right up Bengali Aunty's street! So that's when we started planning this collaboration and I based the script on Anjan's super wacky concept," shares Sawan, who refers to Pet Pujo London 2022 as the "funniest thing" she's worked on since Ode to Boroline and Amsterdam Girl.
The champion restaurateur and Sawan have collaborated in the past. The Sweet Song, which Sawan sang for the Anjan's Sweet Bengal brand, won the Best Commercial / Advertisement Award at the World Film Carnival, Singapore, a few months ago.