Aaheli, best known as Kolkata's first 'fine dine' Bengali restaurant, has opened in south Kolkata. Located at 190A Sarat Bose Road (near South Calcutta Girls' College), the one-month-old restaurant serves up its legendary Bengali cuisine. 
The first outlet of Aaheli opened on May 18, 1993, at The Peerless Inn in Esplanade, and the second was a standalone outlet in Axis Mall, Rajarhat that opened in 2010. 
"Aaheli has been serving the people of Kolkata for more than 28 years. So, our aim now is to reach out to those areas which are becoming F&B hubs. With this in mind, we opened our new outlet of Aaheli and Aaheli Xpress on Sarat Bose Road," said Debasree Roy, executive director (elect), Peerless Hotels Limited to My Kolkata.
The restaurant stays true to its original menu serving dishes like the Bhetki Cutlet, Murgi Bhaja, Shorshe Diye Chhanar Bhapa, Dhone Pata Tele Ilish, Gondhoraj Mutton, Chingri Malai and Ilish Shorshe among others. Not only does Aaheli recreate the traditional Bengali delicacies but also prides itself in following the age-old recipes cooked in the Zamindar kitchens. 
Aaheli means authentic and pure. It is derived from the Arabic word aahel. 
The Sarat Bose Road outlet of Aaheli is inspired by the cultural heritage of Bengal. There are alpana-lined ceiling edges and the wall art showcases the kantha stitch, indigenous to Bengal, and inspired by Banglar Brata Katha by Abanindranath Tagore. 
"The new outlet reflects the cultural aspect of Bengal. The decor is different from our other two Aahelis. In terms of food, we have retained most of our signature dishes. Unlike the flagship at The Peerless Inn Kolkata, this Aaheli has a QSR enabling our customers to choose from a la carte and snacks," said Roy.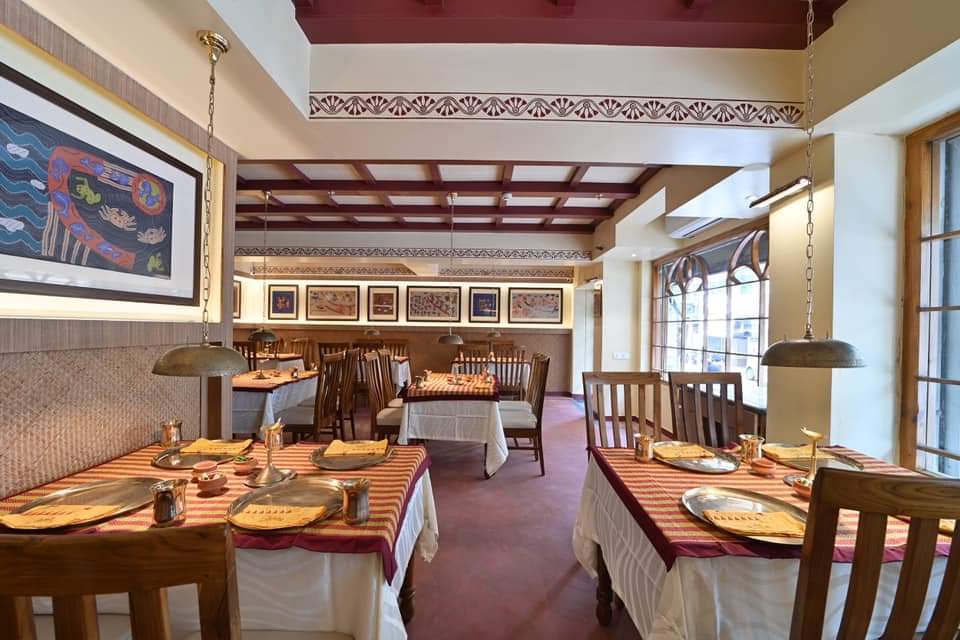 The interiors of the new Aaheli
Kansha (brass) plates and water tumblers and sitalpati (cane) table mats ensure that one's dining experience is as traditionally Bengali as possible. The interiors focus on decor detailing. The floors are chequered black and red resembling the old Zamindar bungalows in Kolkata.
For reservation call 9831780403 / 9831780405 / 8585060351
Meals can be ordered directly or through Swiggy/Zomato
Pocket pinch: Rs 1,500 + GST per person