The New Year is a time to look forward to new things. For the fashion world, 2023 will have something new, something borrowed (from 2022 and beyond) and something blue (a specific shade of it), according to owner and creative head of popular homegrown label HAŃSHU, Neelanjana Bhattacharya.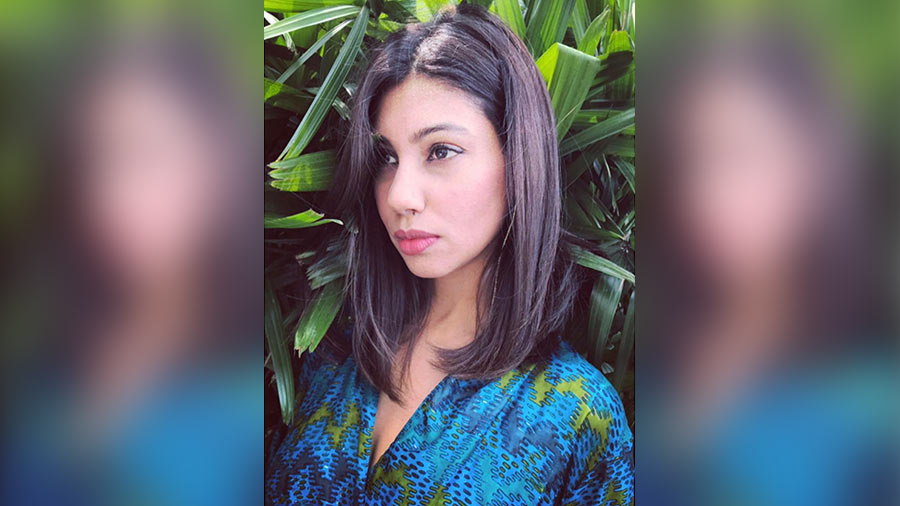 Neelanjana Bhattacharya began HANSHU in 2016 after taking over a hand-block-printing unit in Serampore, left by her mother-in-law
Courtesy Neelanjana Bhattacharya
The fashion designer has some predictions, a few trends and just the right guide to help you navigate the contemporary fashion scene for the year. From must-have ensembles to those that need to exit the wardrobe, from mindful fashion investments to timeless classic — here's what the designer has to say about contemporary fashion and resort wear for 2023: 
My Kolkata: What are the global fashion trends that you think will make a splash in 2023?
Neelanjana Bhattacharya: Some of the styles that are here to stay in 2023 are the ones that have withstood the test of time. I always gravitate towards trends that are classic and chic. Let's start with Asianwear, which is a popular look nowadays. Also, maxi dresses and kaftans were a major hit in 2022. 
For 2023, I think, kaftans in colourful and bold prints and some quirky embroidery will make a wonderful look if you are walking around town — or even a tiered midi dress in bright, bold prints, a printed chiffon maxi dress. Team it with gladiators or satin sandals and you are good to go. I think that bold, colourful prints are a huge sensation and will remain big.
What kind of fabrics/prints do you see working for these trends?
I see maxi dresses in chiffon, cotton, organic cotton, but I gravitate a lot towards silk because it elevates the look a bit more. I think these fabrics are here to stay.
For women who prefer to stitch their clothes rather than buy off the rack, what kind of design elements do you think will be most popular?
Outfits with a deep-V neck and dresses with shirt collars will be in vogue. I think anything that is casual and cool is what you will see in 2023.
Are there any resort wear trends from 2022 that you think will remain just as popular this year?
For sure! Apart from kaftans, maxi dresses and midi dresses, skirts will be the other popular thing. I see long skirts in denim being back in fashion this year. Even skirts with volume are going to trend and monochrome or mono-print co-ord sets will continue to remain big.
What are the hottest colours of the season or the year?
I like magenta, but I think I'll say all bright colours. My personal favourite right now is a beautiful shade of blue — Yves Klein Blue (or International Klein Blue) and I will be working a lot with that colour. Apart from magenta, which I think will be trending in 2023, people are loving big, bold prints in pinks and oranges, yellows, anything that makes a statement.
A trend you think will not make a comeback, and a trend that should not?
I hope skinny jeans don't come back (laughs)! I think this will definitely get a popular vote. I feel it only suits one particular body type.
I am not too sure about the trend that will not make a comeback, but it could be the '80s look. I don't know how to exactly describe it, but it was bizarre, a little too colourful — the big hair, loud makeup, etc. I hope it doesn't make a comeback.
Apart from vacation trends or resort looks, what do you think will be some top fashion trends of 2023?
Fashion is something that repeats itself, so trends, by and large, come back. Apart from the resort look, which also fits a party look, I think bomber jackets are a fashion pick that will stay. Capes, maxi dresses, pinstripe suits, monochrome and sets with the same print will remain in 2023. I think a lot of trends from 2022 will carry forward to 2023.
Maybe we will see some '90s looks coming back. Looking back, it was chic and minimalist — the straight black jeans and white tank top, or tank tops paired with easy going pyjamas and flip flops. I think they are going to be there.
What are the basic essentials that one should have in the wardrobe for winter and summer?
For winter, long coats, trench jackets, bomber jackets and capes. Outerwear is important because it doesn't just keep you warm and cosy, but also cuts a stylish picture. And it can elevate the most basic look. For summer, clothes that are easy to wear, minimalist, fitted to the body and gives ample breathing space, like shirt dresses, maxi dresses, kaftans. Also, flip flops, sun hats and sunscreen.
What are HAŃSHU's plan for 2023?
I think I am going to work a lot with embroidery. We have developed this embroidered motif of a snake wrapped around a flower, which has a summer vibe to it. I have a few colourful checks that I am going to develop. I think I'll be focusing a lot on quirky embroidery. Basically, clothes with a very strong summer vibe.
A fashion rapid fire for 2023
Fashion mantra?
Must-have ensemble?
Fashion faux pas to be careful about?
Simple trick that can work wonders?
White tee teamed with blue jeans or black trousers
Over-hyped trend that should not make it to 2023?
Dresses on jeans, or tunics on jeans