The roomy, party-ready kaftan is the best thing you can stock up on this season. The anti-fit superstar checks multiple boxes, be it in resort wear or loungewear categories. Not to mention, it's terrifically body-loving and takes minutes to style.
More and more designers are investing in the trend to be able to cater to a wide base of clientele. Bollywood stars like Kareena Kapoor Khan, Sonam Kapoor, Neha Dhupia and Shilpa Shetty have made the boho kaftan their go-to pick for the off-duty memo, be it airport runs or family dos.
The best thing about the kaftan is its never-ending utility. It can be styled like a top, a kurta, a dress, a beach statement or even a Grecian-style draped gown! Here's how to shop for the most efficient kaftans this season.
Keep it casual
Cord is updating kaftans to make them work-friendly. The relaxed silhouettes are comfortable, versatile and can easily fit into a business environment. Their cotton kaftan dresses feature a relaxed silhouette tapered around the upper waist, accompanied by an overall print. The V-neckline and the drawstring help accentuate your gait.
However, if you are looking for bright prints and soft cotton mulmul fabric for the summer, Kolkata's Neerosha's hand block printed kaftans have just the pop of colour you need making it easy to transform this piece from a day-to-night look.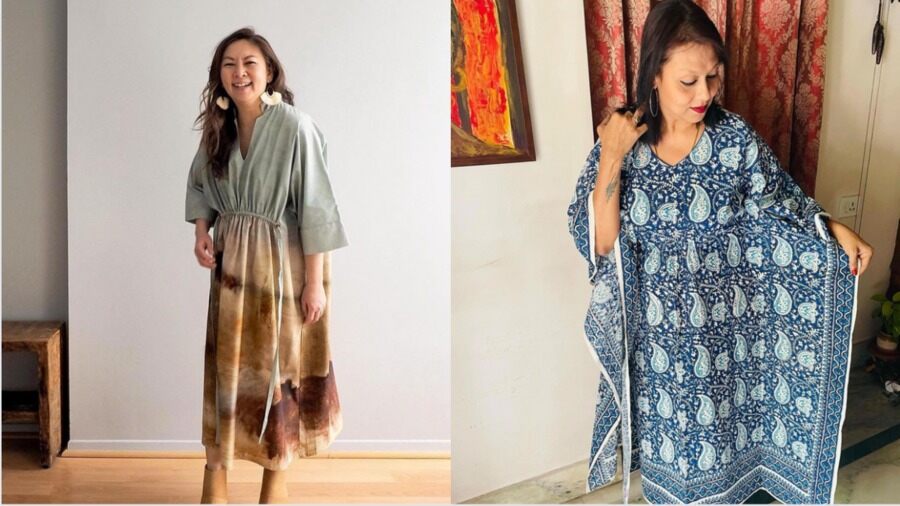 Kaftans from Cord and Neerosha
All photos from brands' Instagram pages
On trend
This monochrome Very Peri top by The Summer House is simple, elegant and work-friendly. Sorbae Clothing's ikat kaftan top goes for a figure-skimming silhouette and you can pair it with elastic pants to style it as a co-ords.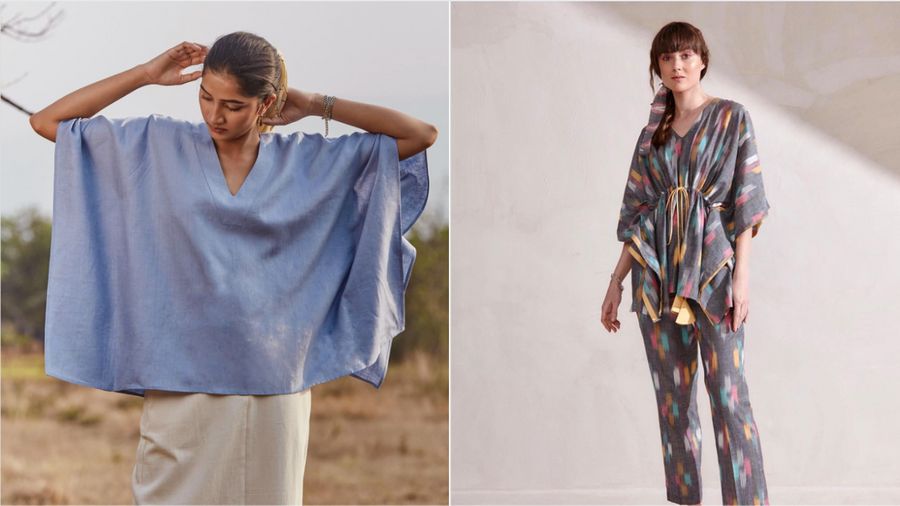 A Very Peri top by The Summer House and Sorbae Clothing's ikat kaftan
Dress it up
When in doubt about the best party pick, always go for a kaftan. You can go for a draped silhouette for a sari-like feel or go for a monochrome piece from Ek Dori that has a slit and a ruffled hem.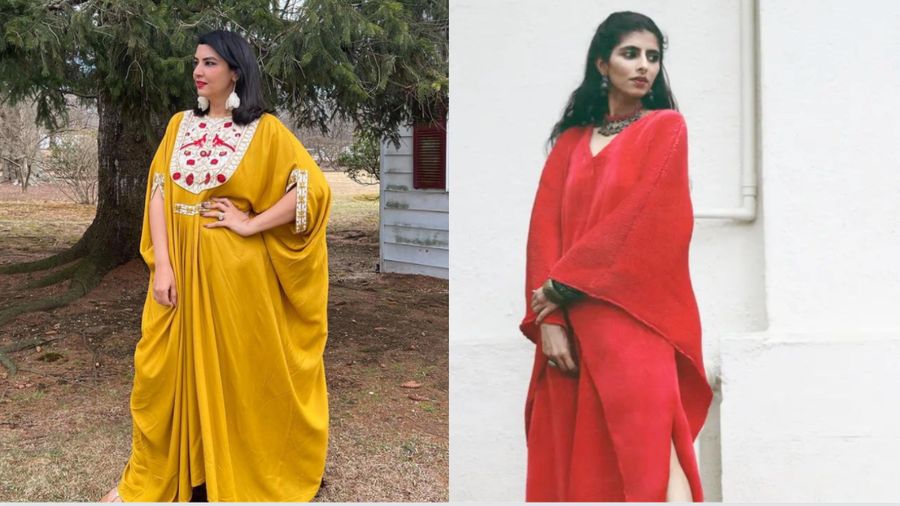 Kaftans for the sun and sand
Kaftans can double up as great beach cover-ups. They're easy-breezy and help to transform your swimwear into a wine-and-dine outfit in no time. The Beach Company's short kaftan is a no-brainer if you're on a beach-side vacation, while Shivan & Narresh's kaftan with a plunging neckline will give you the oomph you need on a tropical getaway.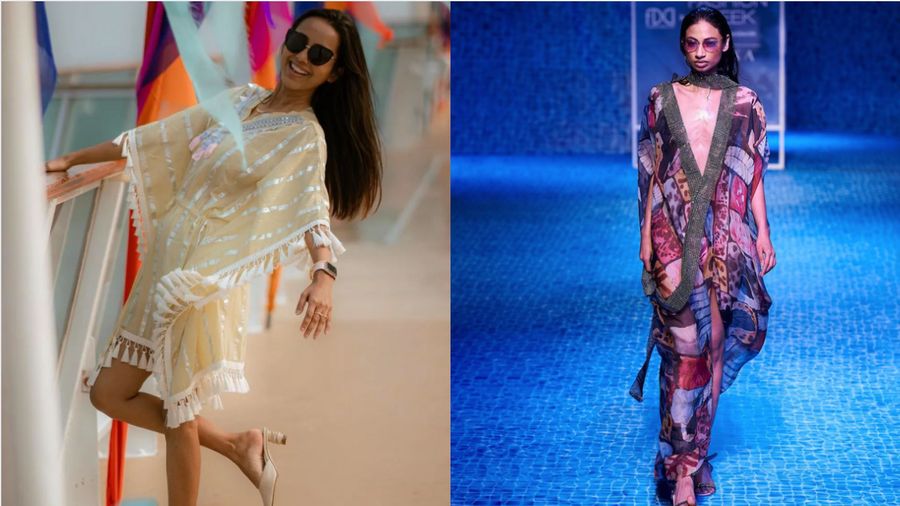 Kaftans from The Beach Company, and Shivan & Narresh
All luxe
Torani's powder blue kaftan with floral prints is perfect for the weekend brunches and dressy enough for daytime engagements. If you're looking for a Greek goddess aesthetic, Hemant and Nandita's printed kaftan is the way to go.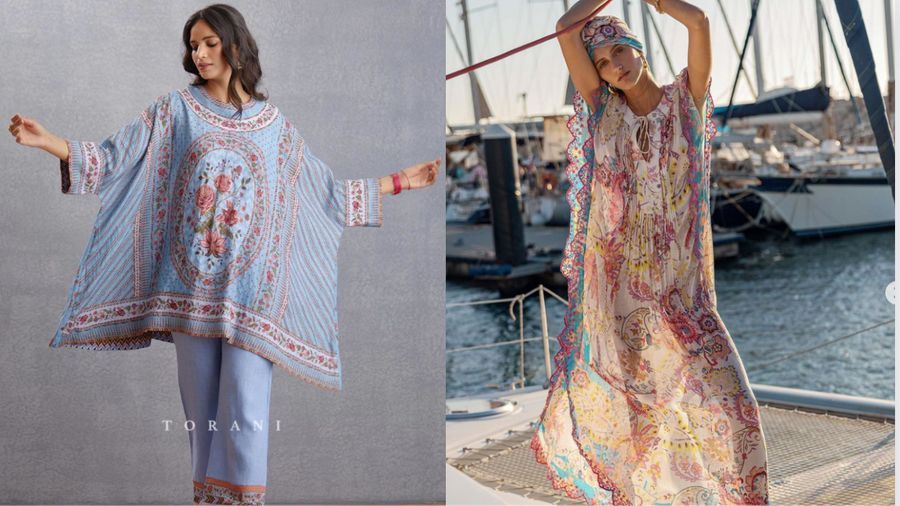 Kaftans from Torani, and Hemant and Nandita