Even though Goan cuisine is best known for its seafood preparations, pork plays a big role in every Goan household. Whether it's spiced pork sausages on Christmas morning, roast suckling pig on New Year's Eve, or a tangy sorpotel on the 3rd of December (St. Francis Xavier's feast day) — no true-blue Goan festivity is complete without a pork delicacy.
Though the vindaloo is perhaps the most popular pork number, here are three other traditional recipes (with a twist or two) that are a sure-shot way to satiate all hog hankerings!
Pork Balchao
Much like the vindaloo, pork balchao also has its roots in Portuguese cuisine. It's traditionally prepared with seafood (crab or prawn) but the hog adds a certain richness to the earthy balchao masala.
Ingredients:
1kg boneless pork
4 chopped onions
8 dry red chillies
6 black peppercorns
6 cloves of garlic 
1'' ginger
1/2 tsp cumin seeds
4 cloves
1'' cinnamon
2 tablespoons dried prawn powder
1 teaspoon sugar
Method:
Salt the meat and set it aside for one hour. In a blender, grind all the spices (in vinegar) and add them to the meat as a marinade. 
Set it aside for another three hours. Then heat 2 tablespoons of oil and gently fry the onions and garlic. 
Don't allow them to brown. Add in the marinated meat and stir-fry for 15 minutes. 
Lower the heat and cook for another 35-40 minutes until the meat is tender and the oil rises to the top.
Tip: Prepare this dish 4-6 days prior to serving for the best flavour. 
Pork Assado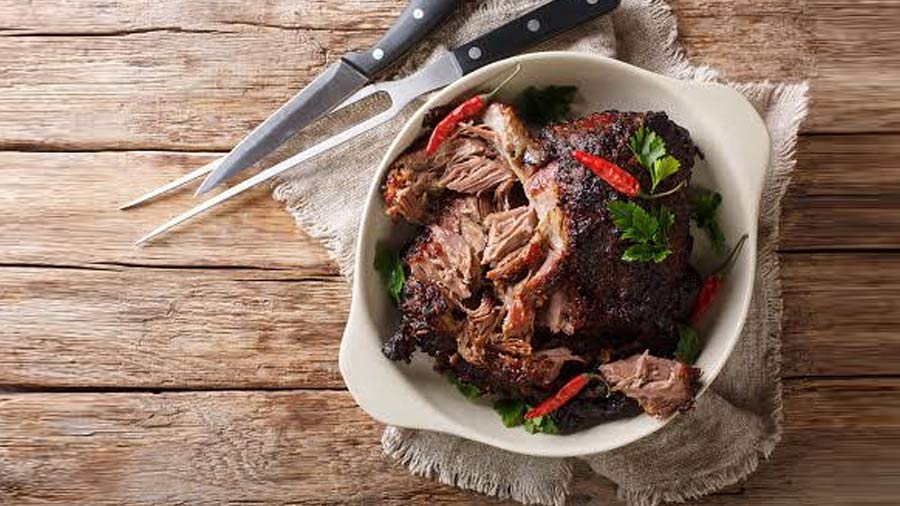 Unsplash
Pork assado is a popular Goan dish that is usually made on New Year's Eve. 'Assado' means 'to roast'. It's a cooking technique used in a host of Goan dishes — usually the ones that use pork belly or piglings. 
Ingredients:
1kg  pork (pigling) 
1 medium-sized tomato, sliced 
2 large potatoes
3 medium onions 
3 dry red chillies
3 green chillies
6 black peppercorns
6 cloves of garlic 
1'' ginger
1/2 tsp cumin seeds
½ teaspoon turmeric powder
1 tablespoon tamarind extract
Method:
Grind all the spices together in a blender and set it aside. In a heavy-bottomed pan, heat 3 tablespoons of oil. 
Once the oil is hot add the meat with a little bit of salt and wait till it turns brown. Remove the meat from the pan. 
Leave the oils secreted from the meat, in the pan. Fry the masala in the same oil for 10 mins, till the oil separates. 
Add the browned meat, tomatoes, onions and potatoes and fry for five minutes. Add in two cups of water (less if you want the gravy less), lower the flame, and allow it to simmer till the meat is cooked.
Tip: Salt the meat for 2 hours before browning it and slow cook the concoction for 45 mins.
'Girem-mirem'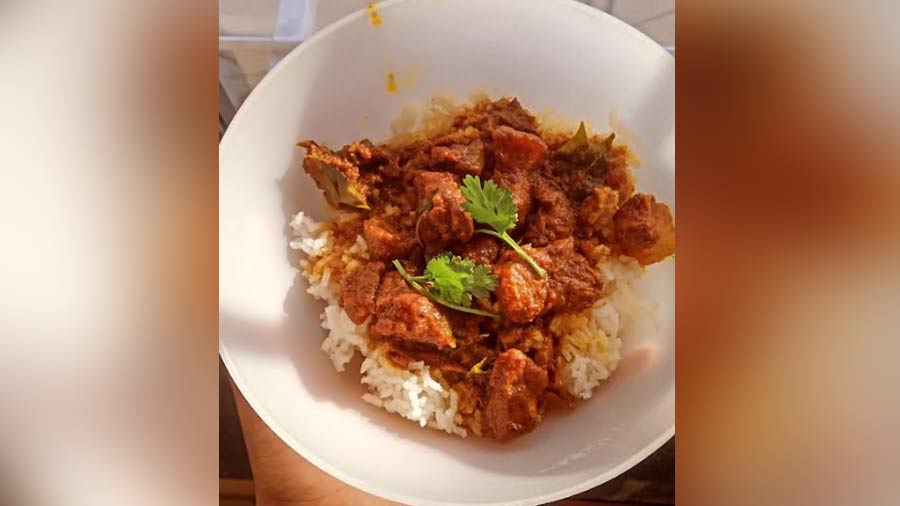 Lygeia Gomes
Girem-mirem is a traditional Goan dish that heroes two of Goa's favourite spices — cumin and peppercorns. Girem is cumin while mirem means peppercorns.  The dish is a beautifully flavoured number that perfectly balances spice and brine!
Ingredients:
1kg pork
1 large onion, sliced
I large tomato, sliced
6 green chillis 
4 tablespoons coriander leaves, chopped fine
4 red dried chillis 
1 teaspoon cumin 
1 teaspoon peppercorns
1'' ginger
¼ teaspoon turmeric powder 
Method:
Salt the meat and keep it aside for at least two hours. In a heavy bottomed pan, heat three tablespoons of oil and saute the onions, tomatoes and coriander leaves. 
Stir fry for five minutes before adding the ground spices. Stir fry the spices till the raw smell leaves and add in the salted meat. 
Once the meat is brown, add one cup of water and cook on a low flame till the meat is tender and the oil comes to the top. 
Tip: Serve with sannas!
The author is Goan and these are her family recipes.