Saraswati Puja is a time for anjali, basanti sari, and a veritable festive feast with topa kul, khichuri, gota sheddho, a selection of mishti and a bowl full of dadhikarma! To celebrate the puja, here are three quintessentially Bangali recipes to try at home.
Gota sheddho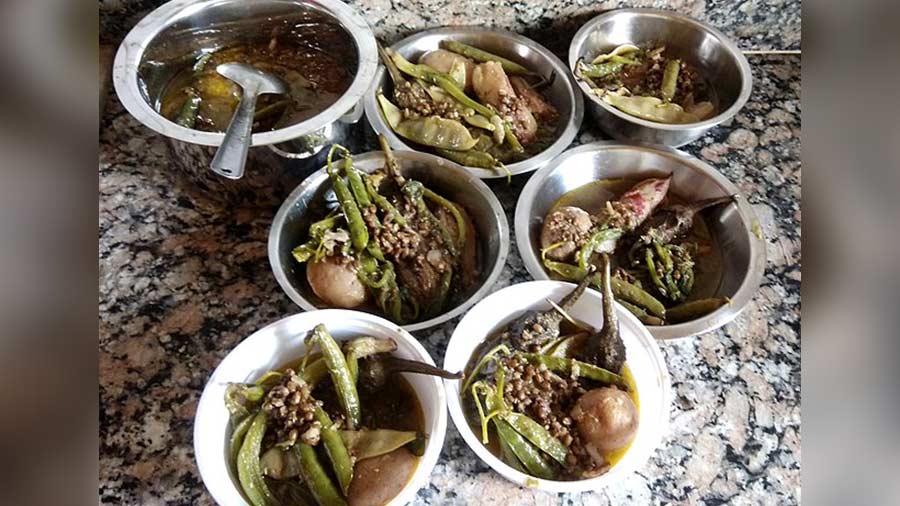 Wikimedia Commons
Remember Sawan Dutta's hilariously on-point melody about the gota sheddho? This healthy, hearty dish celebrates the seasonal produce and is a must-have in many households on Saraswati Puja and the day after. 
Ingredients:
Green moong dal: 1 small cup (soaked overnight)
Small potatoes whole: 5
Small brinjals whole: 5
Peas in the pod/ whole peas: 10
Spinach: 1 bunch
Hyacinth or flat beans/ sheem: 5
Green chillies: 5
Small sweet potatoes whole: 5
Grated ginger: 2 tablespoons
Lemon juice: 1 whole ripe lemon
Black salt
Mustard oil: 3-4 tablespoons
Recipe:
Cook the dal until it's half ready
Take a deep-bottomed utensil and add water. Boil with a pinch of salt
Add the potatoes, sweet potatoes and sheem and cook for 10-12 minutes, covered and on a medium flame
Now add the remaining vegetables and cook until every ingredient is fully cooked
Add salt, lemon juice, grated ginger and mustard oil. Mix well
Drizzle some more mustard oil right before eating
Tip:
Be careful while cooking the dal and the vegetables. They should be mashable and fully cooked. 
Khoi'er moa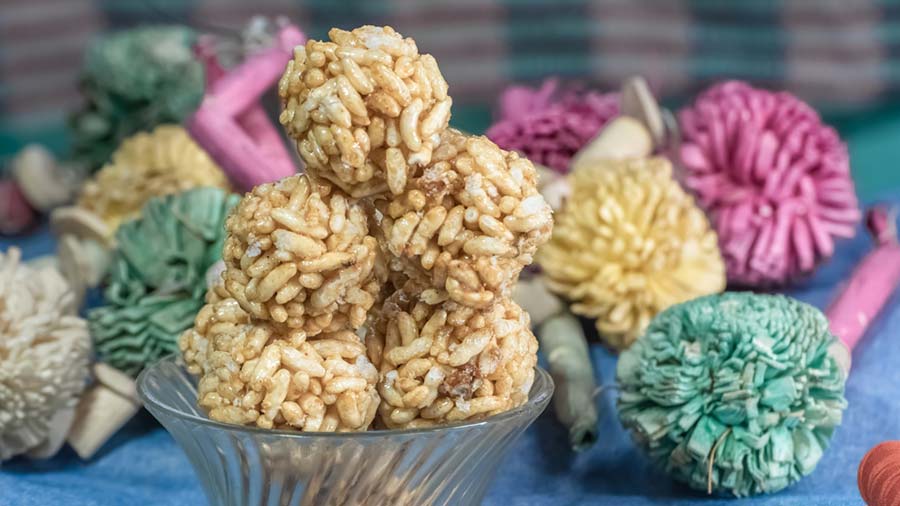 Shutterstock
Any puja is incomplete without naru, moa, and nimki. Alike in looks with its more commonly available cousin the muri'r moa (in image above) the khoi'er moa is the one that gets pride of place for Basant Panchami celebrations, This quick moa recipe is zero pain but promises a delicious gain.
Ingredients:
Khoi/ puffed rice: 1 small packet
Ankher gur/ sugarcane jaggery: 1 large cup
Salt: 1 small pinch
Water: ¼th cup
Ghee: 2-3 tablespoons
Recipe:
Check the khoi for any impurities
Take a nonstick pan and heat well
Now add the jaggery, keeping the flame low
Add water, little by little and stir continuously
Cook jaggery mix until the first full boil and turn off the heat
Allow the jaggery to rest for 45 seconds to a minute
Add the puffed rice and mix well
Grease your palms with ghee
Take small scoops of puffed rice and make round balls
Tip:
The jaggery and water mix should not be runny
Remove any surface impurity with a strainer while boiling the jaggery
You can also make murir moa and seu'er moa (using sev) with the same recipe
Dadhikarma
Another Saraswati Puja recipe that not only is mandatory but can also be a delicious dessert, if you come to think of it.
Ingredients:
Chirey/poha/ flattened rice: 1 medium cup
Khoi: 1 medium cup
Hung curd: ½ of a small cup
Mishti doi: 1 large cup
Batasa: 5-8 pieces
Bananas: 4
Cashew: 10-15
Raisins: 10-15
Dates, deseeded and cut into halves: 8-10
Mashed sandesh: 1 small cup
Grated coconut: 1 small cup
Full fat milk: 1 small cup
Recipe:
Add all the ingredients in a large bowl, except milk
Mix well, adding milk in little quantities to get your designed consistency
Tip:
Add milk only to assemble and bring things together. You might not need the entire quantity, given there are other ingredients like two types of curds to add moisture
You can use honey in the place of batasha
Try to get gurer sandesh to add the jaggery flavour in dadhikarma