"My husband and I, both were students at Vishwa Bharati University (VBU). So, we always had the Santiniketan connection, plus of course, food was a huge catalyst. In the early days, post marriage, whenever any event took place, all our friends would land up in our home in Kolkata, and we would cook," says Rina Bargi, co-owner of Aarhani — the eatery and food delivery service in Santiniketan offering delicious desi pork dishes and other delectables. The restaurateur spoke with My Kolkata about the idea behind Aarhani, the connection with food, building a truly Indian menu and more…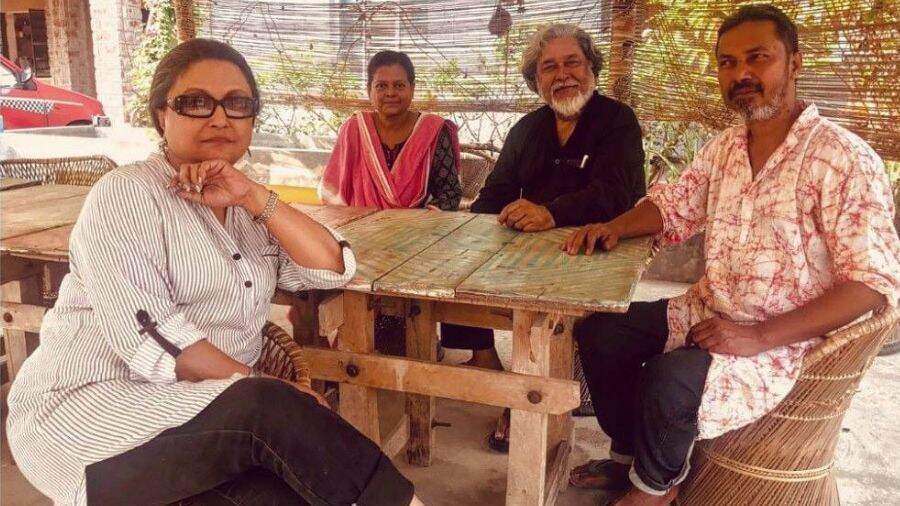 Rini Bargi (second from left) with actors Aparna Sen and Kalyan Ray, and Rini's husband and co-owner Divyanshu Bargi (extreme right) at Aarhani's previous Santiniketan location
Aarhani/Facebook
When did the cooking bug bite you?
Rini Bargi: Cooking has always been a passion of mine. I owe my diverse palate and my passion for cooking to my family. My paternal home is in Purnia in northern Bihar. We had a Bihari cook, Prema, who would cook almost every possible dish for us. My mother and aunts all had their haathe-khori (initiation) with Prema.
My entire family are foodies. My father would buy a plethora of vegetables from the local markets, and my mother was equally adept at turning them into delicious meals for the whole family. I grew up with these food escapades, so naturally I took to cooking at a very young age, I think by class VI.
Why choose Santiniketan? Is there a Rabindrik connection to this?
As Bengalis, that connection is ever present. However, that is not why. Santiniketan is not a strange ground for us. My husband (and co-owner, Divyanshu Bargi) and I, were students at Vishwa Bharati University. So, we always had the Santiniketan connection. Plus, food was a huge catalyst. 
In the early days post marriage, whenever any event took place, all our friends would land up at our home in Kolkata, and we would cook. Nothing elaborate, but we would try something new and different each time. And to our surprise, we got really good feedback.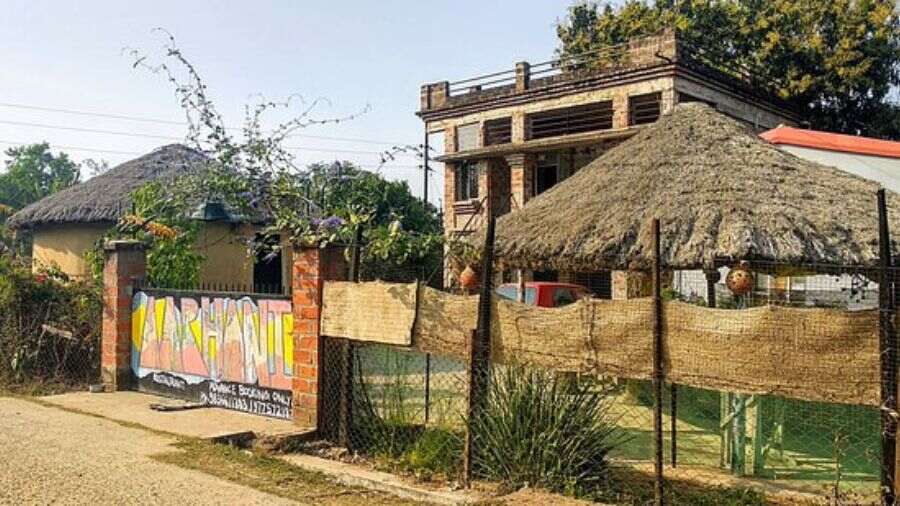 Aarhani's previous Santiniketan restaurant location is currently shut as the Bargis are in the process of revamping their space, but they offer a delivery service
Aarhani/Facebook
When did Aarhani become a reality?
The idea of Aarhani came about when I decided to resign from my job. I am not someone who can sit idle. It seemed like a natural path because I love cooking, and more importantly, feeding people. I thought we would build a small restaurant, or cafe, somewhere in Kolkata, but it was in vain.
The idea of setting up in Santiniketan came from a friend. Santiniketan today is not what it used to be in 2010-11 and restaurants were hardly a common sight. We found exactly what we were looking for, and that is when Aarhani came to be. 
Aarhani, or Aarani, if you follow the Bengali spelling, means shade. We wanted to build a shade in Santiniketan, that will house fun, frolic and most importantly, delicious food. However, the first few years were extremely difficult. Hardly 10 or 12 people came to eat here throughout the year. But, I never gave up. I knew it would take a while, and I was ready to dedicate that kind of time. 
How did you navigate the dual roles of chef and owner?
If you notice, we do not advertise or put up hoardings anywhere. For us, our entire 'publicity' happens through our customers, and word of mouth. That is because the food we make is truly signature Aarhani. Every dish here has a slight twist that makes it personalised. 
We've had notable people dine with us. Indrajit Lahiri (founder of well-known food blog and vlog Foodka) ate at our restaurant and featured it in his blog. That really helped us gain a significant audience. Even the famous Kolkata band, Fiddler's Green has come here multiple times. We are very grateful to have such loyal people liking our food.
What do you mean by signature Aarhani style? What is the menu like?
I always, always taste my dishes and get feedback before putting them on the menu. I feel like our menu is truly Indian; it's inspired by my mother, aunts, Prema, and my friends from different regions and from around the world, some of whom I met at VBU. 
For example, we have a Kashmiri mutton dish that I learnt from my Kashmiri friend. Pork is also a huge attraction here. We have desi-style pork dishes, such as a black sesame pork that I have learnt from a Khasi batchmate, and a Naga pork dish with fermented bamboo, which is surprisingly oil-free, that was inspired by a Naga friend. We also make an Aarhani-special prawn dish that is always in demand. That makes it difficult for me to try new recipes as everyone hankers for this one dish every single time! 
What's next for Aarhani? 
We are only doing food deliveries now as we are currently in the process of revamping our space. The next thing on the agenda for us is to build something that is exclusively ours, and includes an area to comfortably seat 30 to 40 people. It is always memorable to have people from different places sit around, talk, enjoy our food and give their feedback. 
I also plan to introduce a few dishes, but nothing too fancy. 
Aarhani's menu features Indian and Continental dishes. Call 9641962667 or 9836611383 to place orders when you're in Santiniketan.