Tintin just landed in Lake Terrace! The beloved Belgian restaurant, Tintin & The Brussels Club, has reopened its doors at a new south Kolkata location after a short break. My Kolkata brings to you an exclusive first look of the new outlet at P-104, Hemanta Mukhopadhyay Sarani.
Décor and ambience
Upon entering the restaurant, you will be greeted by Tintin, Snowy and… Satyajit Ray! Owner Barnali Sensarma Ghosh broke down the story behind this unique mural. "The images of Satyajit Ray and Nirendranath Chakravarty are meant to represent the ones who started the Bengali Tintin movement. Legend goes that Satyajit Ray had suggested that Tintin be translated into Bengali. In the first Anandamela, Chakravarty translated Tintin into Bengali, which helped the stories reach Bengali households," she said.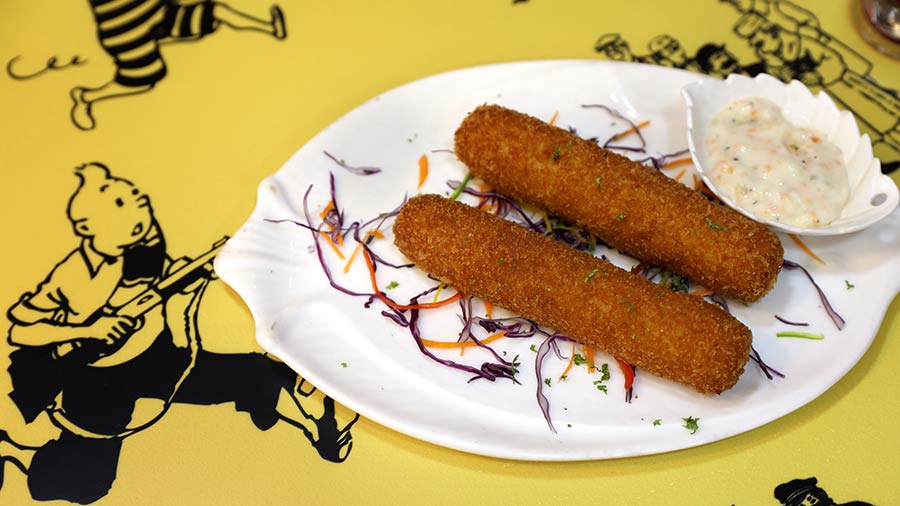 Bhetki Cigar Rolls, inspired by the Tintin comic, 'Cigars of the Pharaoh'
The wallpaper sees the merging of the two Bs – Bengal and Brussels. Ghosh continued, "I wanted to match the skyline of Kolkata and Brussels. Despite the geographical distance, at heart, the two cities are very close. Today there are many iterations of Bengali Tintin. Since ours is a restaurant, he's coming alongside the popular bhetki maach.''
The 18-20-seater restaurant has six tables, all of which are decorated with covers of Tintin comics in various languages, and feature cars and bikes along with familiar characters. Of course, Tintin can also be seen travelling underwater with Snowy in Professor Calculus' shark contraption (read submarine).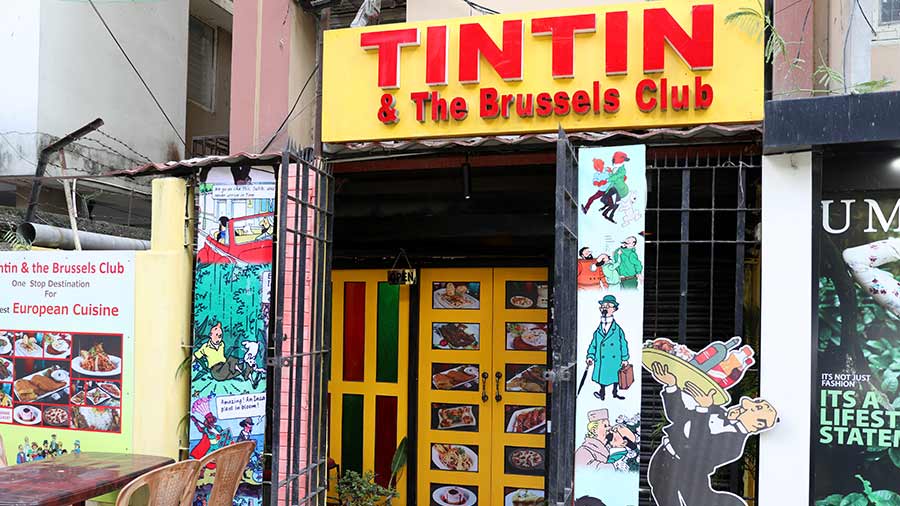 The diner also offers an open-air table
The restaurant also offers open-air seating should youngsters wish to indulge in some adda.
New on the menu
Besides the hot-sellers from the old menu, Tintin & The Brussels Club is bringing a range of new items. Ghosh points out, ''There are a lot of new dishes on the menu. For starters, there is Beef Cutlet, Chicken Grand Roll stuffed with sausage, bacon and ham, or Bhetki Cigar Roll (inspired from Cigars of the Pharaoh) stuffed with shrimps and veggies. We have ham steak and pizzas and have also introduced a few varieties of authentic fondues in vegetarian and non-vegetarian options.''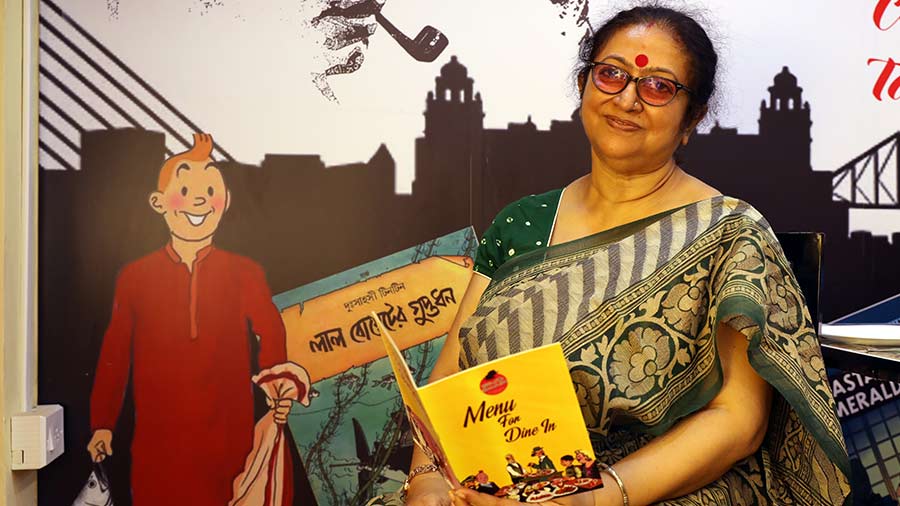 Barnali Sensarma Ghosh, the owner of Tintin & The Brussels Club
After the pandemic…
Tintin & The Brussels Club was a popular joint at Hindusthan Park and made quite an impact with curated menus and events. But the pandemic was a challenging time for the brand and operations had to be shifted to Ghosh's place at Naktala.
"The COVID period was difficult for us. I had thought of shutting down the restaurant altogether. Our customers were very supportive and suggested home delivery services. We explored that route and eventually as people began stepping out to eat again, we started offering dine-in. We were planning to renovate the place and open a proper restaurant but our patrons requested us to come back to a more central location. When I saw this place with a capacity for 18-20 people, I went ahead with it,'' Ghosh said.
All about your orders
Tintin & The Brussels Club is open from Mondays to Sundays from noon to 10.30pm for dine-in and takeaway. Home delivery is also available for residents near and around Lake Terrace. One can place an order through 7547986001 to avail of the delivery service. Swiggy and Zomato services will follow soon. so Kolkata residents, near and far, can dive into the scrumptious offerings.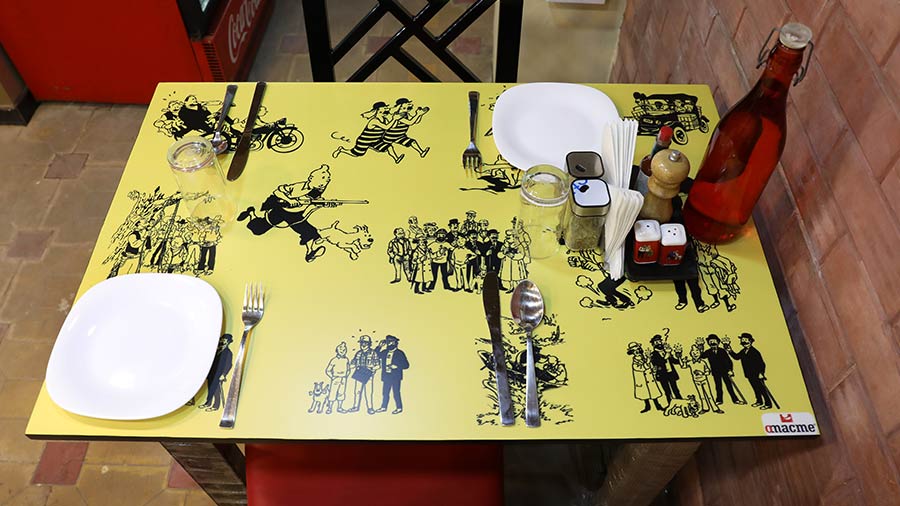 Tables decorated with Tintin characters, figures, book covers and more
The Tintin Fan Club returns
The Tintin Fan Club which hosted several themed events and quizzes at the venue will be back again. "The Tintin Club members will be coming to the restaurant. They have already planned a couple of events,'' says Ghosh.
So Tintin lovers, practice your 'ten thousand thundering typhoons' and keep an eye on the social media pages of Tintin & the Brussels Club to keep tabs on new updates.