Sweets are a quintessential part of Kolkata's food culture. From Bengali mishti like rosogolla and sandesh, to confections like cakes and pastries, Kolkata is known for its sweet offerings. Adding a new feather to an already adorned crown, if we may say so, three shops of Kolkata have made it to the popular global food list by TasteAtlas. The online travel guide's '150 Most Legendary Dessert Places' list has rasgulla from K.C. Das at #25, rumballs from Flurys at #26 and sandesh from Balaram Mullick and Radharaman Mullick at #37!
My Kolkata delved into the history of these three iconic city shops and spoke to them about their latest achievement.
K.C. Das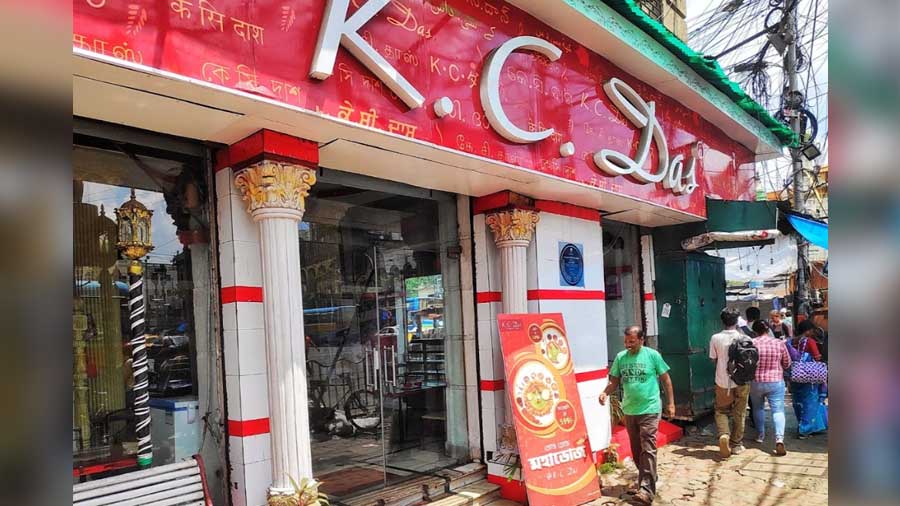 The K.C. Das shop at Esplanade
It was in the 1860s that Nobin Chandra Das, with his creative genius and a zeal to create something new rather than just running a mishtir dokan, came up with a unique recipe. Small balls of cottage cheese (chhana or chhena) were boiled in sugar syrup and the result was a succulent, spongy sweet with a distinctive taste. Thus, the legendary rosogolla was born!
The quintessential Bengali sweet has since travelled the world, but connoisseurs still remember "Bagbazar-er Nobin Das, rosogollar Columbus" (Bagbazar's Nobin Das, the Columbus of rosogolla).
The shop in Bagbazar was set up in 1866, and Nobin Das's imagination, skill, tenacity and labour finally paid off around 1868.
The business further flourished under Nobin Chandra Das's son Krishna Chandra Das or K.C. Das. It was Krishna Chandra who found a way to preserve the sweets in a tin can — a feature that was instrumental in the sweet travelling to mishti lovers outside Bengal. His son and successor Sarada Charan Das established the business, and today a popular chain of eponymous sweet shops, K.C. Das Private Limited. The legacy is now continued by Dhiman Das who is presently the director of the company.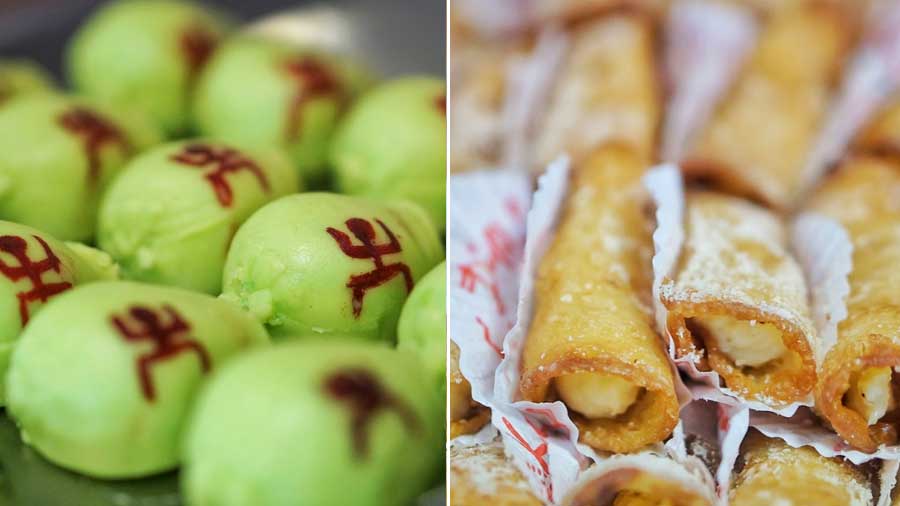 Daab Sandesh and Rosomalancha at K.C. Das
While the rosogolla is undoubtedly the most loved sweet of K.C. Das, there are a host of other popular picks such as rasmalai, mishti doi, Daab Sandesh or Rosomalancha. In keeping with the times and evolving tastes, they also have flavoured rosogollas.
Talking about the ranking by TasteAtlas, operations manager Atanu Bhattacharyya said, "Being from Kolkata, it is a matter of great pride for all of us to be in the company of legends. We are proud to be among the top dessert shops around the globe and we share this joy with fellow Kolkata residents and our very valued customers."
Flurys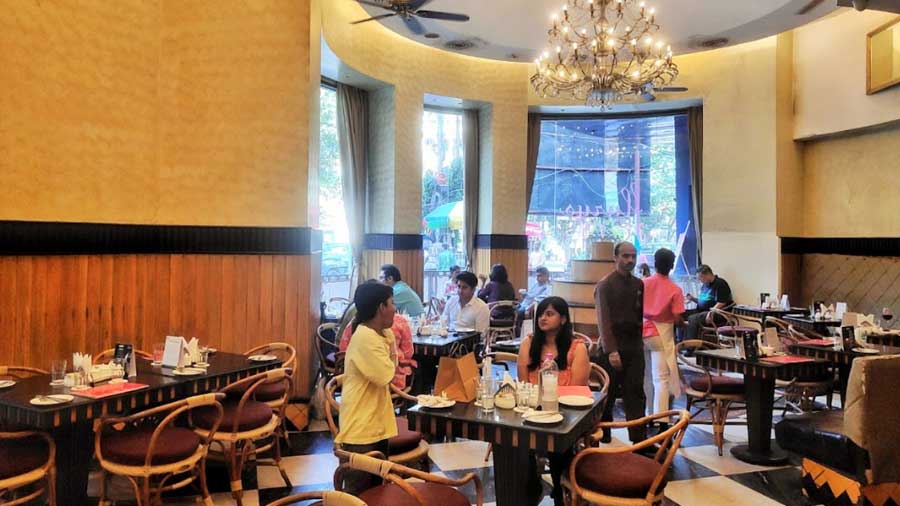 Inside Flurys at Park Street
From Satyajit Ray's Jana Aranya and Pratidwandi to the 2021 film Lost, the iconic tea room on Park Street has featured in films as Kolkata's most preferred address for meet-ups — be it a romantic date, a business lunch or just an adda with friends.
Flurys was set up at 18, Park Street by Swiss expatriate couple Mr. and Mrs. J Flury in 1927 and offered an array of European confections. Soon, it gained immense popularity among the British and affluent Indians alike. Acquired in 1967 by Apeejay Surrendra Park Hotels Limited, over the decades it has become a part of the culture of Kolkata.
"Flurys has been proudly delighting dessert lovers since its establishment in 1927. Our desserts hold within them heritage, tradition, and nostalgia. Across the century, our cherished recipes, including the beloved rumball, have stood the test of time, remaining unchanged," said Rajesh Kumar Singh, National Head, Flurys. There's no hidden or secret ingredient for the popular picks, he added, but "just an infusion of love, warmth, commitment to hygiene, and meticulous care that defines the crafting of every Flurys product."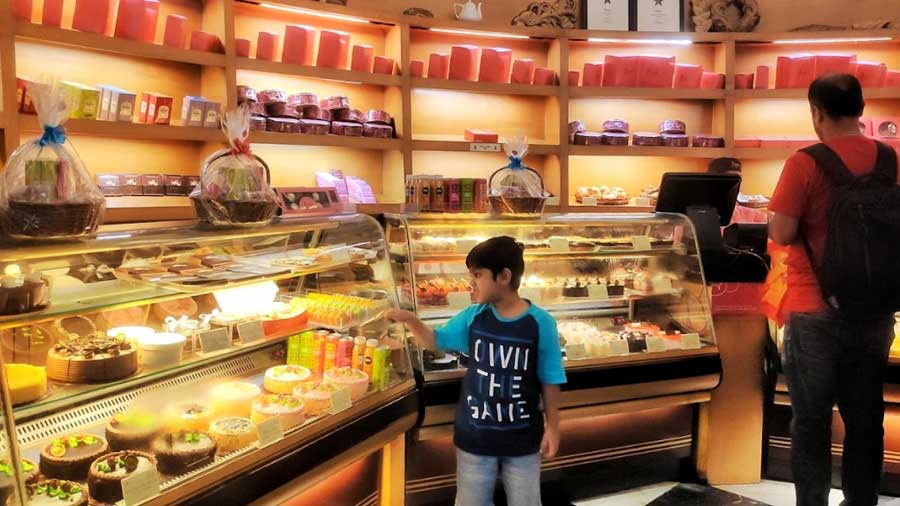 The heritage eatery is known for its traditional European-style confections
As an eatery that has been popular since the British era, Flurys was always known for its continental tastes. From the all day breakfasts similar to a full English and the baked beans — served with some chopped coriander and chillies on the side for the Indian palate — to bakery packs like chicken patties, Baba cake, lemon tart and the cube pastries, there are generational and nostalgic favourites on the Flurys menu.
Speaking about the recent ranking in TasteAtlas, Singh said, "The team is thrilled and honoured to have received a high ranking on TasteAtlas' list of legendary dessert places worldwide. It's incredibly rewarding to see that our dedication to preserving and sharing traditional flavours has been appreciated by people around the globe."
Balaram Mullick and Radharaman Mullick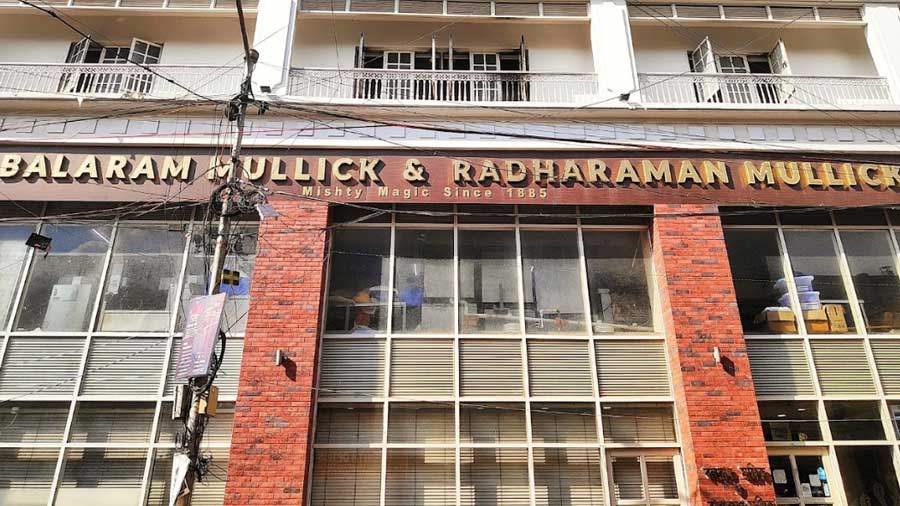 The flagship location in Bhowanipore
In 1880, Ganesh Chandra Mullick came to Kolkata from Konnagar. He worked as a sweet maker (karigar) for three years, after which he set up his own shop in Bhowanipore on 450 square feet of land from the well-known Harlalkar family. Within no time, Ganesh Chandra's sweets started gaining popularity, especially his korapak and nolen gur creations. The tradition of sweet making was carried forward by his brother Balaram and his son Radharaman Mullick.
From a modest store in Bhowanipore, they set up a high standard for the sweet legacy of Bengal, and today their stores span across the city. Since 1960, Pradip Mullick has been continuing the legacy. In recent times, Sudip Mullick has been introducing worldclass mechanisms and exotic ingredients to the ancient art of sweet making, making the brand synonymous with innovations in mishti. While the innovative and fusion sweets are popular, Balaram Mullick and Radharaman Mullick still upholds the traditional sandesh recipes that have defined their legacy.
Balaram has always been known for its sandesh, said Sudip Mullick when talking about their signature sweet adding that new creations notwithstanding, the sandesh remains their forte. "Nowhere in India will you find so many varieties of sandesh, as you get here in West Bengal. We have been doing a lot of experiments with sandesh, using modern technology in the process and adding elements and creating fusion sweets but with respect to our tradition, keeping the heritage intact," he added.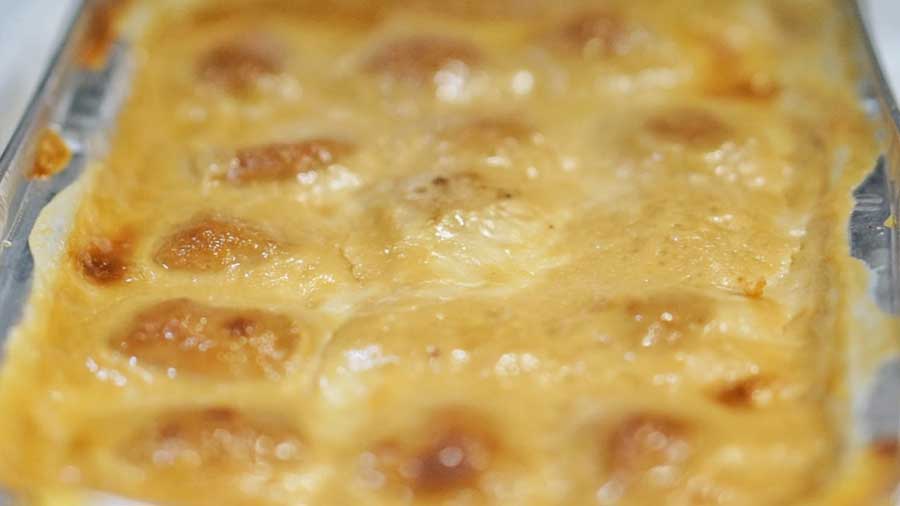 Baked Rosogolla
Along with their sandesh, the chain is also known for sweets like aam doi, Blueberry Sandesh, baked rosogolla among others.
The team is thrilled at the ranking in TasteAtlas, said Sudio Mullick. "We are really very excited to secure a ranking in TasteAtlas. It means a lot to be recognised on such a platform and our hardwork has paid off. Our constant endeavour has been to achieve a proud place for Bengali sweets on the world stage, and it is great to see Balaram there."